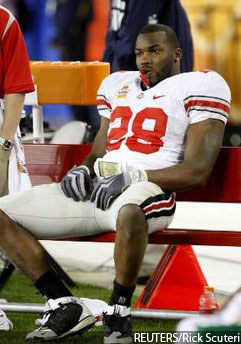 Ouch. This one will take a while to get over, but for the first time in three bowl seasons, we can all be proud at how the Buckeyes played.
You can still be upset with some of the playcalling, missed tackles, and other mistakes made during the game, but the bottom line is that the Buckeyes gave Texas a much bigger scare than many thought they'd get and came within a whisker of knocking off one of the nation's top teams.
Can a loss like this improve the program's reputation? Doubt it. But at least it temporarily halts the slide it had been on for two years.
There are some problems to fix, but the wonderful thing about sports is that there's always a next year. And next year, Pryor learns how to really throw.
Bullets
You gotta feel for Anderson Russell. That missed tackle will sit with him for a while. Hey, that's football -- sometimes you don't make the play. But, don't forget about his pick at the end of the first half or the fact that he finished 2nd on the team with nine tackles.
On the winning score, the Buckeyes brought the house and paid for it. With a quarterback like McCoy that's smart enough to make the right read on that, it's risky, but it paid off for the staff against Dorsey oh so many years ago (though it should be pointed out that the goal line cut out half of Miami's playbook), so I don't fault them for dialing that up. They had been getting pressure on him all night.
Props to the boys for not rolling over when down 17-6 and momentumless heading into the 4th.
If this was Beanie's last game as a Buckeye, it was a microcosm of his career. I'd still be shocked to see him back next year.
The Boeckman to Pryor combo makes you wonder why we didn't see something like that on goal lines all year long. Hats off to Todd, he played well tonight.
Pryor, on the other hand, burned the Horns with his legs, but curiously stepped out of bounds early on a couple of plays. He didn't look comfortable throwing the ball at all, but that will come.
McCoy was the real deal. I think if you had told me he'd have 400+ two days ago, I'd have assumed a blowout. He could run into Pryor one more time if things line up right.
The Longhorn hurry-up offense really got to the Buckeyes at times. They had to have known it was coming, but that's tough to simulate in practice. (Well, you can simulate it, but not the personnel running it so well.)
The officiating was questionable, but each team received its share of calls. That fourth down spot was close, but the right call.
Robo showed up huge -- his 5 for 116 led all Buckeye receivers and the bomb was a thing of beauty. Hartline, on the other hand, finished with 0 receptions, which surely can't help his draft evaluation.
Orakpo is a great player and got his plays in, but he didn't take over the game. Credit to the staff for getting a second blocker on him for most of the night.
Prayers for Shaun Lane and his family. Looks like he'll be okay.
There are some great game photos at the Statesman.
My money is still on USC being the best team in the country. And it's not really close.
We'll have more in the coming days.