We took a look at the '09 defense earlier this week and today we're peaking ahead to the offense. Just like the look ahead to the defense, incoming freshman are out of the conversation for now, regardless of how fresh Duron Carter might be.
One thing I think we'll see is an offense similar to the high-scoring team we saw in 2006. Losing Wells sucks beyond the most miserable thing you can imagine, but his departure will force the offense to diversify a bit. I'm not faulting Tressel for the smashmouth approach we saw the last two years, because if you coached Beanie Wells, you'd want to run him 200 times a game as well, but if nothing else, he adapts to his personnel.
Line: Adams, Cordle, Brewster, Boren & Shugarts
Usually when a line loses three starters, the next batch is thought to be in rebuilding mode. If you caught the Buckeyes the last handful of times they've been on in primetime, you realize that might not be the case. And let's not forget, the play of said veteran unit is the number one reason Todd Boeckman lost his job.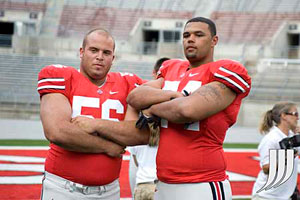 So we head into 2009 relishing the thought of actual position battles1 and the excellence that is nurtured by competition. Sure, there's that small problem with the guy that coaches the line -- and I've come to terms with the fact that Bollman will be around for at least one more season -- but look at it this way: if this line fails to live up to expectations as well, we can definitively say that, yes, it is the coach. And march on his house with torches.
But back to the line... Brewster and Cordle will be returning and it excites me to no end that Brew will form a battery with Pryor for the next two years. Cordle has struggled at times in his career, but showed promise in some guard play this season. A senior-to-be (unless he springs the mother of all surprises on us today), he has good size for a guard and will provide some leadership to the group.
Adams is healthy and ready to go and should slide into Boone's vacated left tackle spot. After sitting out a season, Boren is ready to start at the other guard spot. It's always a good thing when one of your new starters has two seasons of Big Ten play under his belt (including an all-conference honorable mention nod his sophomore year). And in the unlikely event the Buckeyes lose two centers in a game, Boren is the third member of this line with starting experience at that spot. Because you never know.
Right tackle is where things get interesting. Shugarts should be able to edge the incumbent Browning here, but he just went under the knife and will be missing spring ball. If he's healthy and has a good fall, however, the job will most likely be his. If the injury bug lingers, then Browning could step in with his dozen career starts. He was embarrassed at times this year, but he was only a sophomore and I continue to hold out hope that he'll grow into a good player2.
Providing depth on the line will be Moses, Smith and Blankenship. And though I'm excluding future Buckeyes from this exercise, Jake Mewhort looks kind of beastly.
Receivers: Posey, Sanzenbacher, Small & Ballard
With the graduation of Robo and the Hartline's early exit, the receiving corps is losing two guys with a ton of game experience. Though the passing game as a whole had a down year, it's hard to account for all the two of them did beyond just catching balls.
That said, this is another area of the offense that has a chance to improve a bit over 2008. The receivers should naturally benefit from a more polished Pryor throwing the ball to them and his feet will create many, many big play opportunities for wideouts breaking deep on plays that appear to be broken. Vince Young and Limas Sweed killed defenses on plays like this.
If Small can stay out of the doghouse, he brings a lot to the field. At times early in the season, most notably against USC, he was the Buckeyes' best receiving option. Dane actually finished the year with the same amount of catches as Hartline, and he's the possession guy with the ability to get decent YAC with another year of strength training. And then there's Posey. A hybrid of Sanzenbacher's clutch and Small's burners, he should be Pryor's #1 target for the next two years in Columbus. His feet are wet and '09 should be a breakout.
Flash Thomas and Stoneburner will be there to provide depth and should the Bucks roll five-wides, that's a formidable set.
Ballard is back at tight end and his shoestring grab against the Longhorns has me thinking good thoughts. Assuming the offensive gameplan decides to utilize him, that is. Backing him up will be DeLillo, who has great size as well, and J.D. Larson.
Backs: Pryor, Herron & Martin
Pryor will be entering his 2nd year as a starter at quarterback and many of us, myself included, hope that he adds a potent passing game to match the magic of his feet this season. Granted there were rumblings about injuries, but at times he looked pretty awful throwing the ball in the Fiesta Bowl. He will put it all together, it's just a matter of how soon. If he comes out in the opener slinging the ball, it could be a long season for Buckeye opponents.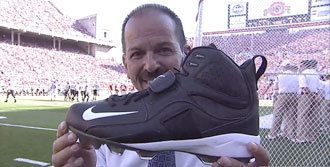 Losing Wells at tailback is huge, but I think most of us have enough confidence in Boom's abilities to at least get some sleep this summer. He started the season strong, but got popped at Wisconsin and missed a few games. I think what's most encouraging to me is the fact that he finished with a bang, torching Michigan and then breaking off a few solid runs against the Longhorns. Not a bad ending to a redshirt freshman season at all.
Fullback is anyone's guess, but I like Jermil Martin. There are Saine-to-fullback rumors, but he's going to need to bulk up a bit more before making that move. Marcus Williams is another possibility, but he's a bit undersized. Regardless, the winner of this battle won't see as many snaps as the fullbacks did in 2008 and if they're looking to tote the rock, they'll be disappointed. Buckeye fullbacks had all of two carries and seven receptions in 2008.
Conclusion
As already stated, the offense will be a more wide-open affair in 2009. It's almost impossible to think the team will be any worse than it was at times this year, what with Pryor's evolution and all. If things click early, this group has a chance to do some damage.
1 Yes, I realize that technically Browning won a job in 2008, but with the injuries to Shugarts and Adams early in their careers, who exactly did he beat out?
2 I am completely aware of the fact that I might be alone on this one.