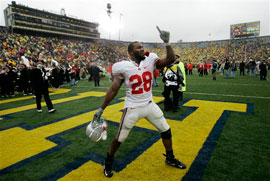 Tressel had his first Fiesta Bowl press conference yesterday and though most of his responses were run-of-the-mill, there were a few nuggets tucked in there.
First, Nathan Williams will likely be making the trip to Arizona, despite his recent trouble with the law. Whether he plays or not is still up in the air:
"From a team standpoint, there is some in a physical nature and there's some in a playing-time nature that the coaches and the seniors all agreed upon. So he'll have some work to do and miss some time and he'll have some constraints on the bowl trip, and so how he handles all of that will determine what exactly happens on the 5th."
As I'm sure most of you know by now, six juniors filed paperwork for the NFL. The six, Hartline, Ballard, Coleman, Russell, Cordle and Washington are nowhere near the 13 that filed paperwork in each of the past two seasons. In 2006, Ginn Jr., Pittman and Gonzalez left early, while Gholston was the only one of the 13 to do so last year.
Of course, Beanie is another junior looking to leave early, though he didn't file the paperwork because there's a pretty clear idea that he's a first round selection. Of the six that did file paperwork, Washington and Hartline are probably the most likely to exit, though Ken Gordon thinks Hartline will be back.
Though I wouldn't be heartbroken to see Hartline leave early, I don't think that move would be wise for him. He needs a bounce-back year to get his numbers up and he could probably stand to gain some maturity if some of the chatter that's out there is to be believed. Regarding Beanie -- just assume he's gone and you'll save your hopes getting crushed in a month. He's ready and it's the right move.
Ballard has the tools even if he wasn't used as much as he would have probably liked, but he would be better served with another year of seasoning. As would Coleman. Cordle and Russell will likely get their rating back, tuck it into their back pocket and work on moving the number up for next season.
On the subject of Beanie's health, Tressel expects to have a fully-operational #28 for the Texas game:
"I would call him right now probably 85% healthy and we anticipate he'll be 100% as we go into the game."
A 100% Beanie isn't something we've seen since 2006 and would be, you know, kind of huge to have against the Longhorns.
---
Congratulations are in order for Laurinaitis as he becomes the first three-time all-American linebacker for the Buckeyes. Though he didn't earn consensus honors this season, he is believed to be only the 2nd ever three-timer on the AP team. His awards tour may have gone sour outside of the Lott, but that's certainly exclusive company -- whether you might think he's a tad overrated or not.
---
The University has put out desktop wallpaper for the Fiesta Bowl, if you're into that sort of thing.