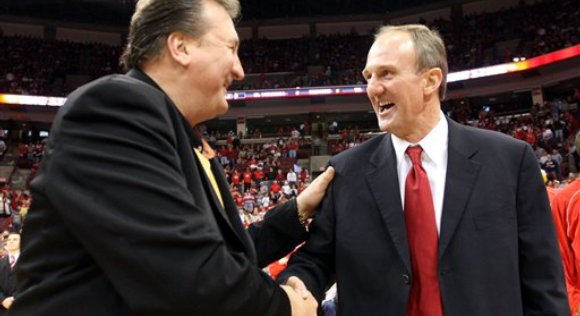 Flashing the energy of a group of grandpa's after Christmas dinner, Ohio State was served a large slice of humble pie in a 76-48 blowout loss at home to Chuggy Bear's Mountaineers today in the Schott.
The heel stomping ended the nation's longest winning streak at 14 and was OSU's first as a ranked team against an unranked foe at home in 28 years (41 games).
Ohio State hung around until the 16:59 mark of the second half when a Wil Buford bucket cut the deficit to 41-35 but WVU's athleticism, a comedy of errors, the return of the concrete shoe offense and listless defense combined to produce a 17-5 Mountaineer run putting the game out of reach at 58-40 with 10:35 to play.
Once again, the OSU offense devolved into four guys standing around while Turner tried to force a drive. Turner shot just 1/5 during the stretch with his teammates combining to shoot 1/7 while the Mountaineers caught fire going 8/11 with six field goals coming on layups or putbacks thanks to non-existent transition defense.
Somewhat surprisingly, Ohio State held their own on the glass (WVU 35, OSU 33) including a 17-15 edge on the offensive boards though it seemed the Buckeyes failed to capitalize on the o-boards after Lauderdale and Mullens both cashed in on putbacks early.
Turner's rough shooting game (10 pts, 4/17 FG) doomed any real chance of victory and no second scorer emerged as the Buckeyes combined to shoot 31% (18/58) from the floor including a Anchorage-esque 2/18 from distance and 10/20 from the stripe.
Diebler threw up a 2/10 stinker in a five point, six rebound effort while Mullens managed only a 1/5 night, good for four points and three boards. It looked like Mullens might be a difference maker early but he slowly disappeared though Lauderdale picked up his slack.
In one of the few bright moments of the game, Dallas swatted his third three point opportunity of the year and added seven rebounds (6 Off), five points and two blocks.
Another non-downer, I'll call it, was Buford having another decent game with 11 points (4/11 FG) and six rebounds. He held his own on the glass against a very athletic team helping offset Lighty's absence.
There's no doubt this team misses something with Lighty out, and Kellogg accurately talked about the hangover effect as it pertains to exactly when the impact of an injury is first felt amongst the team but I don't think a healthy Lighty changes what happened today.
WVU shot 48% from the floor thanks to numerous easy buckets and Lighty might've helped that stat a bit but if you only score 48 points it doesn't really matter and we already know Lighty isn't going to be a consistent offensive threat enough to consistently complement Turner.
That brings us to what this team needs to do to score points. I'm not sure what Matta has up his sleeve but if this team is forced to execute in the halfcourt for 40 minutes, it's gonna get ugly. WVU did a great job of slowing OSU's transition game and the end result was no ball movement in downtown Clank City, USA. How bad was it? The Buckeyes assisted on exactly THREE of 18 field goals. That is God awful. And somewhat of a trend.
The off shooting night obviously impacts the assist total but there's still some issues at point guard. Simmons had a nice day shooting the ball (11 pts, 4/7 FG) but he and Crater combined for just one assist.
So what do you guys think? Chalk it up to an off night against an underrated opponent or is trouble looming for this group?
Next up: Conference opener against Iowa @ 4pm, New Year's Eve.