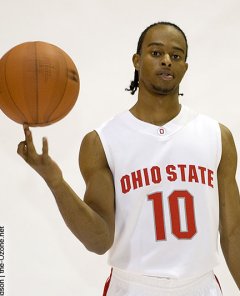 Numerous reports indicate freshman point guard Anthony Crater will leave the OSU basketball program effective today.
Bob Baptist reports Crater was frustrated with playing time claiming Matta told him he'd be the starter once Conley was gone. Obviously, Conley left sooner than expected forcing Matta to go the juco route to provide depth.
As it turned out, Matta was forced to use Simmons as the starter so far this season mostly because he was actually capable of getting his own shot and was more game ready to this point.
I find it shocking Crater would use the "promise" excuse considering his offensive struggles led him to take exactly ONE two-point field goal attempt through 10 games. He couldn't see he was struggling enough that he shouldn't be the starter?
At this point, if he doesn't want to be here then good riddance. The bigger issue is obviously the season has completely veered off course with the loss of Lighty to injury and now Crater to woe-is-me syndrome.
We'll examine what this means more in depth later but off the top, I think we can expect to see a few things.
One, Tampa is going to get his wish because, unfortunately, P.J. Hill is likely to see at least minimal minutes, especially in the short term while Thad devises a game plan. Second, I think the Turner to point guard experiment from last season could also reappear for stretches.
What a weekend.