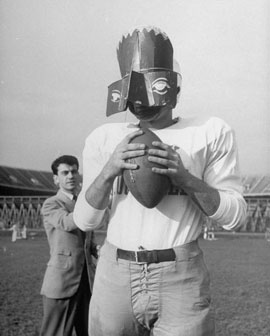 With all of the Michigan week activity, we're just now getting to this, but big news on the Google front as they announced a partnership with LIFE to digitize the venerable mag's photo archives. Photos and etchings dating all of the way back to 1750 are up and can be searched against.
Naturally, we had to head out and see what kind of Buckeye-related photos were online and the first one we stumbled upon was this shot of a Buckeye quarterback from 1948. The caption reads:
Scientists helping players improve football skills, especially passing.
Considering that '48 team went 6-3 and finished 4th in the conference, it's probably safe to assume the experiment was a one year thing.
So far, Google has only added about 20% of LIFE's collection to date, and there aren't a lot of great Buckeye photos up, but a few others caught our eye: