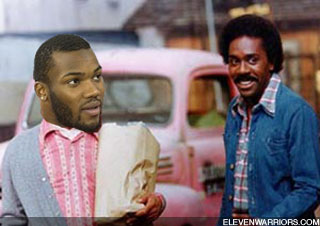 There was plenty of talk on Wednesday about how Beanie Wells is still out to win the Heisman despite appearing in only two games this season. Though he probably won't get the 1800+ he'd need to win the award, put him in the (rather tiny) camp that believes the trophy created in his likeness should go to the best player in college football regardless of numbers or team success:
"I like to think that the Heisman is not out of my reach, because a lot of times people get to thinking the Heisman is all about numbers and a team's record," Wells said after practice yesterday. "But when it all comes down to it, it's (about) who is the best player in college football. Plain and simple."
In reality, he probably has as much of a chance of bagging the award this season as I do of making out with Emmanuelle Chriqui in a dumpster off of Chittenden. But, I absolutely love his spirit.
His optimism is no doubt boosted by lining up in the same backfield with Pryor and though we certainly aren't counting on him coming back next season, there's a glimmer of hope. He's spoken a lot recently about the pure awesomeness that is lining up next to LIC and he's also spoken openly this season, particularly before the injury, about the Heisman, so it clearly means a lot to him. The damage they'd do together next season evokes memories of Tommy Frazier and Lawrence Phillips -- but more devastating.
---
"I just hurdled this kid."
Brian Robiskie was on the field for The Hurdle, but he had his back turned to the play when the Shoe erupted:
"So I'm wondering, why's everybody cheering, and he was like, 'You didn't see? I just hurdled this kid.'" Robiskie said Tuesday. "I said, 'What do you mean, you hurdled a kid? You don't do that.' He was like, 'No, no, no. You didn't see it? I was like 8 feet in the air!'"
Tight quote, but Robo still thinks Boone got more elevation when he jumped Hartline in State College last season.
---
Where Will Kiffin End Up?
Less than 48 hours after Al Davis ditched Lane Kiffin in Oakland, rumors of his next destination have begun heating up in earnest. I know a lot of you would love to see him in Columbus, but chances are his next position will be of the HC variety. Both Syracuse and Tennessee are already being floated as potential jobs for the former USC offensive coordinator.
If he does take a head position somewhere, I hope it's in the Big Ten (Iowa should have an opening soon). I think the biggest differentiator between the SEC and the Big Ten is the coaching talent and though Kiffin heading to Iowa City or some other Big Ten town would make things a little more difficult on the Buckeyes, the boost in recruiting and innovation he'd bring would certainly help the conference.
---
More Gear
We're on a roll and have added yet another t-shirt to the 11W Store. You can get one for free by guessing the score of the Wisconsin game -- or better yet -- you can buy one and help us get those new rims we've had our eyes on for the 11W Tour Bus.