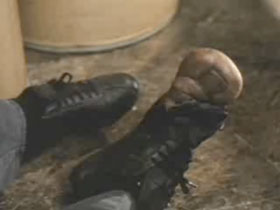 We kid with the title. We're just as tired of reading about this as some of you are, but for the other 50% of you, here you go.
Late news out of practice yesterday was that Beanie did some conditioning work, but did not take part in practice.
Running backs coach Dick Tressel spoke with the press and essentially touched on the following:
The injury was confirmed by a member of the staff for the first time as a toe injury (at the base of the right big toe if you're curious).
He's been in and out of the boot at various times and at one point was waving it over his head at members of the media. I'm no doctor (though I do play one on the internet), but when Tressel said he'd hoped Beanie would be wearing the boot as often as possible to take pressure off the toe, that made a lot of sense..
He's a game-time decision for this weekend, though Tressel indicated that Wells want to play against OU.
If he's cleared, that puts the staff in a tough spot. No doubt he'll want to play, but do you risk it with the Trojans on deck? I'm not buying the "he'll get rusty" argument put forth by some -- some dudes just don't get rusty.
My guess is that if he is cleared to play -- and Tressel signs off on it -- he'll probably see a similar workload to what he saw against Kent State last season when he had four totes for 17 yards on the day.