The 4th-ranked Buckeyes will be looking for victory number 800 when they meet the Ohio University Bobcats in the Horseshoe Saturday. Only four other schools -- Michigan, Notre Dame, Texas and Nebraska -- have managed to field a football program long enough and be consistently good enough to achieve this milestone. Though there's some distance between the #4 Cornhuskers and the Buckeyes, you can take delight in knowing that there's a very real chance that Texas (821 wins) will catch and pass Notre Dame (824) for second on that list soon.
What's really kind of sad when you look at the milestone games such as win 100, 200, 300 and so on, is that only two of the previous seven century achievements came from what you'd classify as a big game. For win no. 300, the #12 Buckeyes won at #5 Minnesota 20-7 in 1945 and the program's 400th victory came in Ann Arbor in 1961 when the 2nd ranked Buckeyes hung 50 on the unranked Wolverines.
It's also interesting to note that after taking 16 years to go from 300 to 400 victories and then another 14 years to get to win no. 500, Ohio State picked up the next two batches of 100 victories in 11 years each. At this pace, we can look forward to victory no. 900 possibly coming against Tennessee in 2019. Though, if Tressel keeps his current pace, we'll probably arrive there a year earlier.
A minor sub-plot for the game that nobody is really talking about is the fact that Heisman hopeful Beanie Wells was injured last weekend against Youngstown State and will not play. While his absence won't be enough for anyone to seriously think the Bobcats have a chance, surely there was joy on Court Street this week as OU defenders got news that they would dodge the Varsity Club, thus increasing their own odds for a healthy season.
Opponent
To Ohio State fans, Ohio University has always been that fun place an hour and a half to the southeast that threw raging Halloween parties and produced (and consumed) the best weed in the state (or so we're told). The Bobcats have never been a real football power and last sniffed any kind of serious success way back in 1968. Frank Solich is working to improve things in Athens, but for the most part, his resources are limited compared to the 800-pound gorilla in the state eating bananas on Woody Hayes Drive.
On opening weekend, Ohio traveled to Wyoming and had a mediocre-to-slightly-bad Cowboy team on the ropes at home before giving up a late touchdown pass and the win. The running game was downright anemic, but that will happen when 4-year starter and the school's all-time leading rusher Kalvin McRae burns through his eligibility. Former wideout Chris Garrett (#2) stepped into McRae's shoes and was held to 30 yards on 12 carries in Laramie.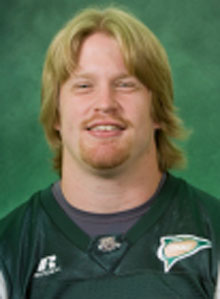 Another factor contributing to the poor showing on the ground is the relative greenness of the Bobcat offensive line. Not a single starter on the line has a full-season's worth of starts under his belt. Tight end Andrew Mooney (#81) is solid and has good size (6-3/236), even contributing a touchdown reception last week (moving him into 5th on the school's all-time list with 10 scores for his career -- I'll wait for you to stop scoffing), but he's not in the league of a Travis Beckum and shouldn't give Buckeye defenders too much of a headache on the day.
A bright spot on the offense was the play of wide receiver Taylor Price (#23). With good size and jets, he burned the Cowboys to the tune of 14 catches (school record) for 139 and has a local connection as he's one of three former Hilliard products on the Ohio University roster. He figures to be quarterback Theo Scott's (#3) go-to guy on the many third and longs the Bobcats figure to face.
Ohio looks to be a little stronger on the defensive side of the ball than they are on offense, with a solid (for MAC-land, anyway) defensive line and veteran linebacker corps. They held Wyoming to 271 total yards last weekend with 160 of those coming on the ground. They'll give up size on their Buckeye counterparts, but for the first half at least, they'll come out ready to play hoping to pull their weight in bringing down Goliath.
They had to replace a couple of safeties this year, but of note in their secondary is Julian Posey (#9), DeVier's older brother. He played in twelve games as a freshman last year and will start at corner against the Buckeyes and could draw some coverage of his brother depending on how things shake out. Being the sibling of a Buckeye, we of course hope he goes on to dominate the MAC, but for this one game, we won't mind seeing him burned a few times.
Solich is one of those coaches that got a raw deal in my book and for that reason I will root for him wherever he goes. By all accounts a class act, he appears to be a good fit for the university (save for the DUI, or drugging when he first arrived). He'd really like to see the 10-10 halftime tie that dazed Horseshoe fans witnessed when the teams last met in 1999, but the 2008 edition of the Buckeyes is a slightly better product than that Bellisari/Rambo-powered unit.
NOTES: Frank Solich is 19-19 in four season at Ohio... OU is 0 for 14 against ranked opponents... The Bobcats are 0-5 all-time against the Buckeyes... Ohio will be playing in front of their largest audience ever - the previous record being the 93,222 that witnessed the 1999 game in the Shoe... Speaking of all-time wins, the Bobcats are idling at no. 485.
Buckeye Breakdown
With Beanie on the sideline, Mo Wells will start for the Buckeyes, though Saine is thought to be 100% again and will be split the load along with Boom Herron. There is a calm confidence in Mo Wells around the 11W offices -- for this weekend (and possibly beyond). When Boeckman is in, Rasta is a nice rush and receiving option and he looked downright scary in the pistol with Pryor last weekend (and if I had to guess, I'd say we'll see even more of Pryor and the pistol this weekend).
Speaking of Pryor, it took him all of one game in Columbus to move past Joe Bauserman and into the #2 quarterback spot behind Boeckman. Although it's not reflected on the latest depth chart, Tressel confirmed as much when he spoke to the press earlier in the week. All three quarterbacks will most certainly see action this Saturday, however, and if each of them builds on what they showed last weekend, the Buckeyes quarterback cup will continue to runneth over.
Freshman Mike Adams is now listed as the #2 left tackle, behind Boone. He was third on the depth chart last week, with Andrew Miller listed as the backup, but Miller is now listed as the backup left guard, bumping Scott Sika. Fellow frosh J.B. Shugarts and Mike Brewster are listed third on the chart, but as with the quarterbacks and virtually every other position group on the team, the young pups should see plenty of action.
It will be interesting to see Bryant Browning take on slightly better competition than what he saw against Youngstown State in his first career start. The right tackle looked great at times last week, though there were a few "teaching" plays for him to build upon. Tressel seems to like his work ethic and maturity, so there's no reason not to expect continued improvement out of him.
You have to wonder how much playing time Robo will see after coming down and re-aggravating his shoulder last weekend. Like Beanie, he's more valuable to the Buckeyes against USC than Ohio. If he is used judiciously, chances will be there for Small, Sanzenbacher, Posey and others to prove they're worthy of more snaps.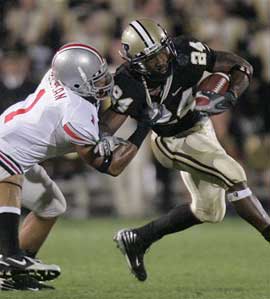 From a defensive perspective, there's no reason to believe the Buckeyes can't follow-up on the shutout they recorded against YSU with another one against Ohio. Exposed as somewhat of a paper tiger the last two MNC games, this unit looks like the real dealio this season -- and two-deep at that. We'd all obviously like to see another sack or three out of Gibson, Lawrence and the others (it's about time for a Cam Heyward outburst of destruction as well) and forcing turnovers continues to be a big priority for this group. If they continue to fly to the ball, it's just a matter of time until the turnovers do come in bunches.
Jermale Hines got the start at strong safety for the injured Kurt Coleman in week one and he turned heads. Coleman is listed as questionable for Saturday's game, but he may want to try to get himself back on the field as he's in danger of getting Wally Pipped (though Coleman still appears to have the full confidence of the staff).
Elsewhere in the secondary, Brian Rolle will be held out due to a concussion and Andre Amos should be able to play after sitting out against Youngstown State because of late camp injury. The game will also mark the last one that Donald washington and Jamario O'Neal will be pure spectators at, but the experience the young guys are getting should help payoff when they square off against pass-happy Mark Sanchez next weekend.
NOTES: Bobby Hoying and Jeff Uhlenehake will be inducted into the OSU Athletics HoF during halftime... Defensive back James Scott is rumored to be heading to Ole Miss... Buckeyes are looking to win their 29th-straight against in-state opponents... Pam Ward (shudder) will be calling the game for ESPN... Dispatch Buckeye beat writer Ken Gordon may secretly be pulling for his alma mater this weekend.
---
PREDICTION: Ohio State 44, Ohio 0