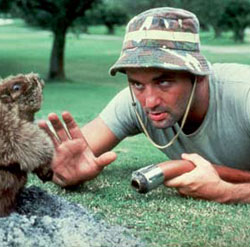 You have to go all of the way back to 2002 to find a Gopher team heading into a showdown with Ohio State playing with this much confidence. That season, Glen Mason's team raced out to a 7-1 start before getting handled 34-3 in Columbus. The Gophers would go on to lose their next three Big Ten games and ultimately finished the season 8-5. In 2004 Minnesota started the season 5-0 before losing a close one to Michigan and then watching their season spiral away to the tune of five losses in their final six regular season games. Will this year be any different?
I'm certainly not here to say the 2008 Buckeyes are as good as that 2002 squad that would go on to shock the Canes, but despite the confidence of Gopher fans, the historical numbers and the fact that the Buckeyes, thanks to USC and some questionable play in other games, are out of the woods in regards to sleeping on any decent teams makes this a game that I just don't see Minnesota pulling out.
Maybe in another year where they aren't facing Pryor, a refurbished Beanie and a defense hungry to prove doubters wrong could Tim Brewster get that landmark win he so sorely needs. Just not this Saturday.
Opponent
There was some debate earlier in the week about how the Gopher's out of league schedule compared to Ohio State's. Sure, the Buckeyes can claim to have played against USC, but that's all they really can claim in that one. The Gophers, meanwhile, avenged a tough loss to FAU last season by thumping the Sun Belt favorites 37-3. Two weeks prior, they erupted in the fourth quarter to blow-out a pretty decent Bowling Green team on the road (ask the Wannstache). But their true colors came out in narrow wins over Northern Illinois and Montana State. Juggernauts they are not.
Still, they are 4-0, a record Buckeye fans would kill to have and come into this game vastly improved over the inaugural Brew Stew of 2007. That mark is aided largely by turnovers. It was turnovers that did the Falcons in and the Gophers have forced 13 on the season, good enough for 3rd-best in the nation. Meanwhile, they've only given the ball away twice. So there you have it: +11 against middling competition and you have that spotless record.
On offense, they're powered by the Adam Weber (#8) to Eric Decker (#7) combo. Weber, the reigning all-freshman quarterback in the conference is off to a hot start of his sophomore season. He's completing nearly 72 percent of his passes with 7 touchdowns and only one interception. Steady, he's thrown for at least 200 yards and one touchdown in each of his four starts this season and is good enough to play at a lot of places.
Decker, his safety blanket, is putting up monster numbers, leading the Big Ten and placing fourth nationally with 32 receptions heading into the game. He's on pace for a 100/1400 season. He's also consistent -- the junior has exactly one touchdown catch in each of his four starts. And then the big drop-off. Decker, as good as he is, has three times as many receptions as Minnesota's second-leading active receiver, Ben Kuznia (#16).
It's not just an arial attack as Brewster will look to establish the running game. After starter Duane Bennett went down for the season in week two, freshman DeLeon Eskridge (#23) stepped up and has filled-in nicely. Listed as 5-11/190, he has decent, but not large size for a back and he's already delivered one 100-yard game with another near miss in his two starts. He's also a touchdown factory, having popped-off for 5 in those games.
The Minnesota offensive line enters the game allowing only 1.5 sack per game, while their counterparts on the Buckeye said are allowing 2.5 (though USC did its part to inflate that number). It looks like between Becker's poise and the line, getting to him will be difficult, but the schedule to date has not provided any real type of indication of how they will perform against top units.
Senior end William VanDeSteeg (#91), besides having an awesome name, will be the guy to watch on the Gopher defensive line. He has 20 career starts and served as a captain as a junior last year.
There's nobody in the linebacker corps that really jumps out at you (though senior Steve Davis is one of the captains), but the JUCO-infused secondary is off to a hot start. Two players, sophomore Kyle Theret (#27) and junior Traye Simmons have multiple interceptions on the year -- all part of a unit that's already collected 8 picks.
Aside from Eskridge, a number of players from Brewster's nationally ranked 2008 class for Minnesota will also see action, most prominently return man Troy Stoudemire Jr. (#11) and his 30.7 average on kick returns and defensive tackle Jewhan Edwards (#68).
NOTES: Former Gopher coach Glen Mason is serving as the honorary captain for the game... After allowing 38.5 points per game last season, the Gophers are giving up just 17.5 this year... Eskridge's five scores tie him with Baylor's Robert Griffin for most among FBS freshmen... Minnesota actually holds a winning all-time record against six Big Ten teams, but they're just 7-40 all-time against the Buckeyes.
Buckeye Breakdown
With the anticipated return of Beanie this weekend, Buckeye fans are envisioning a Pryor/Wells-powered backfield destroying just about any defense that they run into. The truth is that Beanie will probably only get a handful of carries this weekend in an effort to see where he stands with his turf toe mysterious toe injury. Still, the mere threat of him on the field, with Pryor, opens up all sorts of problems for opposing defensive coordinators. In the two, you have two former Army All-American Bowl MVPs in the same backfield and you'd be right to key heavily on each of them, at the same time exposing your corners to a lot of man coverage.
The line, after receiving an extended verbal smack-down from Tressel for the better part of this week should be ready to come out and finally play up to their considerable hype heading into the season. I'm excited to watch the growth of Brewster at the center position and you have to being to wonder whether Rehring will find himself either out of a job or moving in to take Person's once he's healthy again.
The Gophers do appear to have a decent secondary, but with so much focus being placed on stopping Pryor and Beanie/Boom from gnawing up huge chunks on the ground, the Brians are also poised to contribute in a big way. Robo, especially, should be hungry to atone for the dropped 90 yard touchdown strike that Pryor gifted to him last Saturday. Beyond those two, it's nice to know that in only his first career start, Pryor was checking down to his tight ends and fullbacks, often the third and fourth options on the play. If he continues doing that, the offense will continue to grow, making even a mediocre line shine and the Buckeyes will be a very difficult team to stop. A dash of Posey wouldn't hurt, either.
On the defensive side of the ball, the key is to get to Weber. Hit him early and get to him as often as possible to disrupt him because he is good enough to make the Buckeyes pay -- especially down the middle of the field -- if he's given time to operate. Expect a big performance out of Gibson, making his first start at defensive end. I'll also be keeping a close eye at Heyward in the middle to see if the new spot is working out for him.
The secondary will have to know where Decker is on every play. If they take him out of the game, that will go a long way towards taking Weber out as well. This is also a good opportunity to put Jenkins on Decker in man coverage and turn up the blitz dial a little bit. This defense needs to get that swagger back and a heavy dose of blitzing may do just that.
Kick coverage is also huge in a game like this because nothing keeps a team in games they don't deserve to be in like a couple of quick returns and the Gophers have the horses to do just that.
Ultimately, the Gophers are just catching the Buckeyes at the wrong time and I expect that to be fully reflected in the final score.
NOTES: The Buckeyes are outscoring foes 38-0 in the fourth quarter of games this season... The quarterback/running back combination of Pryor and Boom has put up 416 yards on the ground this season, good enough for 2nd-best nationally... The Buckeyes are 5-0 against the Gophers under Tressel... Despite the USC pounding, the Buckeyes have held their opponents scoreless in 10 of 16 quarters played to date.
---
PREDICTION: Ohio State 38, Minnesota 13