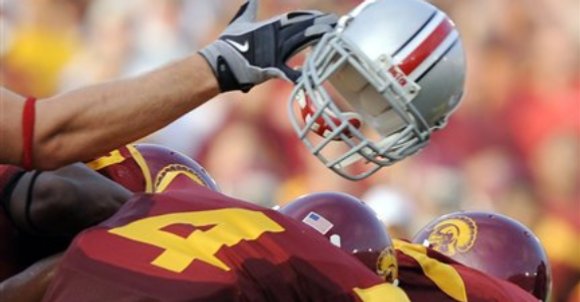 Disclaimer: I usually try to remove emotion from my posts but I just can't do that today. If you don't want to read factual negativity, move along because I can't help it. It's time to be realistic about this team and the state of this program.
Reality Check
Last night's debacle should make even the most diehard fan realize this season's hopes were more about hype than substance. I admit I didn't realize this until last night, but it's now loud and clear and inarguable and disgusting.
Just taking a quick look at each position in comparison to the Trojans, including the coaches, and you see a list of mismatches. On the field, USC probably has the edge at QB, RB (sans Beanie), WR, OL, DL, LB, Safety, PK, KO, K, and Kick Return.
OSU has the edge at Corner and Punter.
On the sidelines, USC has the edge at Head Coach, O-Coordinator and D-Coordinator.
OSU has the edge in..well, they have no edge at any coaching spot. I guess maybe Fickell could pin USC's D-Coordinator. But if he did, it would probably be negated by a penalty.
---
The Off-Season Must Produce Changes
Even the most loyal Tressel backer has to be second guessing himself this afternoon. That said, the Vest isn't going anywhere making it paramount that other major coaching changes occur. That's not a knee-jerk reaction - it's just a fact.
I mean, how is it that Carroll can lose guys like Norm Chow and his offense gets better while OSU loses guys like Snyder and Dantonio and gets worse?
Collectively, the staff was amazingly outcoached and the team was once again unprepared and undisciplined on the biggest stage. Ten penalties?! I know the refs were questionable at best but 10 freaking penalties? Thirty freaking yards of offense in the second half?! Nice adjustments. Changes must be made after the Champs Sports Bowl (I kid).
Start with Bollman. The offensive line has been an overrated joke for years but nothing is done about it. The line is good enough to beat bad teams - nothing more. Under Bollman's guidance, Boone has gotten progressively worse and the collective unit has been embarrassed in every true big game save Miami. How many starters does Bollman have in the NFL now? One?
As Tressel's right hand man on offense, Bollman also has to share responsibility for the aforementioned 30 second half yards of offense. And if Bollman had anything to do with Boeckman not being permanently benched after the Pick Six, then he needs punched in the nuts as he's boxing up his belongings come January.
Man, I hate to come off like because I'm not a "Fire Everybody" kind of guy but am I wrong?
I know Walt Harris was hanging around the practices for a spell. Maybe he can come back. Hell, let Mike Conley and Daequan take the reigns a la the spring game - I'm desperate over here.
Heacock also needs to be shown the door. The defense has been underwhelming for far too long and watching the unit play not to lose in big games is no longer tolerable. Mark Sanchez should not be picking apart OSU's defense. Of course, as I type that, I'm reminded there are definitely more talent weaknesses than I thought coming in to the season. (I'm looking at you Russell, Laurinaitis, and Heyward, among others.)
---
The Sequence that Spelled Doom
Trailing 14-3, the holding call on Person negating the TD toss to Robo was obviously a huge play but what followed was equally demoralizing and confusing. The penalty put OSU in a 2nd and 22 hole at the USC 31 yard line and what do Tressel and Bollman come up with?
In what was the most aggravating play call I can ever remember, the offensive minds run a Boeckman keeper that gains 2 yards setting up a 3rd and 20. Are you kidding me? Those two thought that was the time to unleash the "Big Galoot Scoot"? Sickening. Tressel Era playcalling in a nutshell. Of course, the drive would become more pathetic as Pretorious pushed a 46 yard FG try.
Then, following a three and out by the defense, Herron and Pryor both popped nice 11 yard runs setting up Boeckman's pick six to Superfly Jimmy Snuka giving USC a 21-3 lead with 2:49 left in the half. Game Over.
---
It's Pryor Time (aka Prep for 2009)
As talented as Pryor is, he's got plenty of work to do to become a true quarterback. That's exactly why he should start the rest of the season.
Of course, it's more likely he'll just continue to split time with Boeckman, but after a 14/21, 84 yard, 3 turnover performance, Tressel has all the reason he needs to bench the Todd with an eye on next year.
Maybe I'm in the minority (I doubt it), but I could give a rats ass about winning the Big Ten. The conference is second tier right now and if the program's intent is to compete for national titles then some sacrifices must be made and some feelings must be hurt.
Don't just stop with Pryor. It's time for the young offensive linemen to get significant snaps in place of clowns like Person, Browning and Rehring.
---
Random ADD Induced Thoughts
Prophetic Sign of the Night: Another Buckeye Catastrophe
Not having Beanie was a huge blow but he couldn't have made a 32 point difference. At least I hope not because it would be even more depressing to think one guy is that important to what was supposed to be a stacked roster.
How many years will it take for the program to recover from Florida-LSU-USC? Three? Five? Ten?
The offense has scored 23 points in the last 8 quarters.
How did those 35 unanswered points taste? If you combine a similar stretch against LSU (31 straight points between 1st-3rd quarters) the Buckeyes surrendered 66 unanswered points combined in those two program defining "contests".