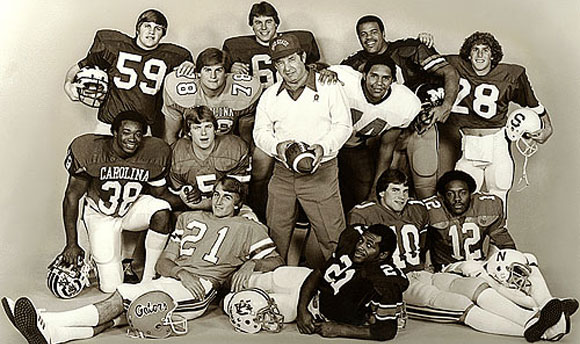 Note, a few of the following links go to playboy.com. Although the pages linked-to don't necessarily contain the naughty-naughty, we wanted to give you a heads-up should you be reading this from work.
Count Playboy among those not buying the Georgia hype. After the AP followed the coaches poll placing the Bulldogs in the top spot, the venerable lad's mag didn't even see fit to include Georgia in the top five (Playboy and Phil Steele -- more in common than you thought). Instead, they like the Sooners with Ohio State, Florida, Missouri and USC filling the two through five spots.
They're definitely not high on the Big Ten outside of the Buckeyes. Wisconsin checks in at 14th, with the Illini pegged at 21st. Being kind enough to bless us with a top 50, they like Michigan at 31st, Penn State at 32nd and Purdue at 36th. Also, I can't put words to the smile I got when I saw traditional powers Florida State, Miami and Notre Dame at 43rd, 47th and 49th, respectively.
They also have photos up of their 2008 All-American team with Laurinaitis and Jenkins both repping the defensive unit. And while the initial reports of USC's linebackers dwarfing Laurinaitis may have been a little exaggerated (see photo #5 in the gallery), Taylor Mays is pretty burly for a safety.
On the offensive side of the ball, both Knowshon Moreno and James Davis are fine running backs, but if there's a reason Beanie didn't make this team, I'd love to hear it.
I did get a little side-tracked on the site and it had nothing to do with the beautiful women surely just a click away. Playboy has posted photos of past All-American teams and there are some classics: Hollywood Cris Carter in 1986, Coop, Plummer and Diggs bringing the black shirts on the '99 team, Herschel Walker's socks in 1981 and old time football in 1996.