I think it's safe to say that most of us consider Beanie Wells the preeminent running back in college football. His combination of size, speed and vision is rarely seen in running backs. Guys aren't compared to Jim Brown lightly but when Archie made the comparison last month, Buckeye fans didn't even flinch. He's just that good (and even SEC fans will admit that).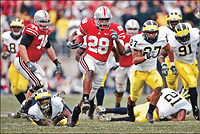 After breaking Griffin's own Buckeye sophomore rushing record with 1,609 yards last season, he's a leading candidate to win the Heisman Trophy this season, which is fitting when you consider the pose represented on the hardware. The web's quintessential Heisman expert is all-aboard the Beanie wagon, so you have to figure he has a great shot to win it, right?
Wells rushed the ball 274 times last season, good enough for 5th all-time at Ohio State. Assuming he gets more carries his junior year and being free of injuries and with a better line, it's not out of the question to think he wouldn't be able to improve his 5.9 yards per carry to somewhere in the 6.5 range. With 300 rushes*, that's a 1,950 yard season -- certainly good enough to win the award, especially if the Buckeyes take care of business on the field.
But that boost in carries is not a given considering how many weapons this team has on offense. The Buckeyes will probably trot out more formations and personnel than at any other time during the Tressel era. Pony, pistol, 5-wides, Pryor -- regardless of how great Wells is, it's hard to envision him getting the ball as often as he did last season.
That and there certainly will be some Saturdays that Beanie won't even see the field in the second half due to blowouts. Sure, his 39 rushes against Michigan were the 4th-most in school history, but the 16 touches he got against Youngstown State and 12 he saw against Northwestern figure to be more common this season. Tressel is too much of a gentleman to pound teams with Wells when the Buckeyes are up 30.
The USC game does present a golden opportunity to make an early impression with voters, however. If he manages to put up 100 or more against this Trojan defense, that will go a long way towards boosting his candidacy, regardless of whether the Buckeyes win or lose. The Wisconsin, Illinois and Michigan games should also provide heavy workloads for him. Breaking 200 in a few of those key conference games does wonders for a campaign.
Ultimately, though, the Buckeyes will probably have to finish with 1 loss or less and Beanie will have to put up north of 1,900 yards (and hope Tebow doesn't match his soph numbers and Moreno doesn't top 2,000) to bring home the trophy and in doing so, he can both deny Tebow from matching Archie and also earn the school's 8th award, putting Ohio State alone in front of Notre Dame and USC.
---
Get the Picture does a nice job of wrapping up the various articles sprouting up about how to stop the spread. I'm reminded of the "Why The Option is All the Rage" callout on the cover of the Katzenmoyer '98 SI college football preview issue as I watch this arms race unfold.
Dennis Dodd makes a lot of sense when he points out that top talent will come home to pro-style schools when they see the approach not translating to prosperous NFL careers, but the quote from Dennis Erickson about getting guys that can run but aren't heavily recruited rings true as well.
What do you think? Will the spread eventually go the way of the option?
---
I was interviewed on the CFB Weekly blog radio show (my segment starts at the 40:50 mark) and though I think I'm coming off a little less d-baggy each time, I still can't run from that country grammar.
---
Quick reminder that you still have until 9PM tonight to enter the 2-year birthday contest. The feedback has been awesome, but we'd love to hear more about what we can do to get better.
* If he gets into '84 Byars (336 rushes) or '95 George (328) territory, it's over.