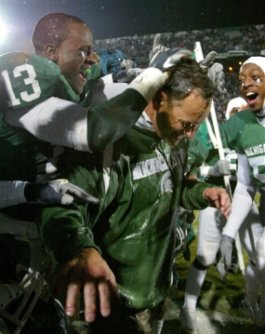 We're counting down the weeks until kickoff by profiling a different Big Ten team each week. Today, Sparty is up.
Michigan State seems to be a popular choice for the "darkhorse" team in the Big Ten conference this year. They are coming off a 7-6 record in Mark Dantonio's first season and the way their schedule sets up, this popular choice could be a correct one.
COACHING: Anyone has to be better than John L. Smith and Dantonio proved that last year. All six of Sparty's losses were by a touchdown or less, including two overtime losses to Iowa and Northwestern. Dantonio is building MSU back up and this season will continue to show that.
OFFENSE: Michigan State returns 7 starters on offense, including senior QB Brian Hoyer and senior RB Javon Ringer, but lose their top two receivers in Devin Thomas and Kellen Davis.
Hoyer enters his second season as the starter and put up respectable number last year, throwing for 2725 yards and 20 touchdowns, against 11 interceptions. His receiving corps is very green and will be hard pressed to find equivalent production, with Deon Curry (Sr.), Mark Dell (So.) and Fred Smith (Fr.) leading the way.
Ringer is a stud. His 1447 yards last year gave him the third highest total amongst Big Ten backs and he should receive more carries this year without his sidekick Jehuu Caulcrick around. Of course that could also have an adverse effect, allowing his legs to wear down as the season progresses, if junior A.J. Jimmerson can't step it up.
The offensive line has three starters returning, but also bring back another three with starting experience. They are a big line, averaging over 300 pounds. The key is for this line to stay healthy, if they do, MSU is in for a good run.
DEFENSE: Even though they only return 6 starters on defense, Dantonio can coach this side of the ball and he has his two top tacklers from last year to build around.
Greg Jones lead the team in tackles last year with 78, despite not starting until week 6. He totaled 14 against the Buckeyes and will be joined by fellow sophomore Eric Gordon and junior Adam Decker.
The Spartans D-Line returns just one starter, DE Justin Kershaw, who only registered 1.5 sacks last year and 34 tackles. Cincinnati transfer Trevor Anderson enters his fourth year in Dantonio's system and should provide instant help. Incoming freshman Tyler Hoover could also enter the rotation.
The secondary returns six of their top 8, including senior corner Kendell Davis-Clark, who was second with 72 tackles a year ago. Strong safety Otis Wiley, an honorable B10 selection last year returns, along with sophomore Chris Rucker, who started at corner before he suffered an injury.
KEY GAME: The key game for MSU is the Notre Dame tilt, September 20. MSU opens at Cal, which could go either way. With games against Eastern Michigan and Florida Atlantic sandwiched in between, a victory over ND could mean a 3-1 or 4-0 start. A loss could send Sparty into conference play with a potential 2-2 record.
BEST-CASE: If Michigan State can hold up their end of the 2008 Big Ten pack and win all of their OOC games, they open up conference play at Indiana, at home against Iowa and at Northwestern. Could a 7-0 start be possible? If so, Ohio State and Michigan await the following two weeks.
WORST-CASE: While MSU may be considered the dark horse, I still don't see any higher than a fourth place finish. Their last five games are: OSU, at Michigan, Wisconsin, Purdue and at Penn State. If MSU suffers a couple of early season losses, they could possibly squeeze out two victories after Oct. 11, finishing around .500 again.
Michigan State has been ranked only four times (Wks. 4-7, 2005) in the last four season, but Mark Dantonio is making some strides. He is locking down the top HS prospects in Michigan and a hot start to the 2008 season could boost his effort in recruiting. Of course a victory against Michigan wouldn't hurt as MSU marches on to their second straight bowl game.