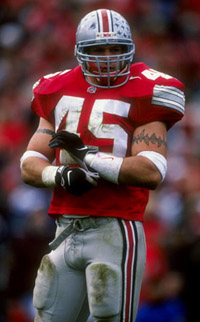 After having taken an introductory look at the 1998 team and then recalling that offense, we move on to the defensive side of the ball.
We had an incredibly difficult time evaluating the 1998 Buckeye defense. On one hand, you have all of the talent: Winfield, Katzenmoyer, Diggs, Moore, Plummer. The secondary was so good that when the nickle formation came out, 4 future NFL starters were on the field together.
The run defense wasn't so shabby either, finishing with the nation's stingiest numbers, allowing a meager 67.4 yards-per-game. The longest run they surrendered was but 35 yards. And it came from Northwestern in a game the Buckeyes won by 26.
While you'd be correct to point out that Joe Germaine and the offense forced opposing teams into a one-dimensional approach to catch-up, you also have to take into account the fact that the offense also scored on a lot of quick drives, ensuring that the defense saw plenty of time on the field.
Despite all of the praise and accolades, there still sits the ultimate lapse. How could such a stacked team surrender a 17-point second half lead to Michigan State, while recording 4 fumble recoveries on the day? How does Bill Burke throw for 323 yards, 125 of them to Plaxico Burress against that secondary?
(Random bonus points do go to this unit for the fact that the starting free safety was the uncle of one of the starting linebackers.)
Line
The 1998 defensive line may have been the greenest on record in Columbus consisting of three sophomores and a true freshman. Rodney Bailey and Brent Johnson were the bookends -- Johnson going on to lead the line in tackles with 40 and the team in sacks with seven. For his efforts, he earned the Jack Stephenson Award as the team's most outstanding defensive lineman.
| | |
| --- | --- |
| DE | Rodney Bailey, SO |
| DT | Ryan Pickett, FR |
| DT | Joe Brown, SO |
| DE | Brent Johnson, SO |
Bailey had taken over as a starting end during the 10th game of his freshman campaign of 1997 and wound up finishing 2nd on the team with six sacks. Neither end was Vern good and they certainly didn't approach the numbers put up by Vrabel and Finkes during the 1996 season, but they were more than adequate considering the depth and skill playing behind them.
Likewise, Brown locked down his starting tackle job as a red-shirt freshman in 1997 after breaking in against Indiana in the 7th game. Steady and consistent, he put up respectable numbers in 1998 despite playing the entire year in pain after suffering through a broken thumb and the metal plate that came along with it.
Pickett, a highly-touted freshman became the only true frosh to start on the 1998 squad after he took over for Clinton Wayne for the Penn State game and never looked back, starting the final 9 games of the season. While still a pup in 1998, he would go on to play two more years before leaving early to play in the NFL, where he's currently doing his best to provide scary profile photos.
Depth was provided by Clinton Wayne and Mike Collins at tackle and James Cotton and Matt LaVrar at end. Wayne was part of Cooper's late-90s infatuation with Canadian defensive lineman (Johnson being the other) and Collins would go on to have a great career, but Cotton and LaVrar never really panned out. Waiting in the wings was freshman Kenny Peterson.
The defensive line appears to be in better shape today than it was ten years ago. Brown and Pickett were solid enough, but the tandem of Wilson and Heyward edges out Bailey and Johnson by a comfortable margin. Thad Gibson may provide even more distance between the groups, but there's also this fear that he could end up being the next Cotton -- a guy that never seemed to live up to the hype generated from his practice sessions.
Linebackers
In Katzenmoyer and Diggs, you had one of the great linebacker pairings in Buckeye history. Diggs was an up-and-coming sophomore that had led the team in sacks as a freshman in 1997 with six. The converted defensive end saw starts against Michigan and Florida State that season when the Buckeyes showed the 3-4 set. In 1998, he earned all-Big Ten honors after leading the team with 16 tackles-for-losses and finishing second on the team with 80 tackles. Large and fast, he was every bit as good as Katzenmoyer was during the season.
| | |
| --- | --- |
| SLB | Na'il Diggs, SO |
| MLB | Andy Katzenmoyer, JR |
| WLB | Jerry Rudzinski, SR5 |
Katzenmoyer was Katzenmoyer, despite his junior season being perhaps his worst in Columbus. He finished fourth on the team with 74 tackles including a pretty impressive 60 solos. Still, his numbers across the board paled in comparison to his freshman and sophomore seasons of 1996 and 1997. Part of that was was good game-planning out of opposing coaches and part of that was Diggs stealing plays from him. He did save one of his best performances of the season for the Michigan game where he notched 10 tackles including one TFL and one sack.
Oh yeah. And this:
Rudzinksi was another in a line of Cooper linebackers that all fit the same mold: white, slow, smart and choir-boy. You know, like Greg Bellisari and Ryan Miller. A three-year Buckeye starter (well, 2.2 or so to be exact), Jerry's forced fumble and subsequent recovery for six against Penn State quarterback Kevin Thompson changed the complexion of what had been a nail-biter up until that point. Granted, it was hard to stand out when playing next to Katzenmoyer and Diggs, but Rudzinski was consistent and could be counted on to be in the right place at the right time.
The backup crew consisted of Courtland Bullard, Jason Ott and Chris Kirk. Or three guys that were supposed to be good down the road, but never were. However, they didn't see many minutes during the 1998 season, so it's really not fair to evaluate them in this context.
If you put a gun to our heads and forced us to pick between the 1998 linebacker corps and the 2008 linebackers, we'd have to give the nod to 2008. Laurinaitis, while not quite as imposing as Katzenmoyer, has put up better numbers and is expected to do the same this season. Freeman and Diggs may be a push, but maybe a slight edge to Freeman. Rudzinski, while not being flashy, brought more to 1998 with his experience alone than whoever wins the open job this fall will bring to the field.
Defensive Backs
I have to get this out of the way: Antoine Winfield is my favorite Buckeye of all time. There was just something about the way that he spent four years in Columbus without missing a single tackle all the while smiling and shaking his head as if to let the world know that teams were foolish to even consider running or throwing to his side of the field. He was the team's defensive MVP during the 1997 and 1998 seasons (Katzenmoyer's last two years in Columbus, mind you) and was first Buckeye defensive back to win the team MVP (1997) and Thorpe Award (1998). He is the only non-linebacker in school history with 200 or more solo tackles and is still playing in the NFL. The list goes on.
| | |
| --- | --- |
| CB | Antoine Winfield, SR |
| FS | Gary Berry, JR |
| SS | Damon Moore, SR5 |
| CB | Ahmed Plummer, JR |
| NB | Nate Clements, FR |
Plummer manned the other starting cornerback spot and the junior led the team in interceptions (4) and passes defended (17). Like the best players, he turned in his best performances in the biggest games, registering a huge interception against Michigan, a pick and three passes broken up against Penn State and 10 solo tackles against Texas A&M in the Sugar Bowl. He most certainly saw more balls because of Winfield playing opposite of him, but he responded to the challenge and played well enough in 1998 to put himself into strong Thorpe consideration heading into 1999.
Senior Damon Moore was beginning the last leg of a career that would see him earn 36 consecutive starts at strong safety. During the 1998 season, he led the team with 81 tackles (an honor he also earned as a sophomore in 1996 when he became the first non-linebacker to lead the team in tackles since 1970). His 73-yard pick-six against the Spartans put the Buckeyes ahead 24-7 in the third quarter, and as some have already pointed out, his unsportsmanlike conduct penalty earned while celebrating said touchdown may have played a part in the momentum shift of that game. Still, he's right up there with Mike Doss in terms of being one of the better Buckeye strong safeties of the past 20 years.
Berry, a former Parade All-American was a local (DeSales) product that burst onto the scene as a sophomore in 1997 when he recorded 5 interceptions for an OSU record 166 return yards. Included in that sophomore year were a pair of touchdowns scored 2:07 apart against Michigan State to turn a 3-3 game into a 17-3 lead. One came on a 45-yard interception return, while the second came on a blocked punt recovery for six. Despite the ball-hawking of 1997, Berry failed to record an interception during the 1998 season, which is weird only when you consider that opponents threw the ball quite a bit against this unit.
Top backups in this secondary included freshmen Nate Clements, who would go on to earn the nickle job, and Derek Ross. When Derek Ross is your dime guy, you know your secondary can play.
As of right now, the 1998 secondary compares extremely favorably to the 2008 group. As good as Jenkins is, he'll have to have a monster year (which is not outside the realm of possibility) for us to move him ahead of Winfield. Washington may turn out to be better than Plummer, but that's not a given. Chekwa can ball and will be the next great Buckeye corner, but Moore and Berry come out on top over Russell and Coleman. It may be due to the benefit of hindsight, but 1998 appears to be deeper as well. Let's not forget that the 1998 secondary snapped up errant passes while the current unit seems to have a fondness for letting those same balls pass through their waiting arms (but that's subject to change).
Conclusion
1998 and 2008 are very similar on the defensive side of the ball. Both return 9 starters, excellent linebacker tandems and loaded secondaries. Both teams have lines that are perhaps under-appreciated and 2008, like the 1998 unit, enters the season with huge expectations.
While the 1998 Buckeye offense was probably better than any unit Jim Tressel has managed to field, the same can't be said about the defense. Sure, the squad was loaded with future NFL starters and turned in a season's worth of highlight reel footage, but Tressel's defenses have been consistently better than Cooper's boys. Maybe it's a function of the the Vest's offensive philosophy putting his defenses in better positions to win games. Maybe it's talent. At any rate, both the 2002 and 2008 defenses should go down as better teams than the 1998 edition.
We'll wrap things up next week by looking at the 1998 squad's legacy including an attempt to figure out what the majority of them are up to these days (tips appreciated).
---
Related Posts: