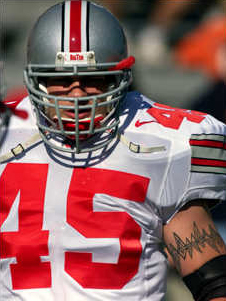 In an effort to battle the CFB blogging dead period -- or what most people call "June" and "July", we thought we'd take a look back at the 1998 Buckeye football team, a team that may rival the talent assembled for 2008. This week, we'll take an introductory look at that team.
With nine starters returning on each side of the ball, it's hard to remember a Buckeye team more loaded heading into a season. Two years ago a similar situation existed, but even then the offense still had to replace Santonio Holmes who was good for 900+ receiving. While there are components of the 2006 squad that appear to be better than their 2008 equivalents, this year's team is deeper and ultimately better.
The 2002 team was deep and talented, but to find a comparable team, you probably have to go back a decade to the 1998 squad. That team, for my money, is the most talented Buckeye team ever assembled. A stunning home loss to Michigan State denied that team a chance at the championship, but from a returning talent perspective, there are a lot of similarities between the 1998 and the 2008 teams.
Although three Buckeyes were selected in the NFL draft last month, Gholston is the only one that will be playing on Sundays. So chalk that up as one difference-maker lost to the NFL. The 1998 team entered the season after seeing no Buckeyes taken in that year's NFL draft -- the first and only time that's ever happened. 1998 featured 17 returning starters and 17 seniors, while the Buckeyes head into 2008 with 18 returning starters and a 27 seniors. Each team also returned this ammo following a 10-win season (which seemed a lot more impressive in 1998 than it does now -- thanks Tress).
The 1998 team looks to be superior at certain positions (Germaine and Boston over Boeckman and Robiskie), but 2008 wins its share of position battles (Beanie over Wiley and Boone over Walter). Other positions are almost too close to call (enter the Katzenmoyer/Laurinaitis debate). You have to give the edge to Tressel in the coaching matchup, but did 1998 have a better strength and conditioning program?
Next week, I'll break down the 1998 and 2008 offenses. If you were too young or have forgotten how awesome the 1998 Buckeyes were, this should catch you up: