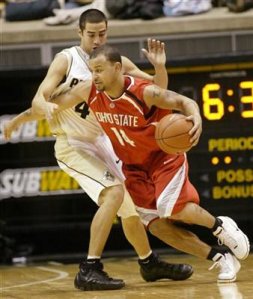 With the season on the brink, Ohio State got 25 points from Jamar Butler, 23 in the second half and overtime, leading the Buckeyes to a shocking 80-77 overtime victory over Purdue tonight in the Schott. Butler drained five triples after halftime and went 8/8 from the stripe in his best game since a 20 point, 6 assist performance back on January 29th at Penn State.
Some would argue the result wasn't a true upset considering the Buckeyes were favored by a bucket in Vegas but anyone who has watched the Buckeyes go 2-6 the last four weeks would surely say otherwise. More importantly, the win breathed some air back into Ohio State's NCAA bubble though a victory over Michigan State on Sunday remains a requirement.
In a close game that featured 15 lead changes, OSU seized the lead for good (74-72) behind two free throws from Othello Hunter with 1:25 left in overtime. Following a Butler steal on Purdue's ensuing possession, Evan Turner hit a short jumper from the right block giving the Buckeyes a 76-72 lead with 26 ticks left.
Robbie Hummel responded with a three to cut the lead to 76-75 but Butler hit two free throws with the Boilers forced to foul the league's best foul shooter putting OSU in front by three, 78-75 with 16.7 remaining.
At this point, I admit to expecting the worst but E'Twaun Moore's triple try was rebounded by Turner and he promptly buried two free throws to put the game on ice.
Complementing Butler's 23 points after intermission, Turner added 15 of his own to go along with 8 boards, 3 assists, 2 blocks and 4 turnovers. The freshman / senior combo scored 12 of OSU's 16 points in the extra session.
Othello Hunter also had a big night with 15 points, 9 rebounds and 3 blocks picking up the slack for a foul plagued Kosta Koufos. The gorgeous Grecian scored all 7 of his points in the opening half and had just 2 rebounds in the second after picking up his third foul at the 18:44 mark.
With Koufos on the bench, Purdue scored 4 straight points to take a 33-28 lead before Butler buried three triples in three minutes to spark a 12-3 run giving OSU a 40-36 advantage at 14:57.
Matty Painter's squad (why the hell does Musburger call him that?) reclaimed the lead moments later on a Chris Kramer dunk and showed their moxie holding on to the advantage until a 9-3 run capped by two free throws from Butler put OSU in front 64-62 with :37 left. Turner was also large in the crucial burst converting a natural three point play on a dribble drive before connecting on another short jumper in heavy traffic.
Out of a timeout, David Lighty was whistled for a questionable foul defending E'Twaun Moore's drive to the rack and Moore drilled both throws to force overtime setting up the emotional Buckeye victory.
The whistle was one of many ticky tack calls on both sides as the teams combined for 36 fouls leading to 59 charity offerings. The Buckeyes connected on 23/32 (72%) while Purdue shot 19/27 (70%).
The W moved OSU's record to 18-12 overall and 9-8 in conference play while ending Thad's career long 4 game losing streak.
Moore led Purdue with 16 points with Scott Martin adding 12 points and Robbie Hummel throwing in 12 points and 10 boards.
Surprisingly, the Buckeyes came out showing no ill effects from the odor of a 4 game losing streak. Hunter got things started with a nice drive and dunk and an offensive rebound that led to a free throw giving OSU a 5-0 lead.
Hunter's activity drew praise from the great Steve Lavin as he drooled over the senior's recent cut referring to it as a rally cap and an "O-Hawk". All the while, the Buckeye zone forced the Boilers to miss their first seven shots before Moore hit a triple cutting the lead to 5-3 with 15:14 left in the half.
The lead would change hands six times from there, the last for OSU coming on Butler's Butler's first points of the half, two free throws, with :37 left to cap a 7-2 run and give the Bucks a 26-25 edge.
Holding for the last shot, the Boilers ran the clock down to 4 seconds before Turner fouled Martin as he drained a three from the corner leading to what felt like the 5th four point play OSU has surrendered this season and a 29-26 halftime deficit.
For the half, Koufos led OSU with 7 points, 4 rebounds and 2 blocks before picking up his 2nd foul and a spot on the bench with 4:46 left while fellow big O-Hawk added 7 points, 3 boards. Picking up Butler's slack, Lighty and Diebler added 5 points apiece.
The zone held Purdue to 31% from the floor but six turnovers, two by Butler, hurt the cause.