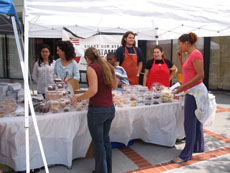 Dan Wetzel of Yahoo! Sports has spent the past year or so doggedly reporting on the Reggie Bush/Lloyd Lake affair. You know, that one where Reggie may or may not have received several thousand dollars in cash and gifts and one year of free dwelling for his parents. This has caused much consternation for Trojan fans (and much delight for just about anyone else).
Wetzel kept chugging while the 800 pound "back-back-back" and "boo-yah" spewing Gorilla looked the other way. Now depositions in the matter are set to get down (again) and Wetzel has moved on to new prey.
Working with fellow Yahoo! Sports author Josh Peter, the two have picked up on Gregg Doyel's piece on the La Salle High fundraiser Tressel agreed to after signing La Salle's DeVier Posey. Turns out Tressel isn't the only guy helping high schools raise funds. The lede mentions a Charlie Weis fundraiser at Cincinnati Elder and they go on to say:
Ohio State's Jim Tressel, Cincinnati's Brian Kelly and other college football coaches have waived speaking fees for appearances at such events, mostly at schools in greater Cincinnati, including football powerhouse schools Moeller and Colerain.
So, are Cincinnati area schools way ahead of the curve when it comes to fundraising techniques or are there NCAA violations going down? A spokesman for Notre Dame insisted that Weis checked with school officials and they determined it would be within NCAA guidelines for the fundraiser. Others, including a former NCAA rules enforcer, aren't so sure:
"The basic rule is that colleges and their staff, which includes coaches, can't assist high schools in fundraising," said Morgan, who now works for a law firm in Kansas City that represents schools that have committed rules infractions. "It's just a general prohibition that's existed for awhile."
There's a rich history of these types of fundraisers and the authors include names such as Bo Schembechler and Rick Pitino as particpants in similar activities in the past, but are these events a violation? For now, it really comes down to where the money goes. If the coach and university take certain steps and ensure proceeds are not going to the school athletic department, it's thought to be acceptable in the eyes of the NCAA.
We may soon find out, but in the interim, plenty of schools feel confident enough to let their coaches walk in this gray area if that's part of what it takes to be an elite program.