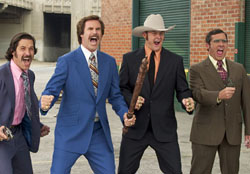 So, about that upcoming Reggie Bush deposition..
Lloyd Lake, the alleged money-man behind Bush's USC career was scheduled to give a deposition to Bush's attorneys today, but things didn't exactly go as planned:
From the perspective of Lloyd Lake's attorney, Brian Watkins, they halted the deposition proceedings Tuesday after they saw a man who was with Cornwell flash a gun.
David Cornwell, Bush's lawyer, painted a different picture of the day's events:
Cornwell also reported details of his first meeting with Watkins. Watkins told Cornwell that Lake was a gang member and that if the Bush camp did not pay off Lake, he [Watkins] could not control him. Cornwell also said that Lake made two threats against Bush in December 2007. After discussing the threats with law enforcement and private security professionals, Bush's legal team was told to take precautions when in Lake's presence.
What was something to laugh about yesterday has quickly turned into a situation in which you're just hoping nobody gets hurt.