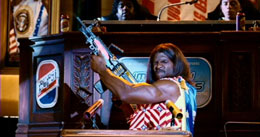 If there's one thing we're good at around here, it's procrastination. We are to getting things done on time as Reggie Germany is to taking notes in class. We're that good at it.
So good, that we're presenting our nominees for the 2007 College Football Blogger Awards on the final day of submissions.
Before we get to our nominees, we want to remind you that you can still nominate your own picks until midnight tonight.
On to the good stuff.
---
BEST NEW BLOG: West By God Virginia
Only on the scene for a little over 4 months, these guys post non-stop, are insightful and extremely funny. All the makings of a great blog. Toss in the fact that they've been the blog voice of one side of a holy war and this pick becomes a no-brainer.
---
BEST COMMUNITY: MGoBlog
You know what's the sign of a strong community? Racking up a near triple digit comment count on a post about stadium renovations. In April. And they're Michigan men, so you know can spell and use fancy words.
---
BEST WRITING: MGoBlog
You can't begin to understand how nominating a blog representing that team pains us. But credit where credit is due. Brian's writing is the perfect mix of web-style prose, factual abundance, clever analysis and snarkiness.
---
FUNNIEST BLOG: Loser With Socks
We hate the shit out of the fact that he piles on OSU and the Big Ten constantly, but there's no denying Jai's pure comedic genius. He gave the world this, and followed it up by coining "Tebow of Nazareth". Need more proof? Exhibit A, Exhibit B and Exhibit C.
---
BEST ANALYSIS: Sunday Morning Quarterback
SMQ puts out better material in a week than most MSM writers put out in a year. Simply astounding. Take one of his recent posts comparing recruiting rankings to on-field success over the last 5 years. Now imagine posts like that every day of the week. The guy knows more about the Buckeyes than we do.
---
BEST LOOKING BLOG: Orange and Blue Hue
We've stolen so many design ideas from these guys, it's not even funny. It's safe to say that the college football blogging community doesn't exactly live on the bleeding edge of interactive design, but a few blogs, like Orange and Blue Hue, manage to present themselves in a manner that doesn't cause retina damage.
---
THE JOB AWARD: Lake The Posts
This award goes out to the blog that "has suffered through its chosen team's dismal season with the most dignity." If that's the case, this fine Northwestern blog should automatically earn a lifetime achievement award. A lot of teams have had dismal seasons, especially so in the Big Ten. Michigan had the whole Appalachian State incident and then the Oregon beat-down. Tim Brewster waltzed into Minnesota with big talk only to see the Gophers go 1-11, but at least bloggers from those camps had hope heading into the season. To continually crank out solid work covering a team that's not going to go anywhere takes a special type of skill that Lake The Posts brings every day.
---
BEST REGULAR FEATURE: MGoBlog: Upon Further Review
After every football game, Brian reviews and grades Michigan's offensive and defensive performances, essentially putting in more film study time than half of the Wolverine team. He's also not above subjecting himself to things that are not so pleasant to get the job done as seen in this review of the Michigan "Offense" vs. OSU. You know the players are reading this.
---
BEST PHOTOSHOP: Loser With Socks: Tebow Wears Jorts
No comment required.
---
BEST BIG TEN BLOG: Black Shoe Diaries
Despite having a strong urge to fight Malcolm Jenkins, Mike produces quality work day in and day out. He is the voice of the Penn State blogging community and is a good first choice to check out the pulse of Happy Valley. (Note: A rule preventing repeat winners kept this out of MGoBlog's hands and this was definitely the hardest pick to make because we know the Big Ten blogs so well. Other fine conference blogs include Buckeye Commentary, The M Zone, PJS, Lake The Posts, Black Heart Gold Pants, Run Up The Score and many others.)
---
BEST BIG 12 BLOG: Big Red Network
This Nebraska blog is well designed, publishes insightful stuff daily and only figures to keep momentum going with the arrival of Bo Pelini. These guys were a super-close second for our nominee for "Best Looking Blog" as well.
---
BEST SEC BLOG: Get The Picture
Senator Blutarsky does three things extremely well on his Georgia blog: he's topical, incredibly insightful and prolific as hell. Multiple posts a day and he's never afraid to deliver a verbal beat-down when it's warranted.
---
MNC: Sunday Morning Quarterback
This being the one blog we usually read word for word, this is an easy choice. Now stop making the rest of us look so damn stupid!
---
BEST NATIONAL BLOG: The Wizard of Odds
One of the few college football blogs that actually breaks (or at the very least, amplifies) news on a regular basis, the Wiz posts at a furious pace. His Reporter's Notebooks feature does all of the hard work for you by bubbling up what the beat writers are saying around the country.