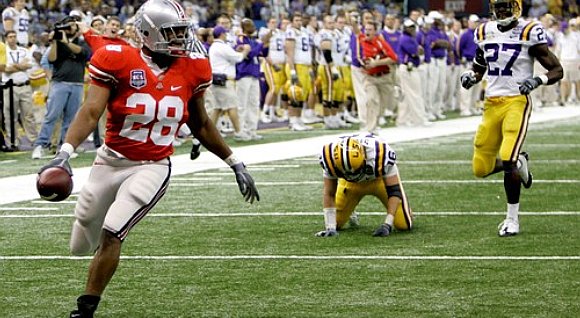 The Bucks may have come up short last night but it wasn't because Beanie Wells didn't do his part. The big man showed he can run on any defense in the country finishing with 146 yards on 20 carries including the 65 yard TD burst that put OSU up 7-0 just over a minute into the game. Unfortunately, Beanie was limited to those 20 totes due to some questionable play calling early combined with the increasingly large deficit as LSU peeled off the 31-0 run.
To me, Beanie looked like the best player on the field, surpassing 100 yards rushing for the 9th time this season. The 146 yard effort gave him 1,609 for the season, good enough to pass a kid named Griffin for the most rushing yards by a sophomore in Buckeye history.
As Jason discussed last month, Beanie is positioned to make a run at the Heisman in 2008 and last night's effort should be a nice springboard to some much deserved preseason Heisman hype.