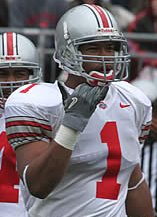 Don't you just love waking up to good news?
I hope so because Marcus Freeman has announced he'll join Jenkins and Robo and return for his senior campaign. Freeman has a torn meniscus that may or may not require surgery but said that had nothing to do with his decision.
"If I was ready to go, I could have gone with a hurt knee or not," he said.
In the end, it simply came down to his love for playing at The Ohio State University.
"But you can't beat the atmosphere here. ... I just wasn't ready to move on and start another chapter in my life."
Hallelujah! Hopefully, the return of Jenkins, Robo and Freeman will give Alex Boone and Laurinaitis more incentive to stay but I wouldn't count on it. Boone needs to return because he's not ready, but Animal should go. His stock will never creep higher than it is today. It kinda reminds me of the Michael Conley situation. (Thanks to GoBucks89 for the Freeman tip!)