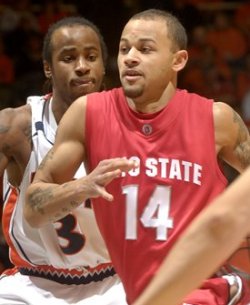 Wow. Those of us who follow OSU hoops closely know that Jamar Butler is something special but he took it to a whole different level in Ohio State's 74-58 pasting of Illinois tonight in Assembly Hall.
In a performance as fine as Erin Andrews' hind quarters, Butler poured in a career high 32 points to go along with 6 boards and 6 assists. JB was on fire from the floor hitting 10/17 field goals including 4/7 from distance and 8/8 at the stripe.
With both teams struggling offensively in the first half, Butler scored 9 of OSU's final 12 points including back to back layups to answer a 9-0 Illinois run to keep OSU within a point at the break, trailing 30-29. Butler's 13 first half points paced OSU as no other Buckeye eclipsed 4 points due to the return of a stagnant offense featuring little ball movement and poor decision making.
In fact, it looked like this would be another grind it out conference game with OSU shooting 36% in the first half including 18% (2/11) from beyond the arc leading to just 3 first half assists while Evan Turner-over led the way with 3 miscues en route to 5 for the game.
Othello Hunter started the second half strong after a weak opening stanza (4 pts, 1 reb) scoring 5 of OSU's first 7 points to turn the 30-29 halftime deficit into a 36-35 lead at the 15:37 mark. After a Brian Randle jumper put the Illini back in front at 37-36, Butler decided to put the Buckeyes on his back.
Over the next 5 minutes, Butler scored 15 straight points for the Buckeyes connecting on 3 triples, a jumper, a layup and two free throws following an intentional foul to single handedly outscore the Illini 15-2 to put OSU in the driver seat leading 51-39 at the 10:51 mark. It was truly a sick display from a complete basketball player that has yet to receive the national recognition he deserves.
Two possessions later, Butler showed how to work the two man game feeding Matt Terwilliger for back to back 3 pointers to keep OSU up twelve, 57-45, with 8:18 left.
In the throws of a death rattle, the Illini countered with a modest 7-1 run cutting the OSU lead to 58-52 but they would get no closer as the Buckeyes peeled off a 16-6 run over the final 5:06, including 6-6 at the stripe, earning their 16th straight regular season conference win.
Complementing Butler's career night, fellow veteran Hunter was the only other Buckeye in double figures contributing 15 points and 7 boards including 11 and 6 in the second half.
Kosta Koufos was so-so with 8 points (4/11 FG) and 5 boards with fellow baseliner Terwilliger adding 6 points on those back to back threes in addition to 3 rebounds. Ohio State moved to 27-0 in games were Da Wiggler scores at least 4 points. Told of this after the game, Matt offered up a "Damn, it feels good to be a gangsta" and proceeded to get called for a moving pick in the locker room. No wait, I just made that up.
Defensively, Hunter and the rest of the OSU big's shut down Illini center Scott Pruitt in the second half holding him to 2 points after a 10 point, 5 rebound first half and held the Illini to 39% shooting for the game including just 19% (4/21) from downtown. OSU did surrender 13 offensive rebounds but finished with only a -1 rebounding margin (33-32) while forcing 14 turnovers.
Offensively, OSU scored 74 points but there's still plenty of work to do considering Butler accounted for 43% of the offense (Butler/Hunter = 64%) and players not named Butler or Hunter combined to shoot 11/33 with 10 turnovers. The good news is OSU managed to earn 18 trips to the foul line, hitting 15, good for 83% and got a conference win on the road thanks to the pimp from Lima.