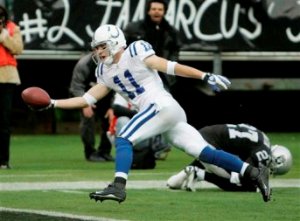 Once again, Anthony Gonzalez earned 11W's Buckeye NFLer of the Week. Gonzo had 7 catches for 86 yards, leading the Colts in both categories. With less than 5 minutes left in the contest, Gonzo's 7th catch of the day was a game-winning 20-yard pass from Peyton Manning as the Colts rallied late to beat the Oakland Raiders 21-14.
Week 15 was the 3rd time Gonzo has won 11W's weekly award. He also nabbed this prestigious award in Week 5 and Week 12. Arguably, Gonzo could've been Week 14's recipient as well.
Anthony Gonzalez has had a promising rookie season. Being a 1st round draft choice by the Colts and with the departure of Brandon Stokley, you kind of got a feeling that Gonzo had a chance to be a very productive rookie. It didn't hurt that Manning was going to be the QB throwing to Gonzo either.
Considering Gonzo started his first game in Week 5 due to Marvin Harrison's injury, as well as the intangibles listed above, Gonzo started out the season kind of slow only having 15 catches for 207 yards and no TDs in his first 8 games. But since his return 4 weeks ago from a broken thumb injury, Gonzo has steadily improved and has become another weapon for Peyton Manning. His numbers since his injury are an impressive 21 catches for 347 yards and 3 TDs.
Nothing but good things are being said about Gonzo around the league right now. Peyton Manning is impressed with Gonzo's ability to be coached. Manning also does not want to rest in able to gain a better rapport with new players like Gonzo even though the Colts are locked as the AFC's 2nd seed in the playoffs. The fantasy world is also abuzz with Gonzo's rising fantasy stock.
It's looking more and more like Anthony Gonzalez will have a Ted Nugent-style stranglehold on this season's Buckeye NFLer of the Year. Matt Wilhelm and Joey Galloway still have a chance to tie Gonzo with awards won as they both own two of them themselves. Only time will tell.