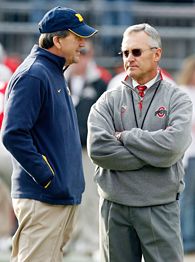 Every real fan does his homework boning up on the competition by reading the opponent's press. But why waste your time reading the Ann Arbor News or the Detroit Free Press when you can get all that and more from a stellar pack of Michigan bloggers. It's the news, but with partisan commentary. And cursing. And explosions.
I hate to admit this, but I don't think it's any big secret that the Wolverine crew has an edge over their Buckeye counterparts (this blog included) when it comes to quality and insight. Take a look and remember not to leave comment piss all over them. Karma's a..
MGoBlog
Brian is somewhat of a sports blogging celebrity, in the sense that the he gets to wear gold-plated underwear, while the rest of us mortals are stuck with cotton as we obsessively cover our teams from the comfort of our parents' basement. He actually makes a living doing this, which is a good thing because if you're going to pay someone to do this sort of thing, he's about as good as it gets. When not banging posts out for the FanHouse, he's charting and grading every play of every game and breaking big stories ahead of the MSM. If you're going to read one other team blog outside of the Buckeyes, this is the one.
The M Zone
Easily one of the funniest sports sites on the internet, Benny and Yost have that rare gift of being both funny and cognizant at the same time. They've put together a post welcoming Buckeye fans and are rocking out rivalry history at a frenetic pace. Be sure to check out Crew Cut in his Halloween costume.
Maize n Brew
The SBN correspondent, Dave is one of the founding fathers of the Big Ten Bloggers. Do you know how awesome that is? We never have to wonder what one of the founding fathers would have thought about the separation of church and state, or the 2nd ammendment. We have our own living version and we can (and do) ask him. He's as passionate as they come and would like nothing better than to end his season on a winning note.
Michigan Sports Center: Sean has to be setting some sort of record for the amount of useful information packed into one page at MSC. He covers every Michigan sport with such depth that you have to wonder if he ever sleeps. He even covers Wolverine basketball. Nuff said.
There are many, many more, so if you're looking to kill some time, you should be set.