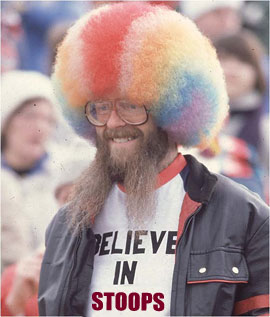 After the top two in the BCS fell in the same weekend for the 2nd time this season, Buckeye fans have to be liking their chances to get back to the championship game. With the team at a solid #3 in the latest BCS rankings, the team needs either a West Virginia loss to Pitt or a Missouri loss to Oklahoma this weekend to sneak in.
Being the rational fans that we are, and understanding just how bad of a couch Dave Wannstedt is, we realize that our only real hope lies with the Sooners in the Big 12 Championship game this weekend in San Antonio.
Oklahoma, of course, gave the Tigers their only loss of the season seven weeks ago in Norman. Missouri actually held a one point lead heading into the fourth quarter before surrendering 18-straight fourth quarter points to the Sooners. Chase Daniels had another great game (37/47 for 361), but the few mistakes he made (two interceptions) cost the Tigers dearly.
The Missouri offense is looking tough, but the Sooners can play with anyone and look good while doing so. As a Buckeye fan, you have to like the matchup.
This week, we are all Sooners. Jeff has gone as far as to rededicate the BBC. Ask us for details on sponsoring a Sooner fan to San Antonio.
---
Elsewhere, did Michigan really offer the job to Kirk Ferentz? Wow. Just, wow.
---
Finally, we bring you the first-ever inductee to the 11W Officiating Hall of Fame.