36 Hours and Counting.. Can you remember a game you were more hyped for that didn't involve the Buckeyes? I know I can't.
Here are five reasons why the Sooners will get it done and Bob Stoops/Sam Bradford/Allen Patrick/Juaquin Iglesias will be remembered with the same fondness that the OBC and Gator fans have for Tai Streets and Brian Griese:
Outside of their two losses (one without Sam Bradford), the Sooners have absolutely punked their opponents this season by an average score of 47.5 - 15.8.
For all the pub Chase Daniels has earned, Bradford has nearly idenical numbers on the season. In fact, Bradford will be looking to build on his NCAA freshman mark for TD passes in a season.
Sure DeMarco Murray is out this week, but backup running back Allen Patrick enters the game on the heels of a 200+ yard effort last week.
Bob Stoops vs. Gary Pinkel. And Stoops has him some bulletin board material.
The Vest has done his best to swing things back to good times, but it's not even yet. I am calling in this game for the three ruined national championship seasons of the mid to late 1990s.
For more on the Sooner perspective, be sure to check out Crimson and Cream Machine. Rock M Nation has the other side covered.
---
Award Time
It's award season and several Buckeyes are in contention to be honored or have already been honored. In the "already honored" group is Brian Robiskie, as he was recently named an Academic All-American. Props to Robo for getting the hard work done on the field and in the classroom.
Of course Laurinaitis is a finalist for both the Nagurski and Butkus awards, but he was named a finalist for the Lott Trophy earlier this week as well. The 4th year award, named for Ronnie Lott, claims to be the only award that is based on personal character as well as on the field play.
Elsewhere, the Gun Show has been named a finalist for the Hendricks Award and defensive coordinator Jim Heacock is among five finalists for the Broyles Award, which goes out to the nation's top assistant coach. He'll have a tough time knocking off Missouri's Dave Christensen (barring a disaster this weekend), but he'll at least have bragging rights on his brother over the holidays.
---
Five Months and It's Escalade Time
The Dispatch's Ken Gordon believes that Jenkins and Gholston are a lock to declare for the draft, while putting the odds of Laurinaitis coming back at around 20%. He thinks Boone and Freeman will come back, but doesn't have any feelings one way or another on Robo.
His take is pretty much where we sit -- assume all of the good ones are gone and if a few come back, it's a bonus. It's 2007 and Buckeye fans know that kids tend to opt out early when given the chance to make some money. We'll never begrudge them of that, but we'd sure love for all of them to come back for one more run.
---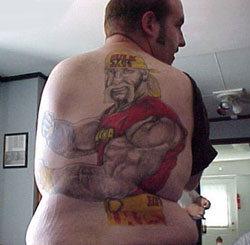 Pryor Mania
Super recruit Terrelle Pryor continues his march through the Pennsylvania state playoffs and two weeks after he rushed for 331 yards and accounted for 5 touchdowns in a wild 70-48 victory, the hysteria surrounding Pryor is reaching critical mass.
There's the ESPN the Magazine photoshoot, online photo and video galleries and the parade of recruiters coming to pay tribute.
Tressel and Matta hopped a private jet to visit the stud a few weeks ago and Buckeye assistant Joe Daniels was in town Tuesday night to check on what could be the capstone of an incredible 2008 class.
Not wanting to be left out, Buckeye fans are are doing their part as well. "Right here. Come on!"
---
Paterno's Salary is Out
After a five year legal fight, Joe Pa's salary is a matter of public record and your hunch is confirmed. He makes more than you do.
---
The Ayers Era
For some of you younger cats that don't remember what Buckeye basketball was like towards the tail-end of the Randy Ayers era, this about sums it up.
---
Unverified Voracity Has Web Server Problems
You may have noticed the little BlogPoll widget in the bottom right acting up lately. Evidently the web server running the BlogPoll was a Carr fan and is now on a hunger strike, but Brian was able to pull together the composite, and it looks like the voters agree with some of you that thought we had the Gators too high.