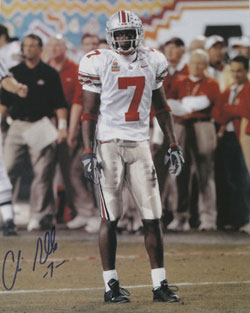 Does your living room feel empty without an autograph photo of former Buckeye and Nittany Lion deflater Chris Gamble. We thought so.
In order to fill that void, we're offering up a signed photo of Gamble (right) from the 2003 National Championship game. You don't need us to remind you that without one winding Gamble pick-six late against Penn State during the season, the Miami matchup would not have been possible.
The first two contests were a lot of fun and the same rules apply:
Leave only 1 prediction
Duplicate score predictions will be disregarded
Leave your email address so we can make arrangements if you win
The contest closes at kickoff
GoBucks89 is on a hot streak. Do you have what it takes to knock him off and bring Gamble into your living room?