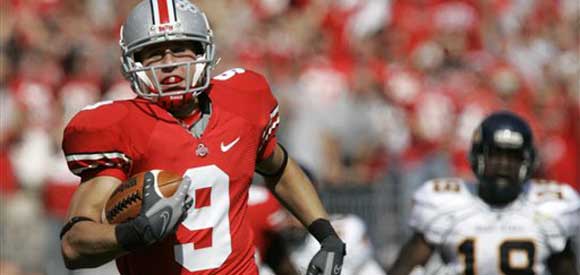 It was fitting that Anthony Gonzalez was in town to witness Ohio State's 48-3 demolition of Kent State. After all, his successor wanted to show him something.
After scoring on a 14 yard slant on OSU's first drive of the game, sophomore wideout Brian Hartline broke a 57 year-old school record by returning a punt for 90 yards following Kent State's second possession of the game.
That and three more 2nd quarter touchdowns, including a "holy shit a Buckeye defender actually held onto the pick" moment that resulted in a 70-yard pick-six for Donald Washington, had the team enjoying a comfortable 35-0 halftime lead. Some second half scoring out of Buckeye backups in the 2nd half and the thought-to-be rebuilding Buckeyes are sitting pretty at 7-0.
Although diminutive Kent State running back Eugene Jarvis got some early yards and safety Anderson Russell went down with an ankle injury thanks to a dirty block from Kent State's Derek McByrd, you have to be happy with the effort out of the Buckeyes. They came out and dominated a Kent State team like a great team should.
---
OFFENSE:
You can tell that the Vest reads 11W because after initially being pretty adamant about Beanie playing, he managed to essentially give him the week off while still getting him a little work (including a nifty 7 yard touchdown run in the 2nd quarter).
His backups had mixed days. Mo Wells, after looking so solid against Purdue last weekend, was held to 4 yards on 5 carries, including a key stop behind the line on a 3rd and 1 on the Buckeyes' 2nd drive of the game.
On the other hand, Brandon Saine looked pretty electric in seeing his biggest workload since before getting his knee scoped a few weeks ago. Saine led the team in both rushing (9/69) and receiving (5/76) on the day.
Let there be no doubt -- Beanie is the man, but Saine's ability to catch balls out of the backfield and lined up in the slot is just one more facet of a multi-threat Buckeye offense. Especially considering the kid isn't even thinking about his knee anymore:
"It's not an issue at all for me. I'm not thinking about it and it doesn't hurt."
Quarterback Todd Boeckman was a surgeon in his lone half of action. He had the first quarter strike to Hartline and a swing pass that went for a 15-yard touchdown to Mo Wells with less than 30 seconds remaining in the first half on the way to a 13/16 day. He had one near interception, but you can't complain when you're looking up at halftime and thinking he's well on the way to a 300 yard day against a team that required his services for more than a half.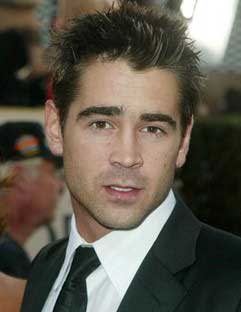 We applaud the Vest's willingness to continue slinging it on all downs and that philosophy didn't change much when Bellisari the 2nd took over on the Buckeyes' opening drive of the 2nd half. With a few more performances like the 7 of 9 passing and a rushing touchdown that he put on today, we'll gladly retire the nickname. I'm not sure if it was actually good play out of Rob or the beers, but for the first time ever, I wasn't worried when he was under center.
The running game looked good at times after looking pretty bleak heading into the half. I still have this recurring nightmare of the team not being able to pick up a huge 3rd and 1 or 4th and 1 because for whatever reason, they continue to have a hard time converting in those situations. Despite looking great at virtually every scenario in a game, the Buckeyes have not convinced me that they'll be able to pick that play up when it really counts (Michigan, BCS Championship).
---
DEFENSE:
Two minutes and 37 seconds. That's how close the Buckeye defense came to notching their ever-elusive first shutout of the season. That meager 34-yard field goal in garbage time surely won't hurt the team's national-best scoring defense ranking, but you'd like to see it happen and with a tough 5-game stretch coming up, you have to wonder if it will at all this season.
The Buckeye defense, led by the Gun Show's two sacks, forced the Kent State offense to punt on 8 times on the day. For those keeping score, that's punts - 65, points - 46 for the season. Damn impressive.
Jarvis got some yards -- especially early and at times the Flashes were effective moving the ball against the Silver Bullets, but the defense once again came up huge where it counts the most - the scoreboard. Washington's interception came after Kent State had started to look better than the vaunted (but suddenly very pedestrian) Purdue offense of a week before. I don't know about you, but I was pretty relieved to see a Buckeye defender actually hold onto a ball that hit him in the hands.
The truth is that defense, because it's more of an instinctual play than on the offensive side of the ball, is usually impacted more by these games against the Kent States of the world. If you were to walk into any random locker room in the nation and see a player banging his head against a locker before kickoff, you'd bet that he played defense and you'd be right. Considering the unit blanked Kent for 98% of the game, the effort is to be applauded.
Anderson Russell's ankle injury was related to something he was nursing, according to Tressel, but local radio is reporting that he was seen leaving the locker room with crutches. Linebacker James Laurinaitis was kept out of the 2nd half as a precaution, as he appeared to get dinged up. Not really what you want to see after playing a MAC team, but the injury bug has bitten the Buckeyes especially hard this season.
---
SPECIAL TEAMS:
I'm not sure if it was the Big Ten Network's angle or what, but I have never seen a returner turn the corner and see absolutely nobody aroudn him for 30 yards. Hartline said that maybe the Flashes had out-kicked their coverage, but after he made that initial juke and then hit the sideline there were no Kent State defenders within site. The record-breaking return because that second score effectively ended the game. At 7-0, you're about 99% confident but there's a "dont't F with karma" thing going on in the background. At 14-0, with this defense, you're sold.
The kicking game continues to click as Ryan Pretorius hit a career long 49-yard field goal on the way to a 12 point day, while punter A.J. Trapasso put a punt inside the Kent State 20 early in the game.
Tressel continues to tinker with his kickoff game as four kickers received kickoff honors on the afternoon. Pretorius handled duty early, while Trapasso, Andrew Good and Jon Thoma (??) got cracks.
---
NOTES: Hartlines punt return broke the record of 87 yards by set by Robert Demmel vs Iowa in 1950. Ted Ginn's best only went for 82 yards... Ohio State has now won 15 consecutive games at Ohio Stadium... Coming to NBC in January: Glen and Earl. A tale about two former coaches that give each other noogies.