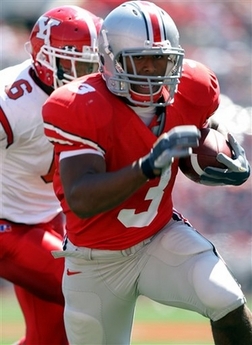 In a game that's surely to be forgotten pretty quickly due to the absolute madness that went down in Ann Arbor, the Buckeyes were able to put away Youngstown State 38-6 in their 2007 home opener. Ohio State got a solid contribution from new quarterback Todd Boeckman, while three true freshman saw the endzone on the day. The news was not all good as defensive end Lawrence Wilson suffered a fractured leg in the 2nd quarter and was carted off the field.
There were some things that fans have to be absolutely thrilled about: a few of the freshman can ball, the team has a clear-cut #1 quarterback, the defense is fast and athletic and special teams performed well.
There are also other things that have to be of some concern to Tressel's squad: the power running game was anemic and the team made a lot of mistakes leading to a lot of yellow flags. Youngstown state even managed to win the turnover and tie in the sack battle. To add insult to injury, one of the Buckeyes that recorded a sack was injured for potentially the season.
Unlike the injury to Wilson, the mental mistakes and running game problems are things that can be worked on and The Vest pointed out how vital it was to finally have some game tape to watch and work from.
---
OFFENSE
Surprisingly, we didn't see as much Tressel Ball as some of us had predicted. Although the team passed more often than anticipated, the sets and plays were kept pretty vanilla. We were concerned that the Bucks would employ a two (or more) headed QB monster for the first few weeks of the 2007 season, but Boeckman came out and siezed the team today. On OSU's first series, he went 4-4 for 67 yards, capped with a 3-yard precision strike to freshman Dane Sanzenbacher that brought back memories of Troy Smith's strike to Robo at Iowa last season. Boeckman played every series but one in the first three quarters and finished 17/23 for 225 yards and 2 TDs. His second touchdown, to seldom used FB Trever Robinson, came after he had checked off of the three primary receivers on the play.
Boeckman did a lot of his damage via throws to Brian Robiskie. Robo ended up with a monster day -- 9 receptions for 153 yards with a long of 41 (including an impressive 6 for 113 in the 1st half alone). Robo has all of the tools and definitely has a rapport with Boeckman, but you'd like to maybe see the quarterback spread the ball around a little bit more. Although 9 players caught balls overall, Boeckman only threw to about five of them when he was in. As more and more defenses catch a Robo clue, Boeckman will be forced to work the ball to his #2-4 options.
Backup quarterback Rob Schoenhoft came in for his first series in the 2nd quarter but was mostly inneffective outside of a nifty 17-yard scramble on a 3rd and 10. Unfortunately he followed up his scamper by chucking a ball at the feet of Devon Torrence on the following play. On the day, he finished 3-6 but is clearly a backup at this point in time. What remains to be seen is whether he'll stick at #2 on the depth chart or fall to #3 after the electric performance freshman Antonio Henton turned in during his 4th quarter drive. Henton lead the team on an 85-yard scoring drive that culminated with a 37-yard touchdown strike to fellow frosh Taurian Washington. Total time of the drive? 1:05. Henton looked a lot better than he did at the Spring Game where he looked a little confused in the pocked. Washington showed the burners that have teammates so excited for him to see more playing time.
Sanzenbacher saw quite a bit of action and did have 3-yard TD reception, but also had a couple of drops. Granted, one was a laser from Henton, but if the ball hits your hands...
While the passing game looked great, the Buckeyes will definitely be putting some work in to improve the running game. Beanie Wells finished with a relatively meager 46 yards on 16 carries. Things were so bad for Beanie that at one point after he'd scored his lone touchdown, he had 6 carries for 2 yards. In fact, backup Mo Wells (8/45, 3 receptions) and freshman Brandon Saine (10/42 1 TD) both looked like better options throughout most of the afternoon. Saine, in particular, excited the crowd with his running. He had a nifty 16-yard touchdown run that was called back due to a holding penalty and generally displayed quickness hitting the hole. We expect the low production to be the exception, rather than the rule for Wells on the season, but it's good to know capable backups exist.
Wells can be forgiven for some of his numbers because the offensive line didn't have it going on power running plays. The line did a relatively good job (save for a blindside hit to Boeckman) pass protecting, but the power run blocking, particularly on the goal line, was pretty lousy. Even though 3 of the first 4 series yielded nice drives capped with touchdowns, the goal line running in each of those series was terrible. Aside from the two sacks given up, the line did a decent job with pass protection on the afternoon, so there's that, but the power running game looked nothing like a line returning 3 very capable starters. Jim Bollman, your hogs need some work.
---
DEFENSE
It's hard to get a real read on the defense against a team like these Penguins. On one hand, they played well and displayed a lot of speed and athleticism on the day. They shut down the YSU rushing and passing games, holding each to under 100 yards. However, it is Youngstown State, the defensive line only got to the quarterback twice and the unit didn't force any turnovers on the day.
The big story on the defensive side of the ball, however, was the injury to Wilson. The junior, making his first career start was eating the Penguin line up to the tune of 2 TFLs and 1 sack before he went down in the 2nd quarter. The early optimistic estimate for how long he'll be out is 6-8 weeks, but more details will spill it in the next couple of days. Sophomore Robert Rose and freshman Cameron Heyward will most definitely need to step up now. Both are capable players and the Heacock's revolving door approach to playing time on the line will help.
Gholston didn't maim anyone, but he turned in a solid day, while James Laurinaitis, Austin Spitler and Anderson Russell shared the team lead with 7 total tackles. It was great to see Russell back on the field again, but he did let an interception get away from him in the 3rd quarter. Cut him a little slack, the ball hit him in the hands.
Freshman linebacker Thaddeus Gibson opened a lot of eyes with his performance, mostly on special teams. He had a partial punt block and was in on at least 3 huge stops on the kickoff team. Another freshman, defensive back Eugene Clifford also looked like he'll be earning more time as the season goes on.
---
SPECIAL TEAMS
The kicking game had to have pleased Tressel. Kicker Ryan Pretorius was good on his only field goal attempt of the day from 24 yards, while also banging in all 5 of his PATs. Pretorius did a decent job with the new kickoff rule as well, managing to put each of his kickoffs within the YSU 10 yard line and even booming a touchback in the 3rd quarter. Punter A.J. Trapasso was only called on to punt twice, but he showed up, hitting one for 44 yards and another for 48 yards.
---
NOTES
The Buckeyes have now won 19 consecutive regular season games and 29 straight home openers... Tressel is now 48-3 at OSU when leading at halftime... Robiskie has 16 catches for 242 yards in his last two games at the Shoe... Youngstown State had their 11 game winning streak snapped in openers... Basketball coach Thad Matta and Mike Conley Jr. were recognized at the game... Former Buckeye quarterback Justin Zwick was the sideline reporter for ONN... The new field looks funky at first in HD, but it's growing on me... Is there any doubt that although John Cooper would have won a game like this 72-0, he would have shown every play in his playbook in the process... Did anyone throw toilet paper?