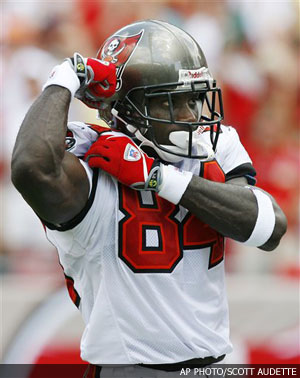 This week's Buckeye NFLer award goes out to the ageless Joey Galloway of the Tampa Bay Buccaneers. Galloway had 4 catches for 135 yards and 2 touchdowns at home against New Orleans. Joey torched the Saints' secondary for a 69 yard TD and a 24 yard TD, both in the 2nd quarter of the Bucs' 31-14 spanking of the Saints. Although Galloway will turn 36 this November, he can still dust most NFL DBs. His legendary 4.28 second 40-yard dashes at Ohio State might be a thing of the past, but Joey's wheels are still a thing of beauty.
Nate Clements of the San Francisco 49ers came in a close second. Nasty Nate had a team high 6 solo tackles, a QB sack & a forced fumble as the Niners went on the road to beat the Rams 17-16.
This week was a near toss-up, but Galloway gets the because of his four years of service in the 'Bus.