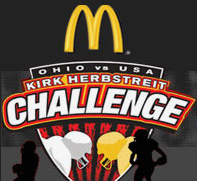 The Herbstreit Challenge, which pits Ohio high school teams against powerhouses from around the nation will be returning this season, despite lingering financial woes. The event, entering its 3rd year, will feature games at UC's Nippert Stadium as well as matchups at Canton Fawcett Stadium.
Although the official website does not have the 2007 matchups listed, the games will be played Saturday, September 1st and Sunday, September 2nd and feature the following (all times TBA):
South Event @ Nippret Stadium
9/1 - La Salle vs. Brother Rice (Mich.)
9/1 - St. Xavier vs. Indianapolis Cathedral
9/1 - Moeller vs. Mission Viejo, Calif.
9/1 - Elder vs. Charlotte Independence (N.C.)
9/2 - Clayton Northmont vs. DeMatha (Md.)
9/2 - Colerain vs. Hoover (Ala.)
9/2 - Highlands vs. Trotwood-Madison
North Event @ Canton Fawcett Stadium
9/1 - Youngstown Cardinal Mooney vs. Gateway (Pa.)
9/1 - Cleveland Glenville vs. Long Beach (Calif.)
9/1 - Canton McKinley vs. Union (Okla.)
9/1 - Grove City vs. Central Catholic (Pa.)
A lot of the big boys will be present. We're looking forward to the Ted Ginn Jr. vs. Snoop Dogg battle on the sidelines of the Glenville - Long Beach game and we know you MTV junkies will have all of your Two-A-Days swag on hand for the Hoover boys to autograph. If the games play out like they did last season the fans are in for another treat.