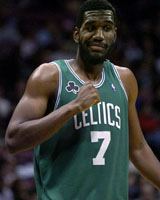 The rabid Boston Celtics fans behind RedsArmy.com have Operation Oden running, which includes a recap of every Oden game since January 24th. Like the rest of the nation, they've taken notice of the effort he put forth in the Big Ten tournament.
Understanding the need to hedge, they also have smaller recaps for Kevin Durant as well. Even with Danny Ainge sidling up to the Durant family, expect Beantown hoops fans to go ballistic if they don't get their next Russell.
----
In other Oden related news, the recognition and accolades keep coming as his beard was named to the All-Tournament Bad 'Do Team.