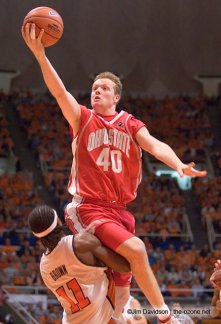 In case you missed it, The Dispatch reported today that Matt Sylvester is being cast as an extra in the upcoming Will Ferrell comedy entitled "Semi-Pro". The movie is about about a fictitious CBA team hoping to jump to the NBA. Sylvester appears to have landed a job as an extra after trying out with a couple hundred other guys. Bob Baptist's story says Sylvester did so well that the initial plan was for him to be Ferrell's stunt double but that was scrapped due to the height differential. Matt's father had the quote of the year talking about how much the producers liked his son:
"Matt was like a god. They fell in love with him right away," Mike said.
How sweet is that? I've been a Matt Sylvester fan ever since he got shot in the ass and I think all Buckeye fans remember him for his other shot, the game-winner to end Illinois undefeated season exactly two years ago today. Break a leg, Matt. 11W looks forward to your big screen debut.