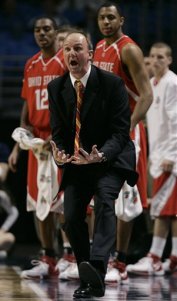 Where: Williams Arena – Minneapolis, MN
When: 1:00pm EST
Records: OSU 23-3 (11-1); Badgers 9-17 (3-9)
Opponent: The Gophers play host to Ohio State hoping to end a four game losing streak. Their latest loss came Wednesday night, a 75-62 decision in The Barn against Wisconsin. While the final margin swelled to 13 points, the Gophers only trailed the Badgers by four points with seven minutes left on the strength of a hot shooting night (8-12) from beyond the arc. What kind of year has it been for Lou Molinari's Gophers? It's been so janky that junior center Spencer Tollackson commented the Wisconsin loss represented the best game the Gophers have played all season. Memo to Spence – you lost by 13 points, brother. Even if you do think it's the best your team has played, you might want to keep that thought a secret.
Players: Junior guard Lawrence McKenzie leads Minnesota in scoring at 15.6 per game and ranks 3rd in the conference in three pointers made (70). McKenzie led the Gophers with 21 points on Wednesday and has hit 10 of his last 20 three point attempts. 6'9" junior forward Dan Coleman comes in averaging 14.8 points and 6.0 rebounds per contest. The moral victory loving Tollackson (6'9") is the Gophers third leading scorer at 12.9 per game and ranks 5th in the league shooting 55.9% from the floor. No other Gopher averages more than 5.9 points. Guard Jamar Abu-Shamala shoots 40% from deep while freshman guard Kevin Payton shoots 44% including 2-2 against Wisconsin.
Notes: Minnesota's last victory over the Buckeyes was a 52-50 decision back on 2/19/05…The Gophers' 1982 Big Ten conference championship team will be honored at halftime.
Buckeye Breakdown: For a team with a 10 game winning streak, there are plenty of question marks to worry about. Wednesday's near collapse against lowly Penn State exposed the consistent weaknesses of this team. First, there is no unquestioned leader on the roster. Jamar Butler, Ron Lewis or any other upperclassman you want to throw out there has done jack squat to step up as a team leader. How big a factor will that be down the stretch and in the Big Dance? Only time will tell. Judging from Mike Conley's comments in the Plain Dealer, he might just assume the leadership duty if the upperclassmen won't. Second, the Buckeyes have a hard time sustaining effort and seldom play smart for 40 minutes. How many times have we seen OSU jump out to a big lead only to squander it by playing lazy defense and launching deep threes early in the shot clock like they're playing a summer league game in Worthington? Too many. While I'm on a roll, how much of this is on Coach Matta? I think it's fair to wonder aloud why none of the current upperclassmen have developed into a leader under Matta's tutelage. It's even appropriate to ask why this team hasn't improved as much as many expected from November to mid-February. Struggling to get a team to play hard for 40 minutes every night is a little upsetting. Don't get the wrong impression, I'm not turning on Matta, just asking some fair questions about how a team with so much talent can often get so little out of it. Here's to hoping today is the day this team gets it head on straight.
Key Players: As you know, Greg Oden leads the way, averaging 15.3 points, 9.5 rebounds and 3.6 blocks while shooting 62% from the floor. Oden had his 8th double-double of the season with 15 and 10 against Penn State. Daequan Cook still ranks 2nd on the team in both points (12.1) and rebounds (5.1) and had 11 versus PSU in just 18 minutes. Lewis and Butler scored 12 and 11 respectively against Penn State however they shot a combined 8-23 from the floor with 6 turnovers. Kinda makes me wonder why Cook can't get a few more minutes? He doesn't turn the ball over any more frequently than those two and he's certainly a better rebounder.
Notes: Cook tied Michael Redd's freshman record for three pointers made (46) Wednesday night…OSU is 23-1 this season when leading at halftime.