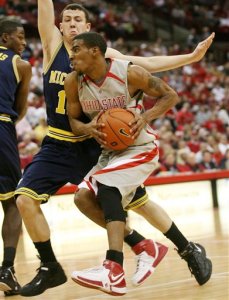 Mike Conley is the best point guard in the nation. In front of a half-empty Value City Arena, Conley led Ohio State with a career high 23 points on 9-12 shooting, dished out 6 assists and had just 1 turnover is 38 minutes of action. His impact on the game was felt most when Greg Oden was forced to the bench after picking up his 3rd foul with 17:20 remaining and OSU leading 41-33. Looking to keep the lead in tact, Conley scored 9 of OSU's 15 points before Oden checked back in at the 8:52 mark with OSU leading 56-52. With Oden back on the floor, OSU went on a 9-1 run stretching the lead to 65-53 at the 5:13 mark and Butler and Conley combined to hit 6 of 6 free throws in the last minute to provide a 13 point cushion at the buzzer.
Michigan stayed close in the first half as the Buckeyes came out flat in front of a sea of empty seats. Three inches of afternoon snow kept many fans from arriving until halftime. The uninspired Buckeyes allowed Michigan to shoot 45% from the floor but still led 33-29 at intermission behind the offensive punch of Oden and Daequan Cook. Oden had 11 points and 5 boards (4off) while Cook put up 8 points and 3 rebounds in limited action. Once again, Cook had a few turnovers and a defensive lapse that resulted in a season low 15 minutes of playing time. Matta is obviously teaching Cook a lesson that is taking too long to learn.
Jamar Butler had another solid performance with 11 points and 3 assists and Othello Hunter worked the glass for 9 rebounds, 5 of which were offensive, and 5 blocks. Oden also had 5 blocks to go along with 15 points and 8 boards. The glue of the team, Matt Turdwiggler, also had an impressive night. The Wiggler scored 4 points and grabbed 3 rebounds in 8 minutes of action as Oden watched from the bench with 3 fouls. Clearly, Matt is making a late push for all-conference honors with 10 total points in his last 10 games and 11W is committed to writing every beat reporter in the conference to ensure Da Turd gets his just desserts.
Okay, back to reality. With six conference games remaining, OSU will be heavy favorites in all of them except for the Sunday February 25th showdown at home against Wisconsin. If OSU can protect home court in that game, which is a fair expectation, and avoid a major upset in the other five games, an outright Big11Ten regular season crown is well within reach. In order to avoid any upsets, however, OSU is going to have to pick up their intensity. They still take too many possessions off at the defensive end of the court and tonight's first half was another example.
OSU will look extend their current 24 game home winning streak against Purdue on Saturday at 12:15pm.