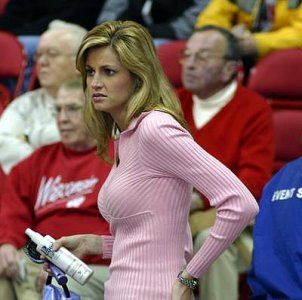 First rule of blogging: When struggling to come up with something to write about, resort to the undeniable beauty of Erin Andrews. She is so amazingly hot that I would watch curling or even the WNBA on ESPN if she was at her usual post as sideline reporter.
If the pic isn't enough to satisfy your Erin-appetite, check out this nice montage courtesy of the great YouTube. As if she couldn't be any more perfect, she is a huge sports fan that grew up in Boston cheering for Larry Legend's Celtics and has never gotten any cosmetic surgery.
If you've never seen it, this kid from Iowa certainly had the right idea as pointed out by Deadspin last year. Umm....Me likey.