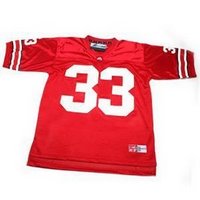 Back in mid-December, Mike Harden of the Columbus Dispatch reported that OSU and Nike are in negotiations on a contract that would grant Nike exclusivity on production of licensed Buckeye jerseys and how the deal would be a severe blow to local businessman Mike DiSabato, a former Buckeye wrestler.
Disabato owns Silver Knight, which sells over 70,000 Buckeye jerseys annually, equating to 56% of his total business. If the OSU/Nike deal is consummated, DiSabato says he will likely have to downsize. Silver Knight has its own exclusive jersey contract with many former Buckeyes including Jack Tatum, Jim Lachey, Chris Spielman and John Hicks. DiSabato essentially asserts OSU nor Nike care about the 'little-guy' and that Nike should have to compete in the marketplace like any other business without the benefit of exclusivity. He also notes the deal would hurt the pocketbooks of the players, especially Tatum.
This morning, Mike Harden ran a follow up story stating the university has got even with DiSabato for publicly challenging the potential deal by "terminating him as an OSU licensee." Ohio State says the decision centered around Silver Knight's desire to create a charity that would benefit the family of former wrestler Ray Mendoza, who was killed in Iraq in 2005. OSU says they are behind the cause but not willing to fund a charity they'd have no control over. I guess that makes sense, but in reading the articles I get the feeling this is more about DiSabato's agressive plays against the university than about protecting itself over a charity. Anyway, I think both articles are worth a read and you can draw your own conclusions.