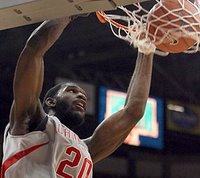 Where: O'Connell Center – Gainesville, FL
When: 4:05pm EST
Records: OSU 10-1; UF: 10-2
Opponent: The defending national champion Florida Gators are ranked 4th and 5th in the major polls and are riding a 21 game win streak against non-conference opponents in O'Connell Center. Depending upon who you listen to, the Gators' leading scorer and rebounder, Al Horford, may not be able to play. Horford, averaging 13.2 points and 8.3 rebounds, has a high ankle sprain that has sidelined him the last two games and head coach Billy Donovan has said its unlikely his 6'10" forward/center will play, but it will probably be a game time decision considering Horford participated in parts of practice on Friday.
Players: Even if Horford doesn't play, the Gators still have plenty of experienced weapons at their disposal. Final Four darling Joakim Noah opted against turning pro and comes in averaging 12.5 points and 7.7 rebounds while hitting 66% of his field goal attempts. The versatile 6'11" forward/center is joined on the front line by 6'9" junior forward Corey Brewer (11.1pts, 4.4reb), who recently returned to the lineup after recovering from mono. I guess those Gainesville co-eds are a little dirrrty. The Gators also feature a pair of experienced backcourt guys in junior Taurean Green and senior Lee Humphrey. Green leads the team in 3pt FG% (44%) and averages 12.8 points and 4 assists per contest while Humphrey chips in 9 points a game. The Gators are also a deep club with 9 guys seeing at least 11 minutes per game. Walter Hodge averages 9.6 points off the bench and is shooting 70% (21/30) from beyond the arc. The Gators play an up tempo style (84.8 pts/game) and there's no reason to think they will slow it down against Ohio State, especially if Horford can't go.
Notes: Florida shoots 42% on threes…UF has won three straight against top five teams and are 50-10 against non-conference opponents spanning last four years…Billy Donovan became the winningest coach in school history (236) after the Gators beat Stetson Wednesday night.
Buckeye Breakdown: The Buckeyes head to Florida sporting a four game winning streak after beating Iowa State 75-56 in an inconsistent performance Tuesday night. The team is still searching for its identity on the offensive end of the floor with the return of Greg Oden. At times, the perimeter players have looked to force the issue down low and it has bogged down the offense. Additionally, Oden is not yet capable of shooting right-handed from more than 10-12 out as his wrist is still heavily wrapped. It will be interesting to see if coach Matta chooses to run with Florida the entire 40 minutes or if he slows it down during stretches specifically to get the ball down low to Oden. Defensively, staying out of foul trouble and keeping Florida off the offensive boards is going to be key. Florida's depth and size afford Donovan the ability to rotate a lot of fresh bodies to get up and down and crash the glass.
Key Players: Steady freshman Mike Conley Jr. (9.7pts, 6.5 ast, 2.6 stls) and the rest of the guards will need to avoid turnovers as it's likely Florida will bring some full court pressure after made baskets. Ron Lewis will look to get back on track after scoring just 7 points (8 below his average) against Iowa State and Othello Hunter (6.2reb) needs to come up big and give Oden some help on the glass against the tall and deep Gators. Daequan Cook is now the team's scoring leader averaging 16.1 points per game after dropping 21 in 26 minutes Tuesday. Cook also averages 6 rebounds per contest. It's just a hunch, but I have a feeling Daequan is going to have a big game. He was very agressive yet under control Tuesday and hit some big shots to quell Iowa State runs.
Notes: Greg Oden played all 20 minutes of the 2nd half against ISU and totaled 35 for the game…Prior to that, Oden hadn't played more than 25 minutes in a game…OSU leads the all-time series 5-2 with the last meeting coming in 1988…The Bucks are averaging 9.5 three pointers made per game and are holding opponents to 28% from downtown…Next up: Coppin State 12/30 @ 8pm.