I was a little nervous heading into yesterday's matchup with Michigan State. This is a team, after all, that had beaten the Buckeyes the last time they played when tOSU entered the game ranked #1. Sure they were reeling and heavily dinged up, but the Spartans are just as capable of beating an elite team as they are themselves on any given Saturday. Instead, the coaches and veteran leadership of the Buckeyes wouldn't allow a repeat of 1998 as they got the Spartans down and then stepped on their throats cruising to a 38-7 Big Ten victory in East Lansing.
What more is there really to say about Troy Smith? Another mistake-free performance and each of his two touchdown passes were works of beauty. The scramble-to-Robo play was another for the Heisman highlight reel and the pass to Gonzo in the back corner of the endzone looked eerily reminiscent to that of one of the most famous completions in NFL history. Speaking of Gonzo, he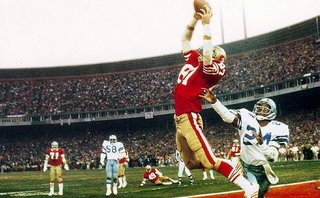 turned in another monster performance. I realize you have to keep four eyes on Ginn, but how is this guy so open every snap? Whatever.. I'm not complaining. 7 for 118 and the aforementioned Dwight Clark impersonation will only further cement his legacy as one of the biggest fan favorites of all time. Teddy had a couple of uncharacteristic drops, but it was great to see him take a punt to the house. Long time coming on that one. Pitt never seemed to get it going on the ground as he was held to 53 yards on 12 carries. I was particularly impressed with how quickly the coaching staff had Beanie Wells back in the game after he put the ball on the turf on the 3rd play of the game. That's always been a hallmark of The Vest and his staff: a positive outlook at all times.
On the defensive side of the ball, you have to be really impressed. Pittcock stepped up with two sacks and Freeman is proving how smart the move to include him in nickle personnel was by notching another interception. It would have been great to lockdown the shutout, but if all the Spartans have to hang their hats on is a garbage-time score, then I'm fine with that.
All in all, a very, very impressive performance by the Bucks. The defense was lights out and the versatile offense saw 5 different players cross the goal line. It's been said many times already, but the only thing that can beat this team is complacency and I don't see that being a factor under Tress.
Other random notes:
After Smith's Houdini play to Robiskie to make it 31-0, the ABC affiliate up here in Chicago cut to a two-point game between A&M and Mizzou. I was able to switch to an ESPN Game Plan channel and pick the game back up, but no longer in HD. Columbus-based Buckeye fans, you don't realize how spoiled you are. Speaking of.. if anybody reading this is from Chicagoland and knows a good place to catch next week's Indiana game, please let me know.
You gotta feel for Adrian Peterson. I know I talk some trash about him but what a heartbreaking way to go down for the year. Is his old man a jinx? Only time will tell.
Getting a little ahead of myself, but wouldn't Steve Mariucci be a great fit as head football coach at MSU should John L. Smith get the axe as most expect? He's currently doing studio work for the NFL Network, but he's a Michigan native and goes way back with Spartan hoops coach Tom Izzo.
The Michigan Wolverines are now ranked #2 in the AP poll. Don't screw it up Wolverines. Give us that mythical #1 OSU v. #2 UM matchup at the end of the season.
The basketball Buckeyes are ranked #11 in the SI.com preseason power poll. About where I anticipated considering Oden is out. With any luck we'll be celebrating tOSU's second national title in March.