It's an unexpectedly sour time for Ohio State basketball.
The Buckeyes are losers of two consecutive extremely-winnable games against teams that will be battling each other for NIT superiority later this month. They can't shoot threes. They can't shoot twos. THEY CAN'T SHOOT ONES. IT'S BASKETBALL - THERE ARE NO OTHER SHOTS.
The season can't end soon enough, you say, hoping to rip the bandage off your fragile psyche as quickly as possible. Unfortunately there's a problem with your easy way out, fair weather enthusiast: Closing time for the 2014 season coincides with our eternal goodbye to Aaron Craft as an Ohio State basketball player.
It's finally coming to an end. The embodiment of the young man every father in the history of the cosmos would want his daughter to marry has one home game left to play in what had previously been viewed as a prolific college career without a beginning or end.
That perception of perpetuity was all a lie. In a matter of days you won't be cheering for him to help limp the Buckeyes to victory. You'll have to settle for rooting for him in the game of life.
This disappointing season shouldn't dissuade you from appreciating Craft's legacy: As a true freshman he stunned us all and made a good team great. That edition of Ohio State basketball went 34-3 and was the only thing that kept getting you out of bed as the Tatgate onslaught nearly swallowed your will to live.  
Freshman Craft made the B1G All Defensive Team, Freshman Team, was its Sixth Man of the Year 2011 and even made Honorable Mention All-Big Ten. And the best part was you knew he'd be around three more times.
As a senior, he's seemingly incapable of making a mediocre team markedly better, but this may be because once you peel away at the mythical layers that have been applied to his translucent exterior you can clearly see Craft is, if anything, unbelievably consistent. The teams and teammates don't matter - Craft's statistics remain the same.
His points per game, rebounds, steals, assists - even his inexplicable free throw shooting percentage - are all practically identical year over year, from that award-collecting freshman year through his final season. If you interpret that as he didn't improve then try to wrap your head around the difference between feeding Dallas Lauderdale, Jared Sullinger and David Lighty versus Amir Williams, Trey McDonald and LaQuinton Ross.
Craft may be Ohio State's glue but he isn't equipped to be a Band-Aid. Unlike Ted Ginn, he can't do everythin'. But we love him so much. Craft is the most comforting Buckeye basketball player since Jimmy Jackson. Can you name Ohio State senior point guards that came before Craft? I'll start you off with PJ Hill. Jamar Butler. Je'Kel Foster. Brandon Fuss-Cheatham. Shaun Smith. You haven't had recurring backcourt comfort like Craft this century.
His basketball efficacy often makes dumb sportswriters dumber. He dives through cheerleaders after loose balls, takes no possessions off and he plays basketball with the kind of joy which quietly tells you that unlike 99.9% of college students, his youth isn't being wasted on the young. 
Craft is the most comforting Buckeye basketball player since Jimmy Jackson.
Maurice Clarett, at the height of his burgeoning popularity during his freshman year in 2002 was asked why he refused to shy away from contact in the name of self-preservation. His answer only made him more popular with Buckeye fans: I think about the guy who works 80 hours a week and takes on extra shifts to make more money. That guy paid $45 to get into the Ohio State game. I don't think he paid $45 to see me run out of bounds - I think he paid to see me run someone over and score touchdowns.
Craft plays basketball like Clarett played football: Relentless determination in doing whatever he can to help the entire team succeed. The glaring difference is Clarett delivered on his promise for about ten games while Craft has given us 145. He played a bunch of those games with bone chips floating around his ankle and stabbing him and he didn't complain. We hate complainers. We love tough guys who don't act tough.
We're suckers for players with big hearts, and so we're going to miss Craft terribly.  College sports reunites oldsters with their youth, and Craft has been one of Ohio State's greatest vehicles for our time travel that we have had in a long time.
When you were young and couldn't find the right words, you turned to lyrics. After four years of superlatives, steals, cheeks, that shooting motion, innumerable dives into rows of photographers, game-winning shots, a few air balls and 116 wins (and counting! and counting!) Craft has earned the right to an 11W Mixtape.
Here is your soundtrack, sir. You made it easy.
The unnecessary explanations:
1. Swoon - the official hashtag of when Aaron Craft does Aaron Craft things.
2. Rosy Cheeks - the rosacea beard Craft grows during basketball games; a gift from mom.
3. Taco Night - for openly driving his love of tacos into the mainstream.
Taco Night #NoGirlsAllowed https://t.co/GvmTYs9zKA

— Craft's Roomies (@CRAFTroomies) April 29, 2013
4. He Loves You - referring to the effusing praise from Dan Dakich, Craft's rumored real father. 
5. Everybody Loves You - this song is obviously about us.
6. Everybody Hates You - and this one is about everybody but us.
7. Tennessee Sucks - thank you eternally, Bruce Pearl.
8. No Foul, No Harm - for the detractors who feel Craft hand-checked his way into being one college basketball's greatest defenders. 
9. Rubik's Cube - it has 43,252,003, 274,489,856,000 permutations. Craft's got 43 quintillion problems, but quickly solving a Rubik's Cube ain't one.
10. Hitch Hike - that shooting motion is anything but smooth, but every school has its ten greatest scorers of all time, and Ohio State's already includes Craft.
11. Angel - it's a song that invokes images of animal cruelty. Dogs, mostly. Craft is no Michael Vick but he's taken down his fair share of Gophers, Wildcats, Badgers, Lions, Wolverines and whatever a Hoosier is. This serves as a requiem for his victims. (Think back four years, not just the past month).
12. Scrappy Come Home - Craft wins White Athlete Superlative BINGO™ every single time he's a topic of conversation: He's scrappy, determined, blue-collar, gritty, poised and deceptively athletic. Craft doesn't make mistakes, his teammates respect him, he's a veteran, smart and does all the little things.
They're all true. That doesn't mean they're not white guy clichés.
13. Thief's Theme - Craft broke Ohio State's career steals record before his junior year ended. His sophomore and freshman seasons rank #1 and #5 in Ohio State history for steals.
As a senior he's projecting to overtake the #3 spot that's currently held by...his junior year. Craft will leave Ohio State as the Big Ten's all-time steals leader, breaking a 28-year old record. He owns four of the six theftiest seasons in Ohio State history.
Larceny: It sneaks up on you with glowing red cheeks, robs you with its subtle hand-checks and then leaves you reeking of taco meat.
14. Number 4 - Ohio State may not retire it, but...it's his. The next guy is just borrowing it.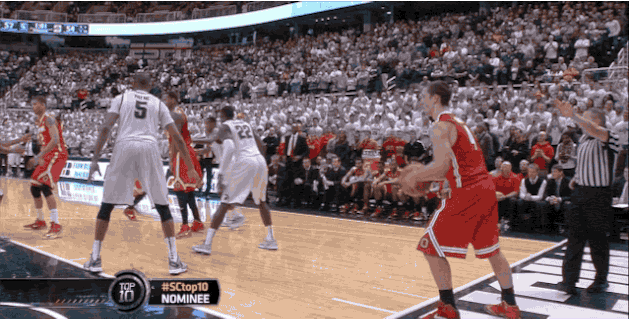 15. Assist - He's got 86 more than anyone else in Ohio State history. He should easily extend that to over 100 once he's played his final game. Can you think of any another statistic where the career leader has 100 more than the next guy?
(It's a trick question - Craft currently has 119 more steals than the next closest Buckeye.)
16. Gritty - [checks BINGO card] BINGO!
17. The Craft - Beyond the superlatives, there was the media love affair. Did you know Craft is the perfect roommate? That he's eternal? He's the second coming of Tim Tebow? No, no - he's Rafael Nadal. Really. Aaron Craft is me. Aaron Craft is you. He is all of us.
18. You're a Winner - BINGO AGAIN. BINGO FOREVER.
Thank you for your four record-crushing, memorable years, sir. It was our pleasure.