Ohio State is notoriously brand-aware and litigious. Years ago, when Eleven Warriors dot com was but a wee shadow of its current self and frequented mostly by Tolkien aficionados with clumsy fingers, we put on a few tailgates using the name of a certain recognizable college sports mascot. It was really just a way to have some fun and celebrate the growth of the site while raising a few bucks for charity, but the name was a no-no and we were forced to change it.
That's a small example of the extremely large effort that the Ohio State University expends in protecting its various trademarks; in the past several years they've sent out dozens upon dozens of cease and desist letters to various companies and businesses that were foolish enough to use an Ohio State logo, likeness, or colors in a way not sanctioned by the university.
Pizza parlors, online t-shirt retailers, online pizza retailers, t-shirt parlors, and more have all gotten the opportunity to get scared silly by the full weight of a public institution with an endowment in the billions, which itself has been in the process of trademarking the name "Woody Hayes" and the word "The."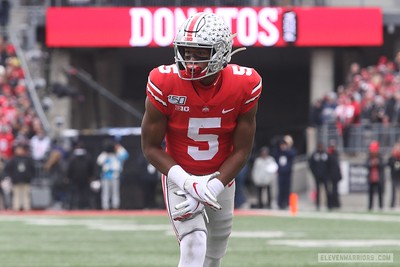 Which I will actually attempt to defend. The "The" thing sounds silly (because it is silly), but there's at least a semi-sensical legal argument to be made for trademarking the most commonly used word in the English language. Plus, in a larger sense, if you don't defend a trademark, you lose it. While it isn't true that if Ohio State allows a doily maker or two to crochet a Block O and then hand them out at the nursing home they'll lose control of "Block O" forever, it would be possible that dozens of octogenarians pumping out Brutus-themed macrame dream catchers could create a problem.
That isn't to say that Ohio State is unwilling to allow their facilities and programs to be temporarily co-opted by companies and groups willing to pay a buttload of money. The Schottenstein Center is obviously a prime location for various events and concerts (as is, increasingly, Ohio Stadium). You can buy literally every conceivable item with an official Buckeye logo on it, including custom hot dog grill irons, and Brutus himself appears in all kinds of commercials and advertisements.
Ohio State has struck what they believe to be a good balance between revenue and protection. Ohio State may be a nationwide brand, but the ads stay within the stadium, not in the actual name.
So far. Because recently something caught my eye and convinced me that OSU is going about this all wrong. Instead of carefully meting out usage of brand names, colors, and images in order to maintain them, why not just hook your trailer up to the likes of the freakin' XFL, baby?!?
The XFL's Roughnecks have made their home in the heart of southeast Texas at the University of Houston's TDECU Stadium. [...]

TDECU Stadium got its first glimpse of Houston's new hometown team in January when the entirety of the XFL came to the city for training camp, which was expected to spur close to $7 million in revenue for the host city, according to Houston Mayor Sylvester Turner. Teams were spread out throughout several facilities, with the university's campus serving as camp's pseudo-headquarters as well as the location of the Roughnecks' training.
"Oh, but that's Houston," you say, nose upturned in a prime example of unnecessary snobbery. "This is Ohio State, home of athletic department revenues of over 200 million wing-wangs. We don't need to resort to such base tactics."
Maybe not, but I'm just trying to think of the future. With worries about declining attendance and some major changes in media revenue looming in the next few years, I'm simply suggesting that perhaps Ohio State should think about reaching out to a respectable, venerable organization with a global reach and influence on the same level as one run by noted big brain haver Vince McMahon.
The Oval, presented by Charmin. Thompson Memorial EA Sports HQ and Library. The Recreation, Dow Chemical, and Chiquita Physical Activity Center.
The possibilities are endless and really the only question is how far are public institutions willing to go to attempt to keep their athletic departments solvent. In 2018 the Houston athletic department lost money despite taking over $30 million in combined school funds and student fees, and that's a story not even remotely uncommon among college athletic departments.
Ohio State's athletic department, which collects no student fees and a comparatively nominal amount of money from the school itself, made over $210 million in revenue last fiscal year and still somehow found itself in the red (The Dispatch and the university disagree about exactly how far in the red the department was, but neither side disputes the color). And while it is true that the department has seen its revenues soar from $145 million in 2014, to $170 million in 2016, to the multiple hundreds of millions that we see today, it is equally true that expenses have increased for the department almost exactly in tandem.
Ohio State isn't nearly as vulnerable to the ups and downs of sports success as Houston is (being a member of the Big Ten has its perks), but it isn't immune. A run of poor seasons by the football and basketball teams or a less-lucrative than expected broadcasting contract could cause more chaos than Gene Smith might be willing to admit.
One solution, I guess, would be to pare down college athletic departments in general, acknowledge that tying collegiate sports programs to the whims of the free market is unsustainable in the long term for most universities, and try to create something that retains the core values of scholarship and athletics without fleecing students or the public.
Since that's silly and isn't going to happen, that leaves us with just a few other options. You can always force students to subsidize athletics as a condition of attending school, or you can lean super hard into selling every inch of space on campus to the highest bidder, or, heck, why not both?
Ohio State, thankfully, has decided to not ask its students to shoulder the burden of making ends meet, unless they choose to through actually buying a ticket. But that also means that jokes like these might not stay that way for long.