It's time to "Black Out" the Horseshoe and watch Wisconsin get dumped.
C.J. Stroud will have no issue moving the ball around on the Wisconsin defense as he throws to Jaxon Smith-Njigba, Marvin Harrison Jr., Emeka Egbuka, Julian Fleming and, of course, Farmer Gronk himself, Cade Stover. The Buckeyes' running game can only help to keep pace with TreVeyon Henderson and Miyan Williams toting the rock (and maybe a few carries for Dallan Hayden here and there).
The main objective for the offense will be to take care of the football. If they can play mistake-free and limit penalties, that should offer confidence for the Silver Bullets to play fast and violent to stop Wisconsin's rushing attack powered by Braelon Allen. The defense will also look to make Graham Mertz see a swarm of black uniforms in the defensive backfield while making him familiar with the green turf at Ohio Stadium.
Ohio State has all the tools necessary to win every game on its schedule. The only losses come when the Buckeyes beat the Buckeyes. Execute and take care of the football – the rest will take care of itself. Give me Ohio State big in this one, 42-17.
Let's have a good Saturday, shall we?
 TODAY'S MENU. This weekend, most of the college football programs in the FBS will start their conference schedule, which means better games on Saturday and for the rest of the season. I am a fan of that. What do you think?
Below is the full slate of games to watch on Saturday:
| Matchup | Time (ET) | TV/Mobile |
| --- | --- | --- |
| USF at Louisville | 12:00pm | RSN/ESPN3 |
| 5 Clemson at 21 Wake Forest | 12:00pm | ABC |
| Rhode Island at 24 Pitt | 12:00pm | ACCN |
| Duke at Kansas | 12:00pm | FS1 |
| Central Michigan at 14 Penn State | 12:00pm | BTN |
| Maryland at 4 Michigan | 12:00pm | FOX |
| Buffalo at Eastern Michigan | 12:00pm | CBSSN |
| Kent State at 1 Georgia | 12:00pm | SECN+/ESPN+ |
| 17 Baylor at Iowa State | 12:00pm | ESPN2 |
| Missouri at Auburn | 12:00pm | ESPN |
| TCU at SMU | 12:00pm | ESPNU |
| Bowling Green at Mississippi State | 12:00pm | SECN |
| UMass at Temple | 2:00pm | ESPN+ |
| UCLA at Colorado | 2:00pm | P12N |
| Fordham at Ohio | 2:00pm | ESPN+ |
| Middle Tennessee at 25 Miami (FL) | 3:30pm | ACCN |
| James Madison at Appalachian State | 3:30pm | ESPN+ |
| Minnesota at Michigan State | 3:30pm | BTN |
| FIU at WKU | 3:30pm | CBSSN |
| North Texas at Memphis | 3:30pm | ESPN+ |
| Texas Southern at UTSA | 3:30pm | Stadium |
| 22 Texas at Texas Tech | 3:30pm | ESPN |
| 20 Florida at 11 Tennessee | 3:30pm | CBS |
| Notre Dame at North Carolina | 3:30pm | ABC |
| Toledo at San Diego State | 3:30pm | FS1 |
| Indiana at Cincinnati | 3:30pm | ESPN2 |
| Georgia Tech at UCF | 4:00pm | ESPNU |
| Tulsa at 16 Ole Miss | 4:00pm | SECN |
| Sacramento State at Colorado State | 4:00pm | MWN |
| 15 Oregon at Washington State | 4:00pm | FOX |
| Arizona at California | 5:30pm | P12N |
| Rice at Houston | 6:00pm | ESPN+ |
| Navy at East Carolina | 6:00pm | ESPN+ |
| Arkansas State at Old Dominion | 6:00pm | ESPN+ |
| Ball State at Georgia Southern | 6:00pm | ESPN+ |
| Akron at Liberty | 6:00pm | ESPN+ |
| Marshall at Troy | 7:00pm | NFLN |
| Southern Miss at Tulane | 7:00pm | ESPN+ |
| NIU at 8 Kentucky | 7:00pm | ESPN2 |
| 10 Arkansas vs. 23 Texas A&M (in Arlington, TX) | 7:00pm | ESPN |
| UNLV at Utah State | 7:00pm | CBSSN |
| Iowa at Rutgers | 7:00pm | FS1 |
| Louisiana Tech at South Alabama | 7:00pm | ESPN+ |
| HCU at Texas State | 7:00pm | ESPN3 |
| Florida Atlantic at Purdue | 7:30pm | BTN |
| Wisconsin at 3 Ohio State | 7:30pm | ABC |
| Charlotte at South Carolina | 7:30pm | ESPNU |
| Miami (Ohio) at Northwestern | 7:30pm | BTN |
| UConn at 12 NC State | 7:30pm | RSN/ESPN3 |
| Vanderbilt at 2 Alabama | 7:30pm | SECN |
| New Mexico at LSU | 7:30pm | SECN+/ESPN+ |
| Hawaii at New Mexico State | 8:00pm | FloSports |
| Louisiana at ULM | 8:00pm | ESPN+ |
| Boston College at Florida State | 8:00pm | ACCN |
| Kansas State at 6 Oklahoma | 8:00pm | FOX |
| 7 USC at Oregon State | 9:30pm | P12N |
| Wyoming at 19 BYU | 10:15pm | ESPN2 |
| Stanford at 18 Washington | 10:30pm | FS1 |
| Western Michigan at San Jose State | 10:30pm | CBSSN |
| 13 Utah at Arizona State | 10:30pm | ESPN |
 BACK TO THE BUCKEYES. The Ohio State athletic department and football program really wants you to wear black for the Wisconsin game. I mean, I cannot stress how much they desire for every Buckeye fan to partake in the "Black Out" on Saturday.
To prove my point, take a look at their Twitter activity in the last week:
Wallpaper drip#GoBucks pic.twitter.com/4C9bsUuiie

— Ohio State Football (@OhioStateFB) September 22, 2022
Dark Mode: N #GoBucks pic.twitter.com/pEKlb1CkQ3

— Ohio State Football (@OhioStateFB) September 21, 2022
wear.
black.#GoBucks pic.twitter.com/dydQwUycgg

— Ohio State Football (@OhioStateFB) September 21, 2022
September 20, 2022
September 21, 2022
this is a really huge deal. pic.twitter.com/xdLvj2rzVd

— Ohio State Buckeyes (@OhioStAthletics) September 21, 2022
Oh we have plenty more of these pic.twitter.com/LJc9S1xnhF

— Ohio State Buckeyes (@OhioStAthletics) September 22, 2022
nuff said. pic.twitter.com/iJBphNZH3h

— Ohio State Buckeyes (@OhioStAthletics) September 23, 2022
As a reminder, Ohio State is 3-0 when wearing black uniforms. The Buckeyes' first win came against Penn State in 2015 and was followed by victories over Nebraska in 2018 and Michigan State in 2019.
Additionally, Ohio State is 2-0 against Wisconsin while sporting alternates. The first win was a 33-29 thriller in 2011 while wearing uniforms honoring the 1961 national championship team. That contest ended with a game-winning touchdown pass from Braxton Miller to Devin Smith late in the fourth quarter. The second was a 31-24 victory in 2013 when the Buckeyes wore their "Rivalry" uniforms with a chrome helmet.
 MY PICKS. A Game Day Skull Session wouldn't be complete without some college football picks. I feel confident about these, so go ahead and put the house on them. 2022 RECORD: 4-5
Duke at Kansas (-7.5). College GameDay should have traveled to Lawrence, Kansas for the battle between the undefeated Blue Devils and Jayhawks. Yes, that's right. The basketball blue bloods are crushing it on the gridiron this season, and I love everything about it. I trust Lance Leipold to deliver a big win for Kansas in this one, so my money is on his team to win by multiple scores.
No. 22 Texas (-6) at Texas Tech. The last time Texas was featured in my picks, the Longhorns gave Nick Saban and Alabama one heck of a fight. This time, I'm picking Steve Sarkisian and Hudson Card (or a potentially healthy Quinn Ewers) to beat the Red Raiders by a touchdown.
No. 10 Arkansas (+2) at No. 23 Texas A&M. Texas A&M's offensive line has not played well the last two weeks. Arkansas leads the nation with 17 sacks. Go Razorbacks.
 A MESSAGE FROM SHANE ROUSSI AND JOHNNY GINTER. For this blurb, I'm passing the keyboard to my friend Johnny Ginter. He has a message to share about Eleven Dubgate and its support of Special Olympics Olentangy.
Hey all, Johnny here- we just wanted to thank everyone who is coming out today to Dubgate X to help support the Special Olympics. It's a fantastic cause and we're extremely proud to be partnering with Special Olympics Olentangy. Recently, a former student of mine, Shane Roussi, told me that he wanted to share some of his experiences with the Special Olympics (and Ohio State!) and why they mean so much to him.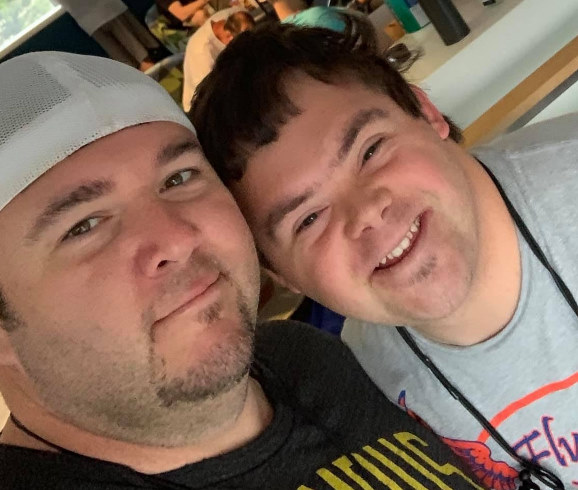 Hi, my name is Shane Roussi, and I am part of the Special Olympics. I have been involved with them for about 4 years, participating in swimming, track and field and basketball. I have won bronze, silver and gold medals and have had the best experience I could ever ask for with this organization. The coaches and athletes are super nice and treat everyone like family.
Working for Ohio State helped prepare me for this experience. I started as an equipment manager trainee during my junior year of high school, where I learned a lot about inventory, stocking shelves, and setting up for practice. I was also able to volunteer as a special assistant enforcer "coach" not just for the defensive linemen but for the whole team, too.
There I got to learn different methods of training college athletes. Working with the Buckeyes was a big honor and I can honestly say that is something that I want to do as a career someday (or maybe talking or writing about sports), hopefully sometime in the near future.
Today, I am beyond grateful to have this great opportunity to compete with these great athletes and coaches in the Special Olympics and to be able to call these people my friends. This organization has been there for me since day one and I won't forget what they have done for me. It has meant so much to me to be able to compete with such great and amazing people that I can make memories with for a long time.
I am so honored to call the Special Olympics my second family. It would be a great honor if people can help support this great organization, recognize us as athletes, and help us compete at the highest level possible. It would mean so much to us if people can do that.
Thanks, Shane, and thank you everyone for all of your support today!
 ELEVEN DUBGATE IS PARTYING TODAY WITH LAND GRANT BREWING.
The mission of land-grant universities is inclusiveness. Ohio State grads Adam Benner and Walt Keys built Land Grant Brewing - their foray into the craft beer industry - on this foundation.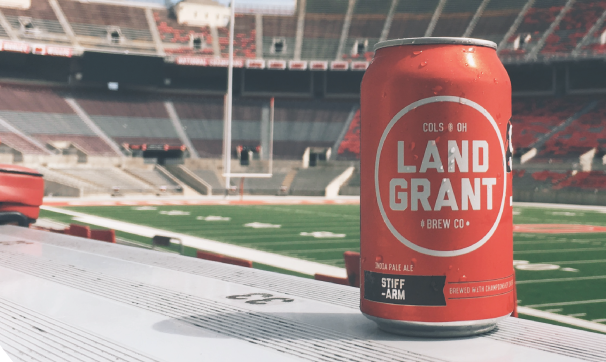 Their goal has always been to create an inclusive craft-beer environment where everyone feels welcome and to make craft beer more accessible through both education on the art and science of brewing, as well as the commitment to enriching our community – both pillars that define land-grant universities today.
You can find Land Grant beers everywhere from John Glenn International Airport to Columbus Crew games, as well as in Ohio Stadium. Today, you'll also find Land Grant beer at Eleven Dubgate X.
Doors open at 3 p.m. for Eleven Dubgate X, which is being held this Saturday before Ohio State's game with Wisconsin. This event relies on your donations, all of which will benefit Special Olympics Olentangy. Cash and Venmo (@OSSOSTORM) are both accepted.
 SONG OF THE DAY. "Paint It, Black" by The Rolling Stones.