I had every intention of moving on from Toledo and talking about Wisconsin in today's Skull Session, but then I realized I had more to share.
Ohio State's running backs are really good, the defense forced its first (and second) turnover and there's a chance the Buckeyes could face Michigan in what would be a historic installment of The Game. There are other things in today's Skully, too.
How's that for a tease?
Let's have a good Tuesday, shall we?
 DALLAN HAYDEN, EVERYONE. When it comes to Ohio State's running back room, I constantly ask where Ryan Day and Tony Alford find the players that tote the rock for the Buckeyes.
TreVeyon Henderson was a sure thing as a prospect, ranked as the No. 1 running back and No. 23 player overall in the class of 2021. But then you look at Miyan Williams and Dallan Hayden. Williams was the No. 45 running back and No. 627 player in 2020, while Hayden came to Ohio State as the No. 24 running back and No. 282 player in 2022.
Still, Day and Alford believed the Buckeyes could maximize Williams and Hayden's athleticism and football ability at the collegiate level. Ohio State fans know what they saw in Williams and understand what he brings to the table. However, they received their first glimpse of how special Hayden can be after his breakout performance against Toledo.
Welcome to the Big Leagues, Dallan Hayden. pic.twitter.com/sp4lcRKmBv

— Eleven Warriors (@11W) September 18, 2022
Indeed, a true freshman rushed for 108 yards on 17 carries and added a touchdown in the absence of Henderson. He ran hard and fast, bursting into the second level and beyond and making himself hard to contain. His first career score as a Buckeye was beautiful, looking like he was shot out of a cannon after taking a handoff from Kyle McCord.
The first of many touchdowns for Dallan Hayden in an Ohio State uniform.pic.twitter.com/ztNdmxvHHO

— Eleven Warriors (@11W) September 18, 2022
It appears Hayden might always run with that intensity and urgency when he touches the football. For example, the Memphis, Tennessee, native almost sped past the entire Toledo defense in what was nearly a 48-yard touchdown run early in the second half.
So many weapons on this No. 3 @OhioStateFB offense. pic.twitter.com/tFlCqWxPSR

— Ohio State on BTN (@OhioStateOnBTN) September 18, 2022
That said, Day and Brian Hartline are continually praised for their work recruiting the quarterbacks and wide receivers. But Saturday's game was a reminder to do the same for Alford. Down two running backs (Henderson and Evan Pryor), Ohio State didn't skip a beat. And that, my friends, is another instance of the Buckeyes having an embarrassment of riches everywhere you look.
 TURNOVER TIME. I've shown plenty of love to the Ohio State offense in my last couple of Skull Sessions, and rightfully so. That side of the ball was excellent against the Rockets and would not be denied.
But now it's time to talk about the Ohio State defense.
The Buckeyes finally forced a turnover in Week 3 when Ronnie Hickman intercepted Toledo quarterback Dequan Finn at the start of the third quarter. After the game, Hickman said Jim Knowles and Perry Eliano made the defensive backs study that exact play call from the Rockets and that preparation worked in their favor come game time.
Relive the Ohio State defense's first turnover of the season.pic.twitter.com/fME6qnf4Bh

— Eleven Warriors (@11W) September 18, 2022
It was a job well done for the staff and players to be ready for an opponent's game plan and capitalize on it at the opportune time. The Buckeyes also forced and recovered a fumble later when Javontae Jean-Baptiste stripped the quarterback and Ohio State recovered.
As for the defense overall, I understand many were concerned about Ohio State allowing 21 points to Toledo. However, I was impressed with how they contained Finn for most of the night. He could flat-out play and is – hot take incoming – one of the best quarterbacks the Buckeyes will face all season.
DEQUAN FINN

What a play by the @ToledoFB QB pic.twitter.com/25hMTkzGkN

— FOX College Football (@CFBONFOX) September 18, 2022
The Dequan Finn experience is exhilarating pic.twitter.com/NrizX2FRnf

— The Transfer Portal CFB (@TPortalCFB) September 18, 2022
When you remember that the Rockets scored 21 points in a game where Ohio State scored 77, the 21 points given up by the defense feel less concerning. Still, Jack Sawyer believes that was far from the best performance fans will see from the Buckeyes this season, which should provide optimism for everyone as Big Ten play is right around the corner.
Jack Sawyer on Ohio State's defense:

"I wouldn't say we've reached our full potential yet," he said. "We'll shake some things up here and there, but we'll be alright."

— Chase Brown (@chaseabrown__) September 18, 2022
 FIESTA BOWL BOUND? Before the 2022 season, many college football experts picked Ohio State and Alabama as the two teams most likely to play for a national championship in the College Football Playoff final. However, with a three-game sample size for each program, Action Network predicts the Buckeyes and Crimson Tide will meet one round earlier, in the semifinals of the CFP.
Action Network early Bowl Predictions pic.twitter.com/NQC3WQBvx0

— jbook (@jbook37) September 19, 2022
The sports betting website projects Ohio State and Alabama will travel to Glendale, Arizona, for the Fiesta Bowl. At the same time, Georgia and Michigan will face off in the Peach Bowl in Atlanta. Their current analysis has the Buckeyes as one-point favorites over the Tide, while the Bulldogs would be favored by nine points against the Wolverines.
Despite being favored, Action Network sees Alabama taking down the Buckeyes in the home of the Cardinals, which would set up Nick Saban for a rematch with Kirby Smart and Georgia in the CFP Final on Jan. 9, 2023. Still, it's only been three weeks, and a lot of football is left. It would be best if you took these predictions with a grain of salt.
A new week in college football means a new week of bowl projections from @Brett_McMurphy

— Action Network (@ActionNetworkHQ) September 19, 2022
However, if the initial four teams reaching the playoff are correct, please ponder the possibility that Ohio State and Michigan could meet in the national championship for the first time ever. If the Buckeyes won that meeting, fans would have the ultimate bragging rights for the rest of time, which you have to love. Let's revisit these predictions come December.
 DIRTY FRANK'S IS THE OFFICIAL WEINER OF ELEVEN DUBGATE X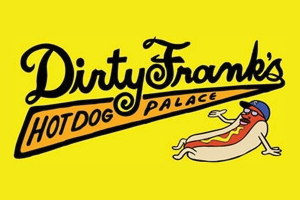 Dirty Frank's Hot Dog Palace serves Vienna Beef®, vegan and vegetarian hot dogs, cold beer, and dazzling drinks. You can find them at 248 S. 4th St. in Columbus - the two main cross streets are Rich St and Main St.
Make sure to have Weiner Wednesdays as a regular part of your lunch plans, where you can get a special dog with fries for just $5. You'll find Dirty Frank's jumbo dogs and brats at the 11W tailgate this weekend.
Doors open at 3 p.m. for Eleven Dubgate X, which is being held this Saturday before Ohio State's game with Wisconsin. This event relies on your donations, which will benefit Special Olympics Olentangy. Cash and Venmo (@OSSOSTORM) are both accepted.
 SONG OF THE DAY. "Danger Zone" by Kenny Loggins.
 CUT TO THE CHASE. Buccaneers wide receiver Mike Evans was suspended after scruff with Marshon Lattimore... Immersive Claude Monet exhibit planned for NYC this fall... A Louisiana man was arrested for shooting at a Coast Guard helicopter... Why Ryan Reynolds is telling people to get a colonoscopy... Drone footage shows the scale of a Taiwan earthquake.