I hope that you all survived tax day. Welcome to the other side.
It clearly took its toll on me, and as a result, your Skull Session is late. Blame the IRS!
Word of the Day: Betoken.
 AMBASSADORS OF STYLE. Tired: college athletes getting paid to play their sport. Wired: college athletes getting paid to dress well.
C.J. Stroud and Jaxon Smith-Njigba are getting into the fashion game this year as the dynamic duo has been named the first two "style ambassadors" for Express.
Express, Inc., a national fashion apparel retailer, is taking advantage of new name, image and likeness rules to sign the brand's first-ever collegiate athlete style ambassadors. Ohio State football players CJ Stroud and Jaxon Smith-Njigba will serve as the first two ambassadors in the program.

"The announcement of our partnership with CJ and Jaxon signifies the growth of what we call the Express Styling Community, a community connected by the confidence people find through personal style. Our portfolio includes our Community Commerce Style Editors, associates, influencers, brand ambassadors, and now collegiate athletes," said Sara Tervo, executive vice president and CMO at Express.

...

"I've been a fan of Express for as long as I can remember," said Stroud. "The clothes have always just made me feel good—like a boss. Jaxon and I were actually shopping for suits at our local Express store last winter and shortly after, the brand reached out about an opportunity to join their styling community—it feels like it was meant to be."

...

Stroud and Smith-Njigba will each be sharing content on their own social channels and the brand's channels. The campaign will focus on how they turn to fashion to look and feel their most confident selves. Over the next year, Stroud will connect with Express customers through his participation in future campaigns and will make in-store and digital appearances.
Based on the photo Express used with the article, I'd say this decision was well deserved. Because their suit game is absolutely on point.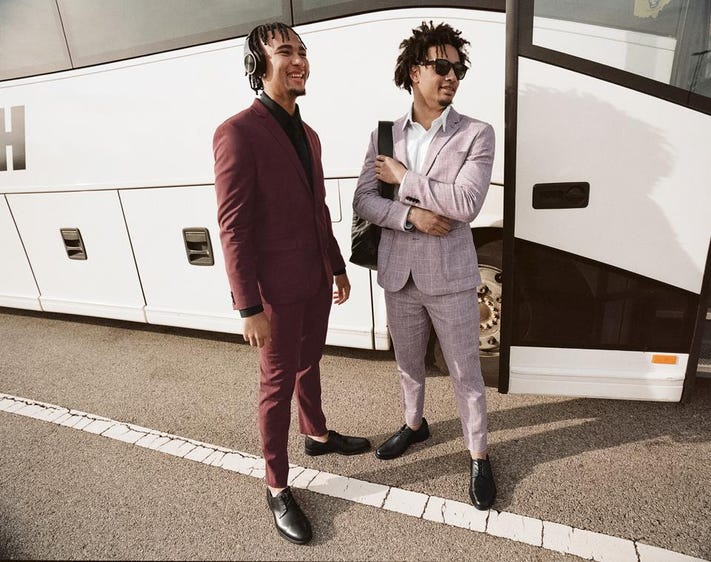 As a blogger who rarely leaves his couch, I feel like there's a niche for "blogger core" fashion that I can help a #brand reach. My email is open.
 HAPPY 100TH, OHIO STADIUM. The 'Shoe is turning 100 this year, and if you're looking to celebrate with your wardrobe, Ohio State just released a whole collection of gear for your purchasing pleasure.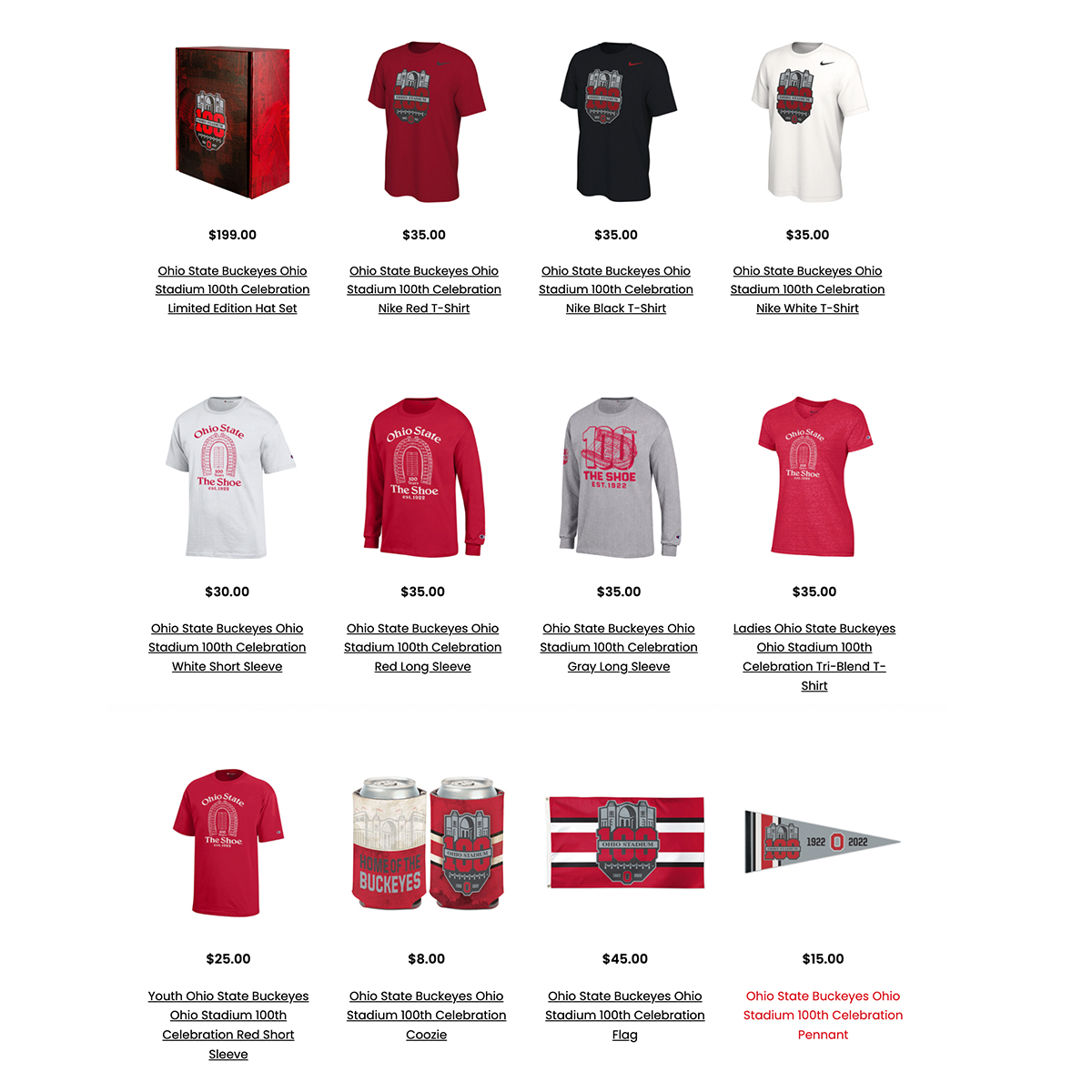 I'm generally the furthest thing from a "I need a shirt to commemorate everything" person, but honestly, this logo is unexpectedly cool and even those vintage-looking shirts are pretty solid.
I don't think my closet would be terribly upset with me if I made an addition.
 GLOWING REVIEW. There's an extremely solid chance that Garrett Wilson is the top wide receiver taken in this year's NFL Draft, but it may even be a little better than that.
According to the Commanders' evaluation, Wilson might be one of the best receivers drafted in years.
.@OhioStateFB WR Garrett Wilson just finished his visit with the #Commanders, per source.

Wilson, according to one GM I spoke with, is one of the best receivers Ive evaluated over the past five years. Speed, route-running, hands, can break the game open at any time.

— Jordan Schultz (@Schultz_Report) April 18, 2022
That's great and all for them, but if that evaluation is legit, then there's not a shot in hell they're going to have a chance to pick him at No. 11. I guess just start praying that other teams don't see what you see?
 SURPRISE SCHOLARSHIP. There are few things on the planet I enjoy more than watching a surprise scholarship video that finds itself in front of me on the World Wide Web, so if there happens to be one that's Buckeye related, you best believe it's showing up in a Skull Session.
When you give your heart to something, it pays you back
Surprise @SarahMorbitzer youre on scholarship #GoBucks pic.twitter.com/iO965KuOdu

— Ohio State Women's Volleyball (@OhioStateWVB) April 18, 2022
Congrats, Sarah. You earned every bit of this.
 SONG OF THE DAY. "Turn Mw Swag On" by Soulja Boy.
 NOT STICKING TO SPORTS. Should we really be eating three meals a day?... Taco Bell is finally bringing back Mexican Pizza... Some fish cause Earth's oceans to move during sex... Throwing you a martini instead of stirring or shaking... A murder solved in DMs... Fossils reveal the season in which dinosaurs went extinct, and why it mattered...