I'm gonna need to hear a source on this one...
Breaking News: Dawand Jones will be returning for his senior year at Ohio State.

— Dawand Jones (@dawandj79) January 17, 2022
Word of the Day: Invidious.
 GOOD NAME GONE TO THE PORTAL. One of my favorite uses of the Transfer Portal is when guys who've cut their teeth for years as walk-ons on the scout team get their chance to move on and actually play and potentially earn a scholarship elsewhere.
Buckeye cornerback Lloyd McFarquhar is the latest to give that a try.
Im a Defensive Back from The Ohio State University currently in the transfer portal. I will be graduating in May of this year and will be eligible as a Grad Transfer immediately after with 2 years of eligibility left. 510 185. P1 @RivalsPortal @247SportsPortal #rt pic.twitter.com/oq6R7mdX8U

— Lloyd McFarquhar Jr (@presidentlloyd_) January 16, 2022
January 16, 2022
Honestly, as a defensive back, any tape of you doing pretty much anything successfully against one of Ohio State's receivers should be worth a look by an opposing program given that pretty much nobody else in the was able to defend them.
I'm sure he'll get his opportunity.
As an aside, Ohio State's all-name team is taking a significant hit this offseason with Lloyd McFarquhar's departure along with Master Teague and Nicholas Petit-Frere. Thank God we still have Steele Chambers and Lejond Cavazos.
 PLAYERS EDITION. The NIL era is pretty sweet because if you want to monetarily support a player by purchasing their merch, you can now just like... do that.
And Ohio State's hoops team is giving you the opportunity with their new collective merch line called "Players Edition" that dropped yesterday.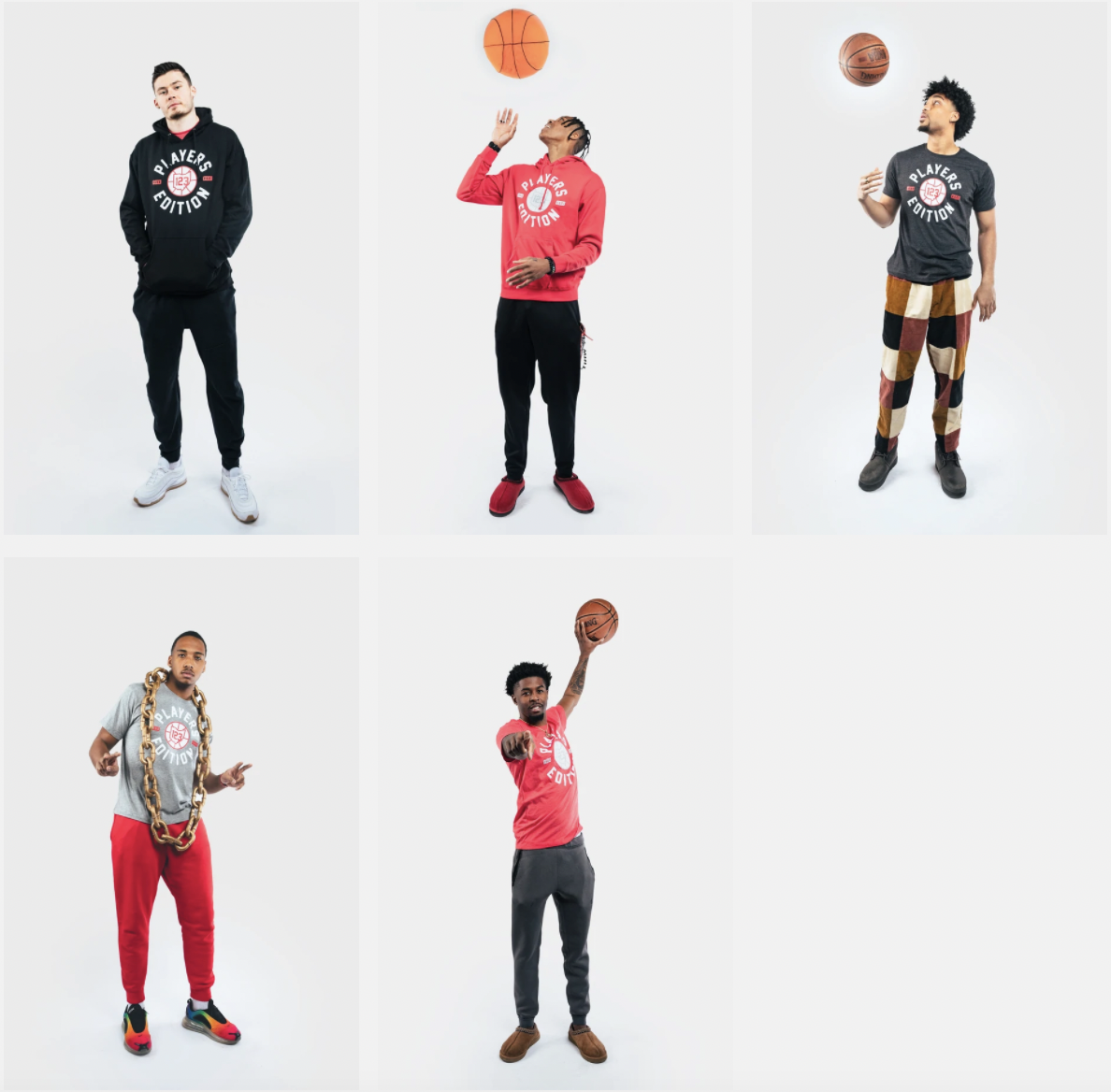 Basically, this is a project the entire team is collaborating on, and they'll all share the profits, which is pretty unique and cool. I've seen plenty of individual players rolling out brands in the NIL era, but this is the first time I've seen an entire team do it together.
It's a pretty great clap-back to the "me era!" chatter of the NIL era. Nah – they'll just go ahead and use their NIL as a team, too.
 TIME TO GET MAD ONLINE. Y'all got your pitchforks ready? Cause you're going to need them.
Yesterday, I was scrolling through Pro Football Focus' "Top Returning Quarterbacks" article hoping for some easy #content when they inevitably ranked C.J. Stroud No. 1 or No. 2 and I can talk about how absurdly good he is, maybe throw something in there about how good Ohio State's been at developing quarterbacks – y'all know the drill.
Instead, what I got was Stroud at No. 4, behind Caleb Williams (weird, but whatever), and...
...Spencer Rattler, who –as you know – got benched midway through the season for being not very good.
And the explanation is basically just "Spencer Rattler was good last year and should have been good this year, we swear!" and "C.J. Stroud's receivers were too good!" It's hilarious.
3. SPENCER RATTLER, SOUTH CAROLINA GAMECOCKS

...

Rattler's college production is truly some of the best that PFF College has seen, despite the fact that many believe he isn't a good passer. The former Sooner is still college football's highest-graded passer since 2020. He struggled to hit on his deep attempts in 2021 as the offense focused on more intermediate concepts. He ended up with a lowly 45.5 passing grade on 20-plus yard throws after a 98.1 passing grade on such passes in 2020.

Still, Rattler shined on nearly every other throw. His No. 1 ranking in negatively graded throw rate and completion percentage over expectation (CPOE) for the 2021 season back that up. 

Rattler isn't perfect, but his ceiling is as high as any other quarterback in the country, which is why he received so much fanfare ahead of the 2021 campaign. He didn't produce the highest passing grade PFF has ever seen from a non-draft-eligible quarterback in 2020 by luck.

4. C.J. STROUD, OHIO STATE BUCKEYES

While Stroud was blessed with one of the best ecosystems in the country and had his fair share of inconsistencies in 2021, he still finished with a 91.8 passing grade for the season, ranking fourth in the FBS. He battled a shoulder injury through his first three starts, which hurt his accuracy and caused him to sit out against Akron in Week 4. Stroud then returned in Week 5 and was sharp the rest of the way.

He earned an 89.0-plus PFF grade in five of his last nine starts and posted the highest rate of accurate passes in that span. The first-time starting quarterback did an excellent job of evading sacks when under duress, leading to the ninth-lowest pressure to sack conversion rate in the FBS (10.8%). 

It was a little bit easy for Stroud, given all the open throws created for him, but he did show immense growth as the season progressed when moving off his first read.
Wow. I thought we'd make it until at least May until I was getting worked up online about a subjective list, but here we are.
I thought the whole "Stroud was only good because he had the best receivers in the country!" narrative died in the Rose Bowl when he literally broke the school's single-game passing record with two first-round picks on the bench while throwing three touchdowns to a guy making his first career start.
And if you're going to say "but he still had Jaxon Smith-Njigba!" I've got some news for you about next season...
Oh well. I guess somehow he gets to enter 2022 with a chip on his shoulder.
But hey, at least someone is giving him some recognition:
Our 2021 Freshman Breakout Performance presented by Chris Doering Mortgage belongs to QB CJ Stroud of @OhioStateFB for not one, but two great performances, including a record-shattering @rosebowlgame. https://t.co/q05DhSydm4 #GoBucks pic.twitter.com/9foP5RPM3D

— Football Writers Association of America (@TheFWAA) January 18, 2022
 SHOULD HE STAY OR SHOULD HE GO? With the Las Vegas Raiders' season officially ending this weekend (Go Bengals), Jim Harbaugh's got a decision to make very soon.
And Michigan's certainly not going to let him go without a fight.
He's been working, as you've all seen. Harbaugh has parties working with Michigan on his behalf RE: a deal ... I've heard almost nothing to suggest Michigan hasn't met what he wants (the opposite in fact). Question remains: Where's he want to be?

— Nick Baumgardner (@nickbaumgardner) January 18, 2022
Personally, I think the Raiders smoke is still very real and if I were a betting man (lol, get it?), I'd wager my money that we see Harbaugh in Vegas next season.
However, I would welcome him back with open arms. Next season's revenge just wouldn't be the same without him standing on the sideline to take his beating. 
 SONG OF THE DAY. "Whip It" by Devo.
 NOT STICKING TO SPORTS. A new investigation has identified a suspect who may have betrayed Anne Frank and her family to the Nazis... The gritty, underground network bringing Japan's arcades to the United States... What people learned from their toughest rejections... The surprising ways Victorians flirted... Scientists say the universe may be pixelated... Inside porn's silliest new trend: women stuck in things... The kids don't like gifs anymore...