I've been trying this new thing where I intentionally move my body excessively and pick up some heavy objects and put them down again in an effort to make myself tired and sore. It undeniably sucks, but I've been led to believe it's good for my health or whatever.
Plus, my wife says if I do it every day for six months, I can have a skateboard!
(I am definitely not having a third-of-life crisis, thank you for asking)
Word of the Day: Ambit.
 COMPLEX DEFENSE? We've got a long time before we see what a Jim Knowles defense truly looks like in Columbus, but if Tanner McCalister's correct, the Buckeyes might have some studying to do.
"The defense is pretty complex, I'll admit. When I came in as a freshman at Oklahoma State, that was his first year being there. My head was definitely spinning trying to learn the defense. But I'm sure with all the experience he has, he's gonna be able to put the defense in a place where everybody will understand. It may take some time, but he'll get it figured out. Obviously, with me knowing what he likes to do and knowing his defense, he may rely on me. But I want to come in and try to prove myself and be a team player, help out where I can. Me being new, I want to show my ability to play the game of football first and then play my role however I can. We'll see how that goes once I get up there."
Now, if the words "pretty complex" and "my head was definitely spinning" frankly scare the hell out of you after what happened in 2018, you are not alone!
But I'm also fully aware that this defense can certainly stand to get a little more complicated.
I think there's a happy medium between "so complicated our players are confused and can't play fast" and "so simple we don't make in-game or week-to-week adjustments of any kind." And I'm really banking on the highest-paid defensive coordinator in the country to figure that out!
 FIVE YEARS OF OFFENSE. Ohio State's offense was on a new level this season, but it didn't just happen out of the blue. The Buckeyes have been an offensive machine for the past five seasons – now it's just reaching peak efficiency.
.@OhioStateFB finished 2021 first nationally in both scoring offense (45.7 pts./game) & total offense (561.2 yds./game).

Since 2017, Ohio State has not finished lower than 11th in scoring offense or 7th in total offense.#GoBucks

— Mike Basford (@MikeBasford_OSU) January 11, 2022
Hey, you know what happened in 2017?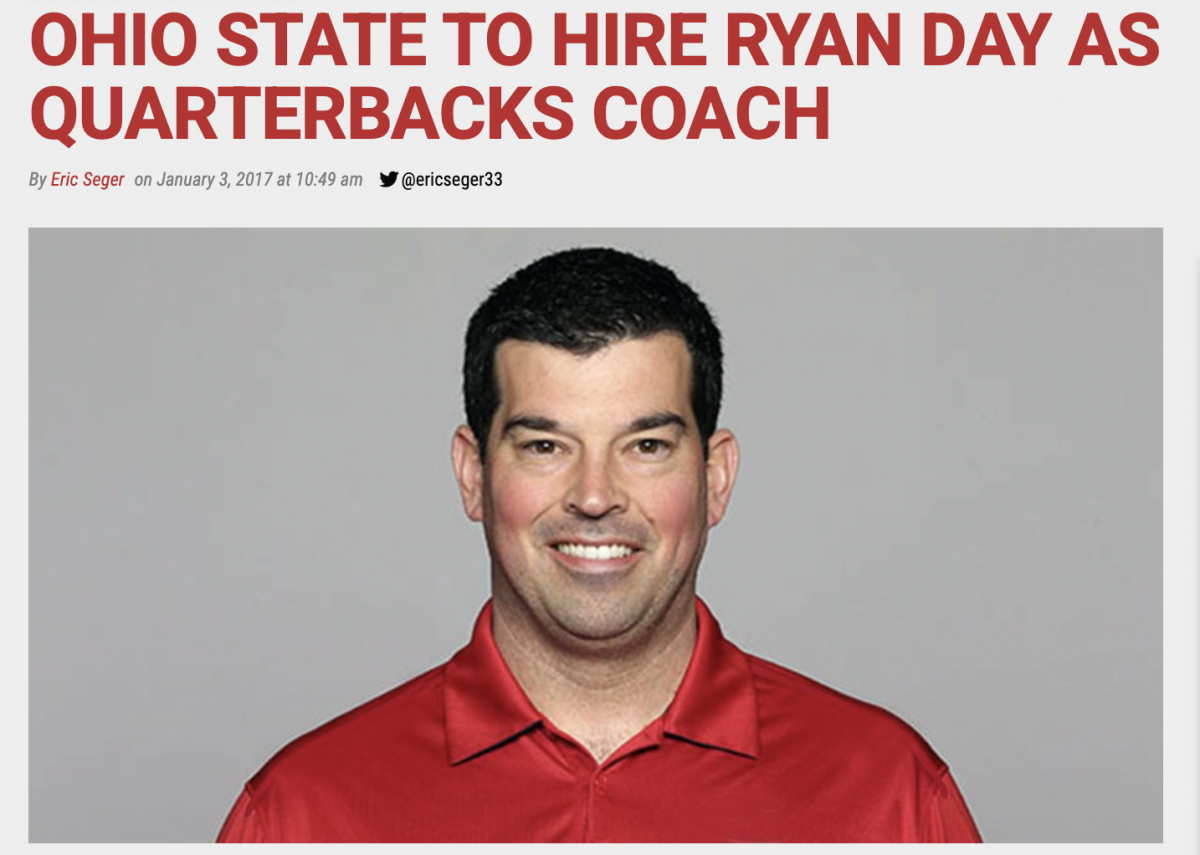 The comments on that post are a wild, wild ride in hindsight.
I don't think I adequately appreciate just how much Ryan Day turned around Ohio State's offense. As frustrating as the defense has been the past couple of seasons, the offense was borderline worse in 2016. And five years later, it's decidedly the best in college football and that doesn't appear to be slowing down anytime soon.
Prayers up that Jim Knowles can do the same thing on the other side of the ball. I'm tryna see this team turn into a death machine.
 TOUCHDOWNS EVERYWHERE. Speaking of Ohio State's offense...
Folks in Buckeyeland are understandably titillated by the Ohio State passing attack after what they saw C.J. Stroud and Jaxon Smith-Njigba do in Pasadena (and, well, the rest of the season).
But I'd like to remind you that running the ball is still an option! And the ball-runner is pretty damn good.
His 19 TDs set the @OhioStateFB freshman record.

Relive all of @TreVeyonH4's record-breaking scores . #TouchdownTuesday pic.twitter.com/0vECdygep1

— Ohio State on BTN (@OhioStateOnBTN) January 11, 2022
While everyone's been just enamored by the passing game, TreVeyon Henderson broke multiple freshman rushing records and quietly finished second in the nation in yards per carry.
You could make a very real and valid argument that Ohio State has the best quarterback, wide receiver and running back in the country entering next season. If the Buckeyes can trot out a defense that's even just slightly above average next year, I think we can all make accommodations in L.A. for early January.
I probably *should* try to temper my expectations a bit, but I'm not going to do that. I mean, it's the offseason. You're supposed to be obnoxiously optimistic in the offseason. I'll save my nihilism for halftime of the Notre Dame game.
 DROUGHT KILLERS. In case y'all needed a swift reminder of where Michigan stands among the college football heavyweights...
The "1980" joke is officially put to bed. Who will be the next to break their National Title drought?

USC - 2004
Miami - 2001
Tennessee - 1998
Notre Dame - 1988
Penn State - 1986
*Michigan - 1948
*consensus National Championships only

— Paul Finebaum (@finebaum) January 11, 2022
The last time Michigan won a consensus national championship, ABC didn't even exist as a network to broadcast it. But hey, at least you could play newly-invented "Scrabble" for the first time!
 SONG OF THE DAY. "Back to You" by Louis Tomlinson.
 NOT STICKING TO SPORTS. U.S. surgeons transplanted a pig heart into a human in a risky 'last ditch' procedure... Did hallucinogenic booze fuel politics in ancient Peru?... The world's largest condom manufacturer has had a surprisingly bad pandemic... A champagne and Viagra-fueled sex marathon put a man in the hospital... A guy wants to invest millions in a Taliban weed factory... A doctor is no longer allowed to practice after branding patients' livers with his initials... A notorious sloth cartel kingpin vanished and we tried to find him...