That was not supposed to happen!
(Neither was forgetting to schedule the Skull Session, my bad y'all – Michigan week got me rattled)
Word of the Day: Dejected.
 OOPSY! Folks, I regret to inform you that I was extremely and terribly wrong online.
HOW IS MICHIGAN GOING TO SCORE?

I don't even mean this sarcastically. It's a genuine question I've had all week.

The Wolverines have been extremely reluctant to throw the ball this year, but even if they wanted to, I don't believe they have the talent on the outside to match up with Ohio State, nor do I believe it has the talent at quarterback to get the ball there anyway. I think the Buckeyes are going to be able to confidently sell out to stop the run and trust the corners in coverage.

So that leaves Michigan trying to move the ball on the ground against a defense that just suffocated the best running back in the country.

I'm sure the Wolverines are going to get *something* on the scoreboard, but I have no idea how this offense can hang with Ohio State's offense, even if the Michigan defense comes to play today and keeps it close.
Yes, I wrote that. I also this:
 I don't think Michigan has the athletes to compete with Ohio State on the outside, nor the quarterback to reliably get them the ball anyway. They haven't been able to pass the ball all season, I don't know why they would suddenly be able to do it now.

So I guess that leaves running the ball, but given what Ohio State did to the best running back in the country a week ago... Best of luck!

I honestly don't know how Michigan is going to score more than like 20 points in this game. But maybe they'll surprise me.
Then, shortly after the final whistle, I found myself writing this:
Michigan's offense had its best performance in The Game in 75 years.

The Wolverines were virtually unstoppable on Saturday afternoon, gashing the Buckeye defense for 42 points, marking Michigan's highest-scoring offensive performance against Ohio State since scoring 58 points against the Buckeyes in 1946.

Michigan was particularly dominant in the second half where the Wolverines scored a touchdown on every offensive possession.

Most of Michigan's offensive production came on the ground as the Wolverines gashed the Buckeyes for 297 rushing yards and six touchdowns on 41 rushing attempts – good for 7.2 yards per carry.
In my defense, I was halfway correct! Michigan really didn't even attempt to throw the ball downfield and pretty much just ran the ball between the tackles on every play.
My mistake, I guess, was earnestly believing that Ohio State could do anything at all to stop it, instead of... whatever the hell this was.
Linebackers just mailing it in pic.twitter.com/vWlUpqbcV9

— Due# (@JDue51) November 28, 2021
Our Eleven Warriors slack channel spent a solid three minutes debating whether or not that clip was of the final rushing touchdown where Ohio State let Michigan score to get the ball back. Regretfully, it was not – they were allegedly actually attempting to get a stop.
 UNBLOCKABLE. After watching Joey Bosa, Nick Bosa and Chase Young go through Ohio State the past few years, I never would have imagined the best pass-rushing performance in The Game the past seven years would belong to a Michigan Man.
Yet, here we are.
Aidan Hutchinson had 15 QB pressures vs Ohio State

Most in a game since we started tracking college in 2014 pic.twitter.com/Psmn0Fp6xh

— PFF College Football (@PFF_College) November 28, 2021
And the tape is even more NSFW than the numbers.
Time to study the tape of the Hutchinson/Ojabo show pic.twitter.com/JYgC41ryaO

— Dane Brugler (@dpbrugler) November 28, 2021
It felt like somebody was in the backfield on every single play, which is wild because I truly believed this was one of, if not the single best pass-protecting offensive lines in the country.
Honestly, this just makes C.J. Stroud's performance even more incredible. Dude was getting completely smothered every time he touched the ball and still completed 69 percent of his throws for almost 400 yards with no incompletions.
I'm not the type of dude to hype someone's performance in a loss, but damn.
 HEISMAN HURT. Speaking of Stroud's incredible performance, it looks like it somehow put a massive dent in his Heisman campaign as Alabama quarterback Bryce Young is now the clear favorite to win the Heisman Trophy.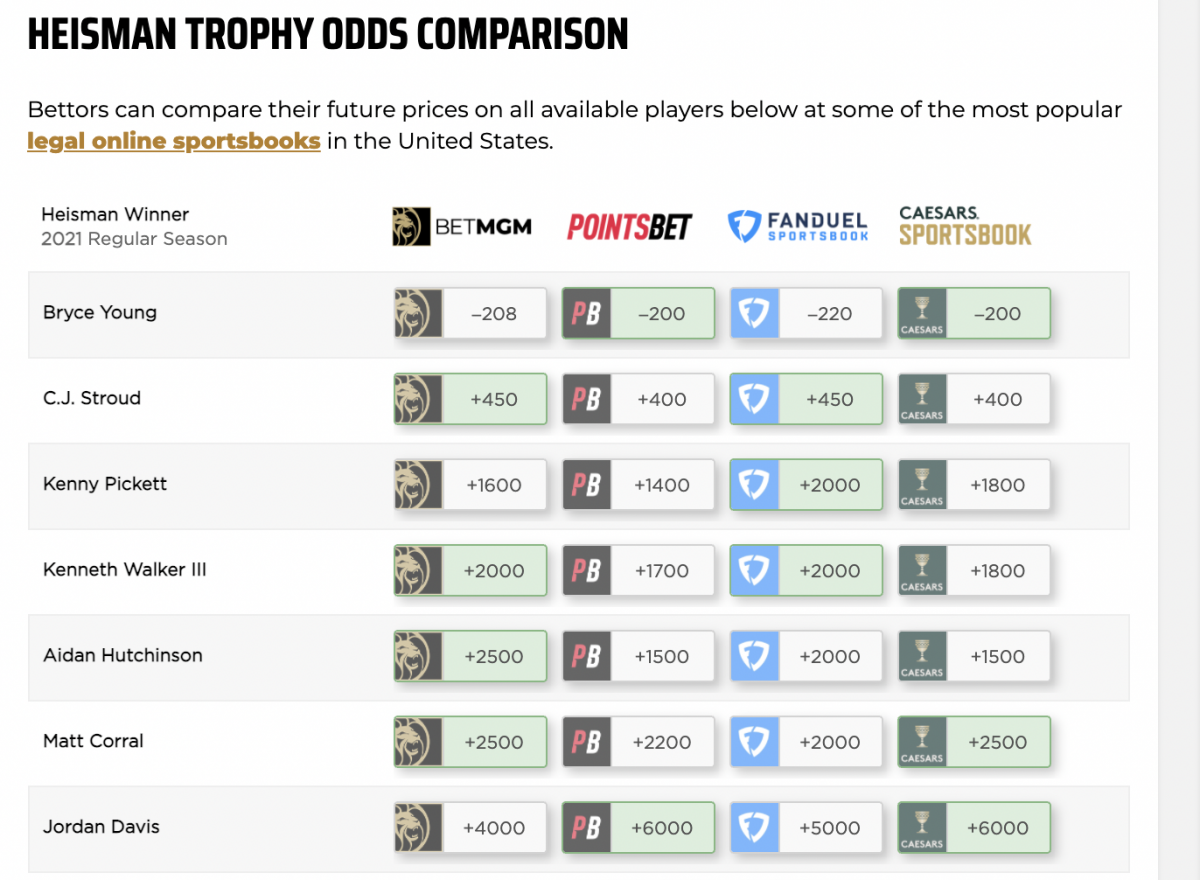 Young completed less than 50 percent of his passes and had an atrocious interception in a game against a 6-win Auburn team that Alabama magically beat in college football's version of penalty kicks after Young was kept completely out of the end zone for the game's first 59 minutes.
Stroud played an objectively great game and lost, Young played an objectively terrible game and won in a way that deserves an asterisk. And yet, these are our new Heisman Trophy odds.
Now, part of this shift in the odds can be explained as is simply that Young now has an extra chance for a data point and Stroud does not – if Young lights up Georgia and the Tide win, he locks it up. If he has as terrible of a game against the Dawgs as he did against Auburn, Stroud might still have a chance.
But still, there are without no doubt actual people who had their votes swayed by Stroud losing because his defense gave up five-straight touchdowns and Young winning in a two-point fest. And that's why the award is flawed.
 THE KING OF FALLING UP. When you heard the news that Lincoln Riley was headed to USC, you had to know that it was somehow going to result in Alex Grinch getting a raise.
And you'd probably be right!
The expectation is that defensive coordinator Alex Grinch, co-OC/offensive line coach Bill Bedenbaugh and wide receivers coach Dennis Simmons will be among the Oklahoma assistants that follow Lincoln Riley to USC, sources tell @On3sports https://t.co/nFCW0RCzmf

— Matt Zenitz (@mzenitz) November 29, 2021
Nobody on the planet has fallen up harder than that dude. It's absolutely unreal.
 SONG OF THE DAY. "I Am a Poor Wayfaring Stranger" by Jos Slovick.
 NOT STICKING TO SPORTS. The unsolved murder of the beloved son whose crashed car is the only clue... Why DVDs still exist... A college student is dead after a fraternity's diabolical underground fight club... A Russian cannibal is arrested after a headless body falls out of a car... The decision that cost Hitler the war...  The strange history of sawing a woman in half...