This might be the most 2021 thing of all time.
Our TBT 2021 Bracket Challenge is OPEN & FREE to enter

1st: One #bitcoin
2nd: One #ethereum
3rd: One #dogecoin

ENTER NOW: https://t.co/zVWNzdyhpX pic.twitter.com/fSGwiADHyD

— TBT (@thetournament) July 7, 2021
What, no NFTs of Aaron Craft diving to the floor for a loose ball? Weak.
Word of the Day: Insipid.
 BEST DAMN RECRUITERS IN THE LAND. Ohio State's 2022 recruiting class is so absurdly loaded that second-place Penn State is just about as far away in the team rankings (38.5 points) as 11th-place Texas A&M is to Penn State.
The Buckeyes are lapping everybody, and it shows in 247Sports' recruiter rankings.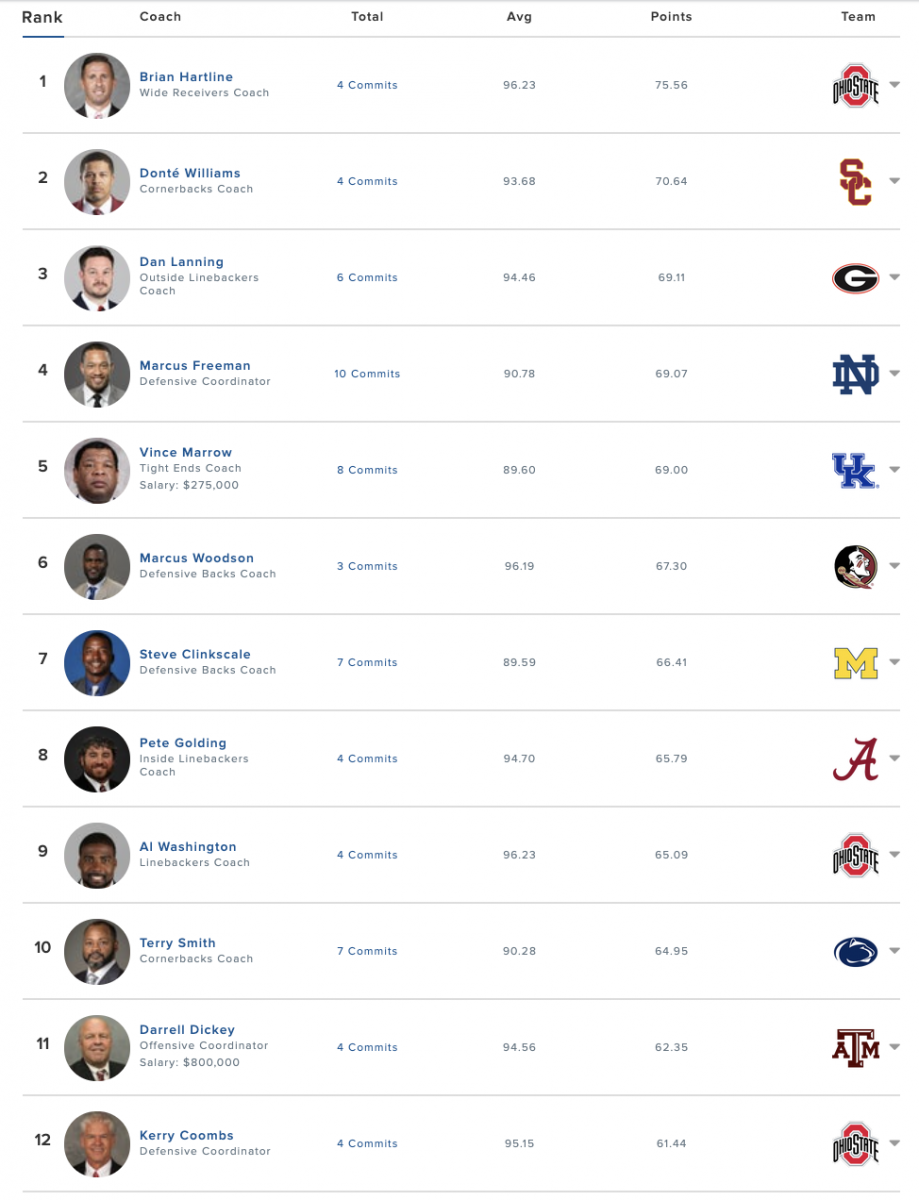 Ohio State makes up a cool 25 percent of the top-12 recruiters in the country, and Tony Alford ain't too far behind at No. 17. No other team even has two coaches in the top-12, but the Buckeyes have three.
What's even more ridiculous is that if you rank those 12 by average recruit ranking instead of points, Ohio State would have three of the top four.
Obviously, there's more to the job than landing some elite teens, but I'd imagine that coaching and coordinating is a hell of a lot easier when you've got by far the best players in the country.
 BIG SHOES. Four-star freshman guard Malaki Branham plans to wear No. 22 during his time at Ohio State. And from the sound of it, he knows very well how big those shoes will be to fill.
He hopes to do all this while carrying on a remarkable legacy. After wearing No. 22 while starring at Akron St. Vincent-St. Mary, he wants to continue doing so while playing for the Buckeyes. The problem is that it currently hangs in the rafters, retired after Jim Jackson starred while wearing it. So, too, did Michael Redd.

Branham hasn't gotten the all-clear just yet to bring the jersey out of mothballs, but there's a plan in place that also involves coach Chris Holtmann.

"Coach Holtmann talked to (Jackson)," Branham said. "I'm going to have to write him a letter to say thank you for letting me have the number. I've got to ask coach Holtmann when he wants me to write it, but it should be soon.

"It's a big responsibility. Jimmy Jackson, Michael Redd also, so it's a lot of good players that wore No. 22, and I'm trying to be the next one. It's a lot of work I've gotta put in, but I think I'm ready for it."
I've never been too keen on retiring jersey numbers. Let the young guns learn the legacy, respect it, add to it, and pass it on.
I hope Branham makes Jimmy Jackson and Michael Redd proud, and I hope the next kid makes Branham proud, too.
 FINGER GUNS. Zed Key clearly knows where the money is because of all the apparel companies I've seen players rolling out so far, this is the first one that has me reaching for my wallet (which was, ironically, stolen from me yesterday).
My Finger Guns store is now available. I would appreciate everyone's support in this venture. Please check out the store and retweet this post for me. https://t.co/IW41E3d2pz
@tobias31 @OSUHoopsInsider @thekidet @GoodmanHoops @Daddyluv2250 @BuckeyesCrootin @BuckeyeNutHouse #ZK23 pic.twitter.com/fGVNwqtEkX

— Zed Key (@iamzedkey) July 8, 2021
It appears that he filed for this trademark back in late December, which is absolutely amazing. My guy was in his first full month of college basketball and already saw a marketing opportunity.
He ain't a businessman – he's a business, man.
 OSU NEEDS YOU. Ohio State wants to pay you – yes, *you* – to help make the gameday experience more enjoyable.
The Ohio State University Department of Athletics will host a hiring fair next Wednesday and Thursday, July 14 and 15, at Ohio Stadium. Representatives will be on site sharing information and conducting interviews for ushers, redcoats, security, food and beverage, parking and facility operations.

Those prospective employees will also have the opportunity to work at other events outside of Ohio State football games, including but not limited to men's and women's basketball games and concerts at the Schottenstein Center, volleyball, wrestling and gymnastics competitions at the Covelli Center and many more Olympic sports events at Ohio State's other athletics venues and facilities.

The hiring fair is scheduled to run from 2 p.m. until 8 p.m. each day inside the Huntington Club at Ohio Stadium. Free parking is available in the West Stadium lot (along the Olentangy River) for all candidates. Enter through the glass doors between Gate 17 and Gate 23 – you will be directed to the Huntington Club to check out available positions. Interviews will be conducted on-site and many groups will be making instant offers after interviews are completed.
If that sounds like your sort of thing, you can get all the information you need here.
I'd be right there with you, but unfortunately, the terms of my employment dictate that I must be in front of a computer writing online words as the Buckeyes play sports, so it seems that my gamedays are already spoken for.
 SONG OF THE DAY. "Master of Puppets" by Metallica.
 NOT STICKING TO SPORTS. I signed up to write college essays for rich kids and found cheating is more complicated than I thought... One woman's battle to prove she isn't dead... Ukraine is criticized for making female cadets parade in heels... The next step for legal mushrooms—losing the trip...