Get in, losers — we're going to make Wednesday awesome.
Hump Day clocks in at No. 7 in the Day of the Week rankings, which means it's never bowl-eligible. Mondays (No. 6) sometimes sneak into three-day weekends. Mondays can flash, like Purdue.
Tuesday/Thursday is purgatory, but at least you have fresh weekend memories or anticipation to distract you. At 11W, Wednesdays are too late to write about the previous weekend and too soon to preview what's coming. Wednesday is our editorial calendar's short straw.
On Facebook, every comment to my Wednesday columns following a crushing Buckeye L is some iteration of geez move on, they loose a game sometime's your obsessing too much. That's why I veer into timeless sports-adjacent topics like bourbon or saxophones –out of necessity.
Anyway, the photo above is Team 11W nine springs ago. Michigan has beaten Ohio State zero times in football since that legendary banger. Our current staff is somehow younger now. Gold Pants are the fountain of blogger youth.
Let this be the best Wednesday yet. Let's crush it, roll it up and smoke it together. SKULLY: IGNITE.
 TODAY'S NSFW ANTI-WORK GOLF COURSE #BANGER: "Who I Smoke" by Spinabenz, Whoppa Wit Da Choppa, Yungeen Ace, & FastMoney Goon.
 THEY PAID FORWARD DURING THEIR JOB INTERVIEWS. The Kids are Alright. The Kids are Good.
Every inch Trey Sermon jumped (37 inches!) in his vertical leap yesterday raised money for Arise by Faith. Every rep Tommy Togiai threw up on the bench (he did 40!) created funds for Ohio State's LiFEsports Initiative.
And every inch Shaun Wade will travel in his broad jump at his Pro Day April 14 will raise money for Warrick Dunn Charities. If you'd like to read more about how Sermon, Togiai and Wade decided to turn their Pro Days into charity fundraisers, Dan's got you covered.
Our guys using their Pro Day Platforms to support causes that are near and dear to them @treyera@Big_Tom72@shaunwade24#GoBuckeyes pic.twitter.com/ldaFQvj0ET

— Ohio State Football (@OhioStateFB) March 30, 2021
As for you – you weren't charitable when you interviewed at Dairy Queen, and yet you could have been. You were only thinking about yourself, and probably Dilly Bars. Be better next time, Brian.
 MICHIGAN IS IN THE FINAL FOUR. OR MAYBE IT ISN'T. 
By the time you read this Michigan will know if it punched a ticket to the Final Four.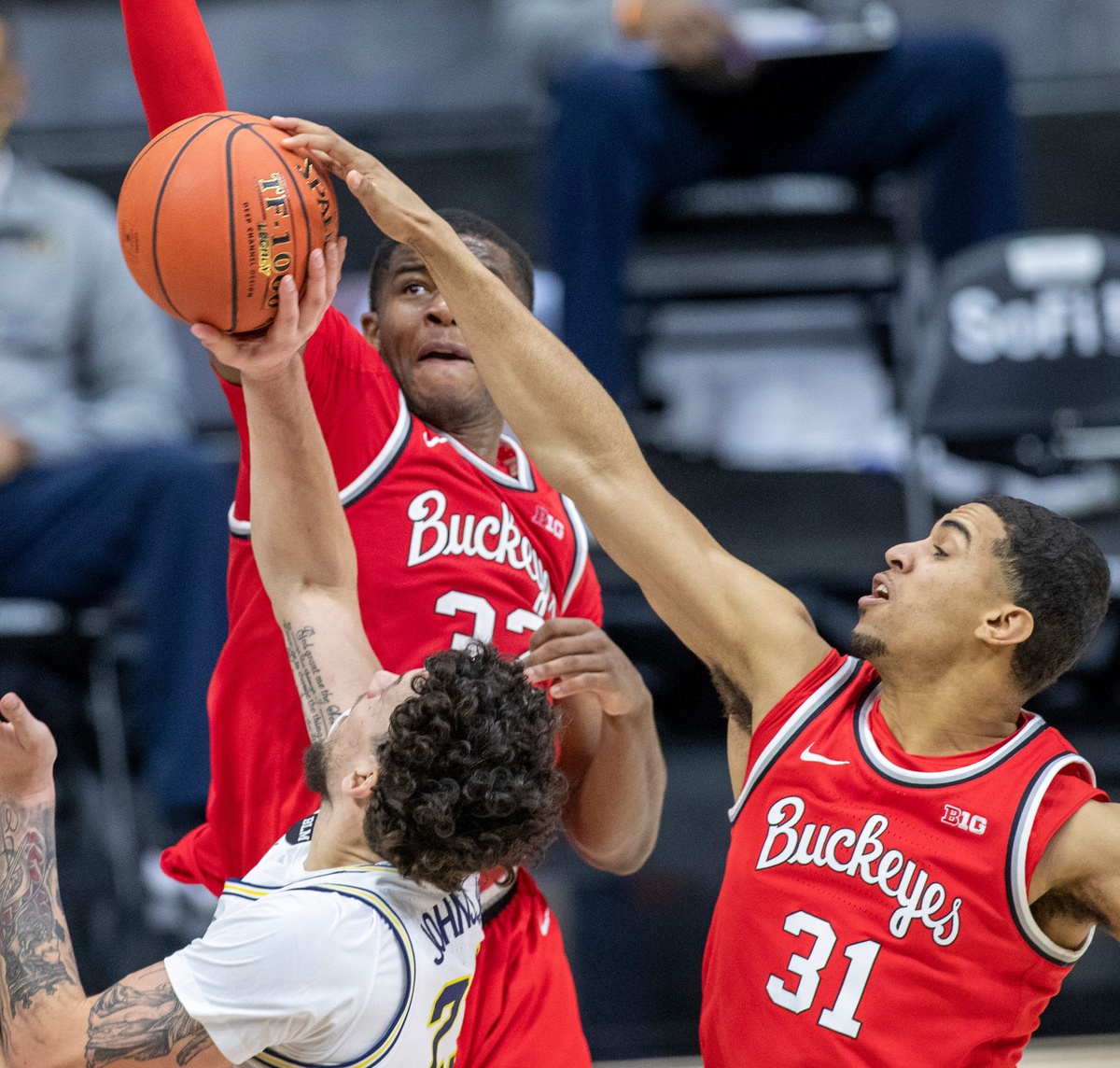 Michigan trails its all-time hoops series with Ohio State 100-73. The Wolverines also have one less B1G tournament title, nine fewer regular season titles, five fewer consensus All America players, two fewer B1G Players of the Year and a significantly lower winning percentage than the Buckeyes.
They are also mired in a 10-24 stretch against the Buckeyes since Thad Matta was hired and are 3-5 against Ohio State since Chris Holtmann was hired. All of this is worth mentioning because Michigan has recently transitioned into being a proud basketball school. 
How did Ann Arbor earn that designation? It's a two-ingredient recipe: you have to a) be underwhelming in football and b) do things like "never lose to Oral Roberts" (0-0) in basketball. Columbus is bad at both of those things, ergo football school.
Anyway, Michigan's game with UCLA tipped off at 10 p.m. ET, another delightfully stupid move by the NCAA. Maybe I'll find out who won and update this section when I wake up. Maybe I'll forget.
Congratulations to Michigan and UCLA, two basketball schools who both lost to Ohio State this season.
 TIMELESS CAMPUS STRUCTURES OF THE DAY. Oh if walls could talk.
On this day in 1965 was the groundbreaking for Lincoln and Morrill Towers. In this 1966 photo they are almost half done! pic.twitter.com/Et1EuCUju1

— OSU Archives (@BuckeyeHistory) March 29, 2021
 ORAL ROBERTS ON YOUR ASS. Perhaps you heard about how professional handicapper Kyle "The Sauce" Kirms took Oral Roberts as unseriously as Ohio State did, even after Oral Roberts ended Ohio State's season.
No... Oral Roberts is not gonna beat Florida today. Thats a response to all the DMs I have asking. NO SHOT. If that happens mark my words I'll get an Oral Roberts tattoo... trust me I am safe here. Zero chance.

— Kyle Kirms (@kylekirms) March 21, 2021
It's 2021, and tattoos are so mainstream that they don't even cause 11-month hyper-sensationalized media-driven amateurism scandals anymore. Unfortunately for The Sauce and his supple skin, the Fightin' Televangelists took the court in the 2nd Round and did the least Ohio State thing possible by taking down Florida in a postseason game.
It earned Oral a trip to the Sweet Sixteen and punched The Sauce's ticket to the tattoo parlor.
The Sauce is a man of his word. I give you.... at Oral Roberts Tattoo pic.twitter.com/pVpqeyRh64

— Kyle Kirms (@kylekirms) March 22, 2021
When the clock finally struck midnight on 2020, there were no good Oral Roberts tattoos. We're not even out of March yet and we are already ahead of last year. Right above the ass cheek, the cheapest real estate the body has to offer. Anatomy geographers say it's the NW Oklahoma of the butt crack, which, appropriate.
MORAL OF THE STORY: Never count 900-foot Jesus out. Even if Florida is involved.
 HERE'S A JOKE YOU CAN CLAIM AS YOUR OWN. The boarding process on Flight 420 is nearly complete. Seated somewhere in the middle of the plane are a nun and a man occupying a single row with the middle seat between them unoccupied. They're both wearing masks.
The nun is reading her book when the man releases a muffled sneeze into his mask. She says bless you but does not look in his direction. Her peripheral vision catches him appearing to reach into the front of his pants and pull...something (!) out. She keeps her eyes in her book, trying to remain unperturbed.
He sneezes again. "Bless you!" She says once more. Again, she sees him reach into the front of his pants and pull something out in her periphery, but she does not look over. He sneezes a third time and this time she turns to look at him – but before she can say anything, she sees that his genitals are fully exposed and he appears to be wiping them off with a handkerchief.
"Sir, what are you doing?" She whispers in horror, mouth agape but concealed by her mask.
"Ah sister, I'm so sorry," says the man sheepishly, preparing to phrase his words carefully. "You see, I have this rare medical condition where every time I sneeze, my body...uh, it has a spontaneous orgasm."
"Oh my goodness, my goodness, my goodness," says the nun. "Isn't there something you can take for that?"
"Yes," says the man, perking up. "Pepper!"
 MEAN GENE: NO FRIEND TO PEE WEE. Cleveland native and former Notre Dame Fighting Irish Gene Smith celebrated his 20th birthday by winning a national title in college. He grew up playing tackle football, but if it were up to him he'd restrict the contact to #teens and older.
Ohio State AD Gene Smith: "If I was czar I would eliminate tackle football until the age of 13. I would be your worst enemy to the pee wee league. ... You learn all the requisite athletic skills that you need to learn through flag football. https://t.co/eyEPaHncSw

— Jon Solomon (@JonSolomonAspen) March 30, 2021
Flag football rules, and having played it competitively for several years (Chicago Social Club Champs 1996-2000, glory has no expiration date) there's plenty of contact. Gene's mostly right about the skill set; mostly because ironically, dude was a defensive end.
Remember, Rudy subbed in for him against Georgia Tech in a scene that the movie made into its climax. You can't learn proper lineman skills playing flag football. Gene has an answer for that.
"But at the end of the day, how many of (the linemen) couldn't be in other sports if they were provided the opportunity? And just because a kid is big doesn't mean they can't run a route (in flag football) and help their athleticism. I'm just a big believer in flag football as an alternative to the contact because you could teach kids how to tackle later in life."
You can read more of the interview here. 
 MAJESTIC HUMAN PHYSIQUE OF THE DAY:
Nestor Higuera
Arizona Christian University, Kicker 2018-2021 pic.twitter.com/mM6o0RkyHO

— Random College Athletes (@RandomAthletess) March 28, 2021
 SONG OF THE DAY. "Wabbit Slayer" by Ozzy Fudd. Happy early Easter, everyone!
 PROGRAMMING NOTE: Earlier in the segment:
At 11W, Wednesdays are too late to write about the previous weekend and too soon to preview what's coming. Wednesday is our editorial calendar's short straw.
Hell yeah, come back at 1:15 p.m. for my take on why Indiana is still trying to replace Bob Knight five coaches later and marvel at how I weave Ohio State/Woody Hayes divergence into the discussion.
 SITUATIONAL LINKS. We have bad taste in pets...the lost prince of Yacht Rock..."the vehicle has exploded"...how to make your own copycat Chipotle chicken...a Cornell researcher invented the chicken nugget and changed farming forever...few facts, millions of clicks...how dogs evolved from predator to pet...a drive into deep left field by Castellanos.